The New York-based Fresh Cosmetics is known for their Fresh skin care and makeup range using delicate and natural ingredients. The Fresh Sugar Tinted Lip Treatment with SPF 15 was launched after much success of the Fresh Sugar Lip Treatment Sunscreen SPF 15. This time, it brings delicate colours of various choices to your lips with the same lip moisturizing and protective properties.
Fresh Cosmetics: Fresh Sugar Tinted Lip Treatment Lip Balm Review
Packaging
The packaging of the Fresh Sugar Tinted Lip Treatment lip balm is as apt as its brand – literally a breath of fresh air. The colours of the round tube packaging are all attempted to match the red and pink hues of the tinted lip balms, and are in warm satin finish.
It comes with a cap that you screw anti-clockwise to open, and then you turn the base of the lip balm stick clockwise to reveal the product.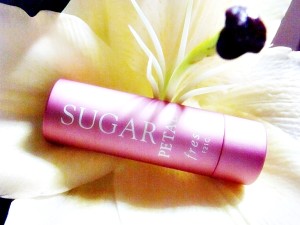 Shades
The Fresh Sugar Tinted Lip Treatment lip balms comes in seven colored shades: Petal, Rose, Tulip, Passion, Berry, Honey, Plum and Coral. These colour range have you spoilt for choice; whether you are fair or dark skinned, warm or cool tone, there is always that one shade that suits you partly because the shades are so sheer to begin with.
The shade in Petal is as seen in this review.



Fragrance
Take a whiff of it and it immediately reminds you of PEZ candies. You know those assorted candy drops that can be released through a stick dispenser of which you press open the animated head atop of it (usually of a cartoon or Disney character), it releases you one candy? How it triggered us one of those childhood memories! Yes, it does smell that deliciously edible.
*This product contains approved (Parfum) fragrance.
Price
Retailing at S$39.00 at Singapore Sephora outlets.
Tinted Lip Balm with SPF
The good things stay with this tinted lip balm as much as they exist in its preceding colorless lip treatment cult favourite best seller, such as using sugar as a lip humectant, SPF 15 for sunscreen protection, meadowfoam seed oil (limnanthes alba) as a lip moisturizer and softener, etc.
However, this tinted lip treatment offers you an edge to rock colored lips altogether, on top of all the aforesaid benefits.
How it Works – The Key Ingredients
Meadowfoam Seed Oil (Limnanthes alba), Beeswax (Cera Alba)
Provides natural barrier to lock in hydration of the lips by holding moisture within, keeping it supple and smooth.
Jojoba Seed Oil (Simmondsia chinensis)
Jojoba seed oil is naturally derived from plant and is considered a super skin food by many because not only it is an emollient for the lips and skin, it is also the closest match to our human skin sebum of all oils, therefore making it one of the most effective skin conditioning oils.
Grape Seed Oil (Vitis Vinifera)
Has wonderful moisturising effects especially on chapped lips because of its healing properties. It also helps to tighten tissues, making lips firmer and plumper. It is a rich oil in Vitamin E and is an antioxidant, thus helps in anti-ageing of the lips.
Avocado Oil (Persea Gratissima)
Avocado oil has the ability to penetrate deep into our skin and lips and hydrate and nourish them from within. It also reduces the appearance of wrinkles on the lips.
Sunflower Seed Oil (Helianthus Annuus)
High in Vitamin E and has great anti-ageing and skin/lips whitening effects.
Carnauba Wax
Is a botanical ingredient that provides a protective coating to the lips by binding the product ingredients together so it gives good slide and lubricity as well as prevents moisture loss from the lips.
*Contains Retinyl Palmitate
Fresh Sugar Tinted Lip Treatment Lip Balm: Our Final Review
Verdict
We have to say Fresh Cosmetics has done it again. The tinted lip balm is truly moisturizing and is easily buildable for fuller coverage. You can definitely wear it on its own because it is ridiculously pigmented. The candied sugary scent is so alluring it brings joy even during the process of putting it on.
The product does not leave streak marks on the lips even though their ingredients contain many types of oils. Instead, the consistency during application is sleek and smooth, and after application, it feels lightweight and not tacky when you talk or purse your lips. The colour and the moisture both lasted quite a fair bit before the next touch up.
We have a comment on the packaging though. It just feels confusing that we should be twisting the cap off instead of pulling it out to pop it open. Because the cap has to be screwed in a different direction from the direction in which we twist the base for the product to inch up, we are sure we are not the only ones who find ourselves conveniently turning both the top cap and the stick base at the same time and this is where the disastrous part happens – the product gets out faster than the cap could be screwed open, so part of the product is now left stuck in the cap, and the balm stick is now looking kind of lumpy from all sides.
Side tracking a little, I've recently tried on the It Cosmetics Vitality Lip Flush (Lipstick & Gloss Duo) that are basically lip balm and lip gloss that tint and stain your lips into a natural pink flush. The final pink hue that you got depends very much on your skin's natural pH level and body temperature. Here's a short video demo of these products if you're interested:
Please follow and like us: