First post in 2016! How's the new year been treating you so far?
I'm starting off this year's blog posts with lip balms! The Burt"s Bees tinted lip balm in Pink Blossom has not only been my go-to lip look these months but also a great layering stick for my perfect nude lip makeup. Read on and you'll know why.
Burt's Bees Natural Tinted Lip Balm in Pink Blossom

I know this product is not new but I've certainly discovered some new ways of using it. But first for those who'd like to know more about this lip balm, it is 100% naturally derived, and the rest of the review is as follows:
Texture
Very comfortable on the lips albeit some find it a little oily. I don't mind the texture a bit because honestly, it feels more moisturizing than greasy to me. If you have dry, chapped lips, this lip balm is certainly for you because the hydration lasts for hours.
Scent
It does smell a little waxy, but it is bearable. After all the moisturizing quality is key in a lip balm.
Colour/ Shades
The Burt's Bees Tinted Lip Balm comes in 6 tinted shades: Pink Blossom (featured herein), Hibiscus, Zinnia, Rose, Red Dhalia and Sweet Violet.
Now I'm going to show you how the shade Pink Blossom performs when worn alone. Bear in mind that I have very rosy lips by nature, but I like that extra pink tint on them nonetheless. Look how it 'juicify' (lol) my lips in an instant. So juicy my lips turn from tomato-red to apple-red. But when you swatch it on the back of your hand the shade is translucent-sheer; unlike the Fresh Sugar Tinted Lip Balm which has a richer tincture.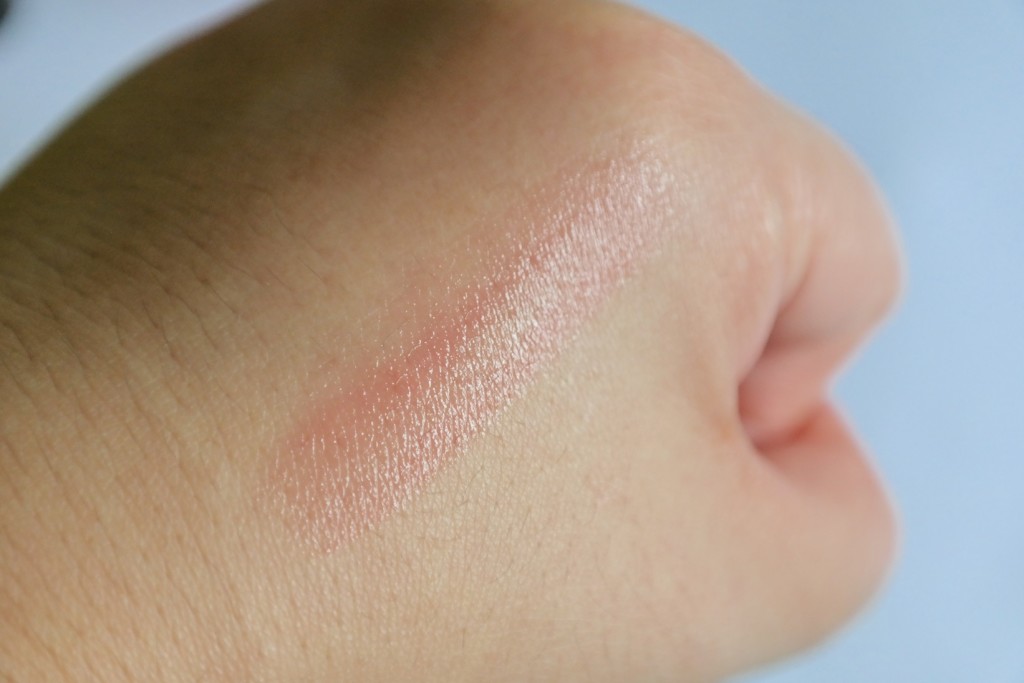 Now recently I'm also into the nude lip kind of look. But not the monotone, beigy kind if you know what I mean. I'm loving lips that appear more dimensional; that is not to say I'm into killer 3D pouts. I may or may not have created gradient lips incidentally by doing this:

I'm not mimicking korean gradient lips of which I'm not a fan. I love nude lip makeup but as you can see it looks kind of flat and even sickly here (from what friends told me argh!) I was using Mac's Cremesheen's range here in Creme d'Nude as a base in the first photo. The yellow tone in my skin clashes slightly with this lipstick here but on days when I have more red pigments in my skin I look alright.
So by gliding some Burt's Bees Pink Blossom lip balm over the center of the lips (apply lip balm as per usual but leave the rims alone) here it provides just that right degree of healthy pink radiating from within your mouth. I know some of you may find it weird that I should be trying this hard to get this look when I have rosier natural lips. But you see, this layering method makes the lips appear younger-looking; like you've just sucked on a red lolly. So it's not just the rosy tone that I'm after, it is the illusion of younger and natural-looking bare lips that I'm trying to achieve here.
Many have tried to create the no-makeup makeup look, but I haven't find anyone with the kind of youthful soft lips that appear to have no lip makeup. So that's that.
This is Mac's Creme d'Nude.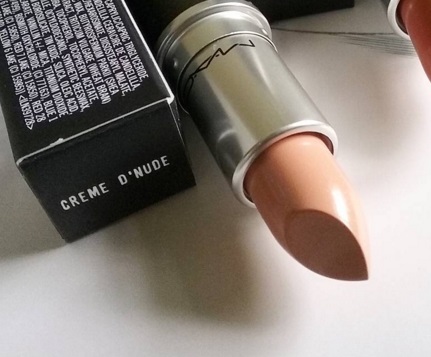 Price
Retailing at SGD$16.00 each at Singapore Sephora outlets.
Ingredients
It may be marketed as 100% natural but do note that it is not a vegan product. Thanks to my friend who pointed out Lanolin to my attention. Lanolin is a type of wax derived from the skin glands from sheep, for those of you who are interested to know. The rest of the key ingredients are: shea butter, castor seed oil, sunflower seed oil, rosemary leaf extract, coconut oil, canola oil, flower wax, beeswax, vegetable oil, etc.
Verdict: The Perfect Pink Tinted Lip Balm But.
I do love this lip balm a ton, for the sheer natural pink tone it gives to the amazing moisturizing longevity it brings. However I'd be happier if Burt's Bees can consider doing away with lanolin or consider replacing it with something similar altogether. We don't need a sheep's natural fat to be removed from them just so our lips can look better. I have had a go at products with nut-based fats (shea) that have amazing hydrating properties as well.
As much as I love this product, I'll not be re-purchasing it. Obviously the whole point of this blog, while sharing my honest review about this lip balm, is here to also share about my pinkish nude lip makeup routine.
So here you go – taking baby steps towards more kindness in beauty for 2016!
Please follow and like us: