I told you I'm all about orange this Spring. Spring is here and Valentine's over, so why the pink? So here's another orange piece for you – the Benefit Hydrating Tinted Lip Balm in Cha Cha Balm. Don't ask me where they get the name from – I do not know. I know better the other way round – balm cha cha (mong-cha-cha) – in Cantonese it means 'blur' or simply, aimless. Far from aimless though, in today's review I'm so pumped to show you how this moisturizing lip balm-cum- lip tint can be perfectly matched with the Josie Maran Coconut Water Cheek Gelee – also in tangerine of course. This lip product was launched in 2011; I know some of ya may yawn at it but hey, coral lips and apricot cheeks, it's all about the sunshine, baby!

Benefit Lip Tint-cum-Lip Balm Review
Like the Lip Sugar Tinted Lip Treatment by Fresh Cosmetics, the Benefit tinted lip balm provides hydration as well as color stain to your lips. And just in case you're stuck in limbo between the two, let me help slice and dice this one right now for you.
Packaging
They are the offsprings of the Benefit Cheek and Lip Stains so they are pretty much the petite versions of those, except that they don't brush on. Like any lipstick or lip balm stick, you twist the product out. Nothing fanciful about the packaging but I feel a need to say that it involves a more normal approach to opening this one; the cap pops open that is, unlike the Fresh Lip Sugar tinted lip balm who decides to twist not only its body but its own head as well.

Shades
The Benefit Hydrating Tinted Lip Balms are available in Benebalm (rose colored), Posiebalm (poppy), Lollibalm (dustier rose) and this one Cha Cha balm (sheer tangerine).
Fragrance
It immediately reminded me of Dior's Crème de Rose lip balm when I first brought it to my nose. They have the same sweet, perfumed scent of a rose. Surprisingly it smells nothing like mango (an ingredient used).
Color & Consistency
It is super sheer, almost clear, but gives a slight moist layer. The sheen this shade Cha Cha Balm gives to the lips carries a veil of sun-kissed warmth. Some people commented that Cha Cha balm is too sheer for their liking, but I'm all for the au natural 'no makeup' makeup look.
Price & Size
SGD$29.00 for 3.0 grams (0.10 oz) at Benefit counters and Sephora stores in Singapore.
Benefit Tinted Lip Balm: What is in it?
A Lip Balm with No SPF…but wait. It's got the Mango (Mangifera Indica) Seed Butter
SPF fans, I'm sorry to disappoint you. This lip balm doesn't come with a sun protecting factor. However it uses a sun protective ingredient – mango seed butter.
Mango seed butter contains vitamins A and E and essential fatty acids known for keeping the skin soft and hydrated. It also contains beta-carotene that prevents ultra-violet radiation and heals the skin from sun exposure or sunburns.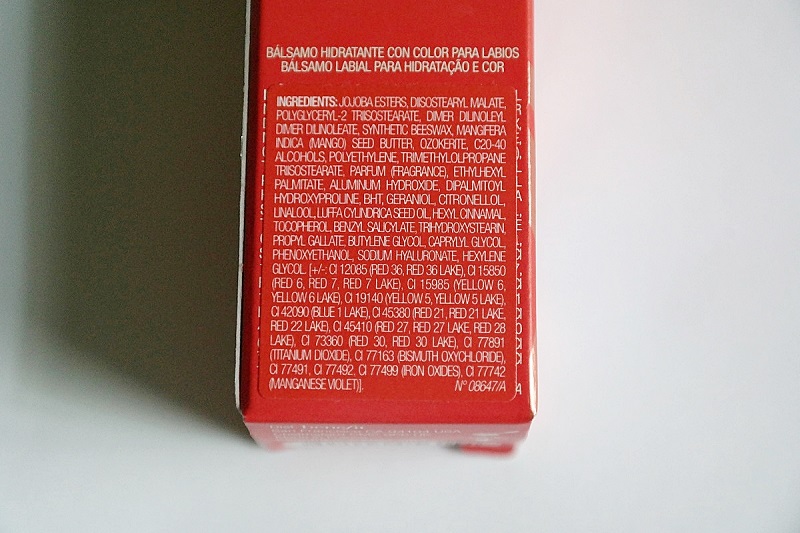 Verdict:
The Benefit Hydrating Tinted Lip Balm glides nicely and leave a comfortable feeling on the lips. You can wear it over a base lipstick or alone (like what I did below). The lip staining power is not that great though; I was surprised to notice that the initial tint on my lips disappear in a matter of minutes. Despite this, the moisturizing aspect is great and long lasting. It definitely conditions chapped and dry lips to an extent. And lets be honest, having lips that smell like candied roses is only the start to putting you in clover.

Says who cheeks have to be like apples? I personally prefer them to be oranges or tangerines at this time of the year. They say you cannot compare apples to oranges. Well that's true and let us equalize this by pairing orange with orange. I'm seen here wearing the Benefit ChaCha Balm on my lips and the Josie Maran Coconut Water Argan Oil Cheek Gelee blush in Coral Oasis on my cheeks. The Benefit lip balm doesn't appear too orangey but more towards poppy or coral here because I have very pink lips by nature. I really do wish the orange could show up more though. However you can see its true color (hah!) on my hand swatch and it is gorge on its own. It should bring a lot more warmth and life to cooler toned and darker lips.
Nothing says tropical cheer more than a pair of juicy orange lips and sun-kissed cheeks. Just so you know, Orange is the New Black wouldn't be hackneyed if you use it like a beauty jargon.
Please follow and like us: