December is here – what does that even mean? Holidays, bonuses and SHOPPING of course. We did just that and thought our recent shopping haul may give you the heads up for some Christmas gift ideas. Tis is the festive month of merry-making and specifically Christmas shopping because malls are rolling out sales, holiday gift sets and cute packaging you wouldn't want to miss them for anything.
Smashbox Photo Finish Primer Duo Set from Sephora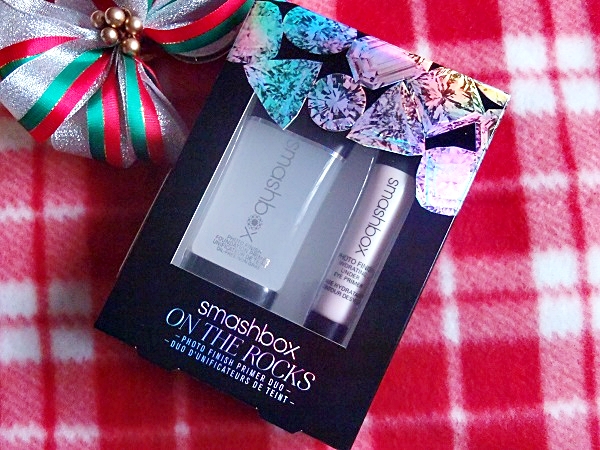 I wanted to get the Smashbox Photo Finish Primer and was just about deciding which type to buy (fyi they've got dark spot correcting primer, hydrating foundation primer, color correcting foundation primer, blemish control primer and luminizing foundation primer – gosh it's just primer for God's sakes!) when the sales person recommended the classic Photo Finish Foundation Primer, simply because it is the best seller and it comes in this Holiday 2014 Collection duo set with the Smashbox Photo Finish Hydrating Under Eye Primer.
When buy them separately, they retail at SGD$68.00 and SGD$28.00 respectively. But this duo set – yes, these 2 best-selling Smashbox babies cost a total of SGD$69.00. It is easy to see why it ended home with me now if you work your mental sums like I did; I chuckled under my breath at the thought of paying just a dollar for the undereye primer. There has been a lot of comparison between the Smashbox Photo Finish Primer and Benefit's Porefessional, both promising to make pores less visible and your foundation baby-butt smooth. Well let's see.
Benefit Speed Brow Gel from Sephora
Just as you think this may as well be a Sephora haul, erm, no. We have things from Tangs and Innisfree as well. Read on.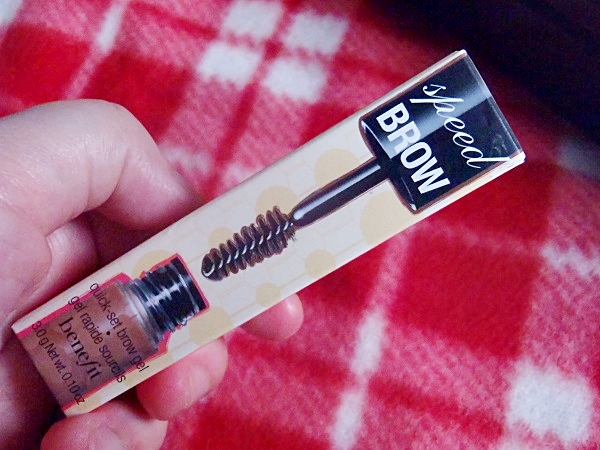 So some eyebrow grooming is much needed for the holidays to frame that face. Because tinted brow gels are so yesterday, we were hunting for a clear one. We've heard over and over again about how good Benefit's Gimme Brow is and so we wanted to get its transparent sibling. The sales lady told me that Speed Brow is a clear gel. Yes, you. You the sales girl at Sephora ION outlet, told me it is clear, transparent, colorless. Just because the sample has dried up and you think you can get away with not knowing what you are promoting. God no. It bears a light chocolate brown tint (though not as pigmented as Gimme Brow). It is also kind of liquidy and slow to dry up. It doesn't even feel like gel, it feels more like water. So whether you are applying it before filling in your brows or fill up your brows first then apply this brow gel – frankly either way it DID NOT work. The former method darkens your brow powder/ pencil and makes it hard to control the strokes; the latter takes off the color of the brow product you just filled in with. Plus it did not help keep unruly brow hairs in place. It basically does nothing except wetting your brows. This one is a bummer. It retails at SGD$29.00 for those who want to know. Now you may still find this helpful for your Christmas shopping: how NOT to buy it at all.
Tangs Sales Promotion: Laura Mercier Body & Bath Lux Quartet Set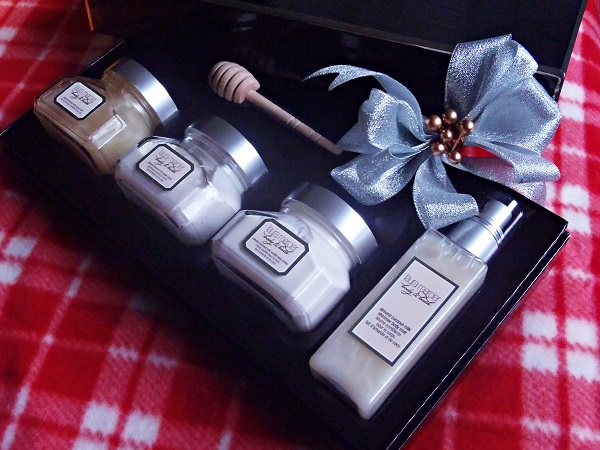 Usually Tangs extends only 6% rebates to their card members but they had 12% rebate for Tangs card members and Citibank card holders instead on 27th and 28th November 2014 (Thursday & Friday) to kick start the Christmas shopping frenzy even before December. Since it is the end of November we may as well include our purchases in this haul. We went on the Friday and it almost felt like a black Friday in Singapore – Tangs Orchard, like any other year, is always more Christmassy (they live by their tag line "Tangs the Christmas store) than the other Orchard Road malls. So with a promotion like this, it really does heighten the spirit of spending.
I had always wanted to get my hands on the Laura Mercier Almond & Coconut Milk Body Scrub, thanks to the mentions from youtuber beauty guru Rachel Talbott (a.k.a CheckInTheMirror). She too agreed that it is much worthier to get it as a body bath gift set during Christmas (Rachel, thank you again). Retailing at SGD$129.00 at the Laura Mercier Counter, you get to have a full pampering set of the Almond Coconut Milk Honey Bath, Sugar Scrub, Soufflé Body Cream (110ml, 4 oz each) and Shimmer Body Mist. And because I just spent SGD$100 on a bottle of Jo Malone cologne, I got $12 off from it, i.e. SGD$117.00. Almonds and coconut milk totally compliment each other with their own distinctive nutty flavours, not to mention how they work together to benefit the skin. If you have a special someone or a bestie whom you know is into body and skincare indulgence, this makes the perfect gift to spoil the crap out of her.
Jo Malone Perfume (Cologne) from Tangs Orchard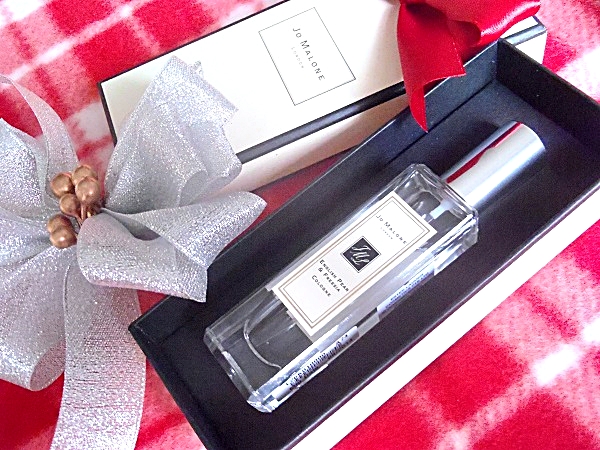 Jo Malones are actually colognes and not perfumes as far as our understanding goes. With their hefty price tags, we gotta thank God they are colognes – how else are we gonna afford them if they are indeed perfumes or parfums? Though they contain lesser essential oils and carry lesser notes, Jo Malone is well known for her wide range of fragrances and their clean packaging. Woody, spicy, floral, citrus, you name it.
We were torn between the English Pear & Freesia and the Pomegranate Noir because they both smell incredible, just polar opposites. The former smells sweeter with forest-freshness to it, while the latter is actually the festive scent of the month or so the girl at the counter explained, and smells more sombre and peppery. In the end we picked up English Pear & Freesia (30ml, retailing at SGD$100.00) as it is more an all-year round fragrance to have. We have the review of the Jo Malone English Pear and Freesia here for you if you are interested.
Innisfree Super Volcanic Pore Clay Mask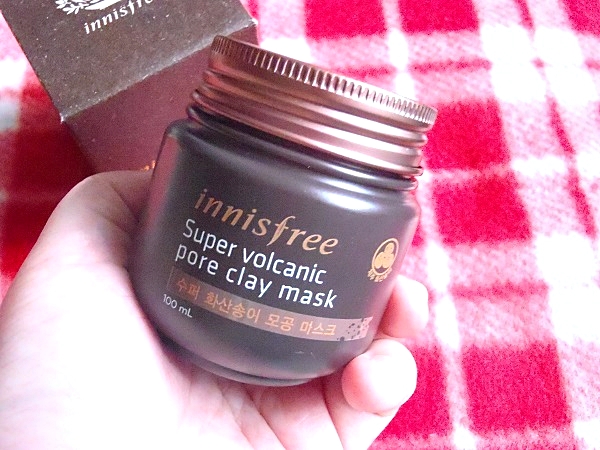 Considering the brand has just passed its first year anniversary in Singapore, we got to say they are pretty quick in establishing a loyal fan base here. But then again people have been to Seoul and back, it should not come as surprising. Not especially when Laneige and The Face Shop have already made waves (and still making) since the last 10 years anyway.
I know "Innisfree" seems like a mouthful to even utter but hey, let's just focus on their natural Jeju volcanic goodness shall we. For a SGD$21.00 volcanic clay mask (100ml), we are sold even before asking the retail assistant any question about the product. According to the product info and from the sales lady's explanation, this super volcanic pore clay mask is suppose to be a deep cleanser that controls sebum and tighten pores. This makes it ideal for people who have oily skin and black heads. For optimal cleansing, you are suppose to remove the mask with their SGD$8.00 konjac sponge. We say, sell us the icing after we'd tried the cake. We will do a review on this clay mask soon.(P.s. We've already done the Innisfree Super Volcanic Pore Clay Mask Review.)

Innisfree is located at Takashimaya S.C., Plaza Singapura and Bugis Junction. Oh and did we mention how generous they are in giving free gifts? We got this free Cameilia hair trial kit for spending above SGD$50.00. We were also given a free pack of 5 masks in celebration of their first anniversary in Singapore by simply becoming their members. For those who are thinking to gift Innisfree products this Christmas, we say good on you because they have cute Xmas gift boxes and packaging and seemingly amazing products at pocket-friendly price tags.
#shoppinghaul ! u can be #santa too this #Christmas ! #ChristmasGiftIdeas #ChristmasList http://t.co/1j93g17Po8 pic.twitter.com/oQOsyFjYPl

— SGBeautyProducts (@SGBeautyProduct) December 5, 2014
Please follow and like us: