I've taken this review to another level by comparing two same-but-different products so it saves us the peril of spending our hard earned money on the one you think works best out of the whole family of primers just because everybody says so.
Today we're going to review the Smashbox Photo Finish Foundation Primer and her better known sibling – the Smashbox Photo Finish Foundation Primer Pore Minimizing. I'm sure you've heard umpteen times from beauty gurus firing the rivalry between Benefit's Porefessional and Smashbox Photo Finish Pore Minimizing Primer on Youtube, and that was before Makeup Forever came out with their Step 1 Skin Equalizer to further fuel the whole situation. I mean, have you seen the range MUFE has for makeup primers alone? Wowowow. Hold on. Can we just take a moment to intellectually deliberate on that one brand before jumping ship?

Packaging
They come in squeeze tubes so pancaked you can clutch them in your palm. Twist the bottom cap off to dispense. The Photo Finish primer has a transparent packaging so you see that the gel is colorless. The Pore Minimizing one is opaque, just like the others (Blemish-Control, Dark Spot Correcting, Hydrating, etc) and the product comes out skin color.

Price and Size
Both cost SGD$68.00 each at Singapore Sephora outlets for a 30ml (1 fl.oz) sized tube. However you need to know that I bought my Smashbox Photo Finish Primer in a duo set with the full sized Photo Finish Hydrating Under Eye Primer at only SGD$69 in my last Christmas haul!
Smashbox Primers: Smoothener vs Pore Minimizer Reviews Showdown!
Consistency
Both are oil-free formulas, so they say, but the Photo Finish Foundation Primer is more gel-like and feels more slick and of a heavier silicone texture, the Pore Minimizing one feels more of a whipped, airier cream texture, though still has that little spongy silicone feeling.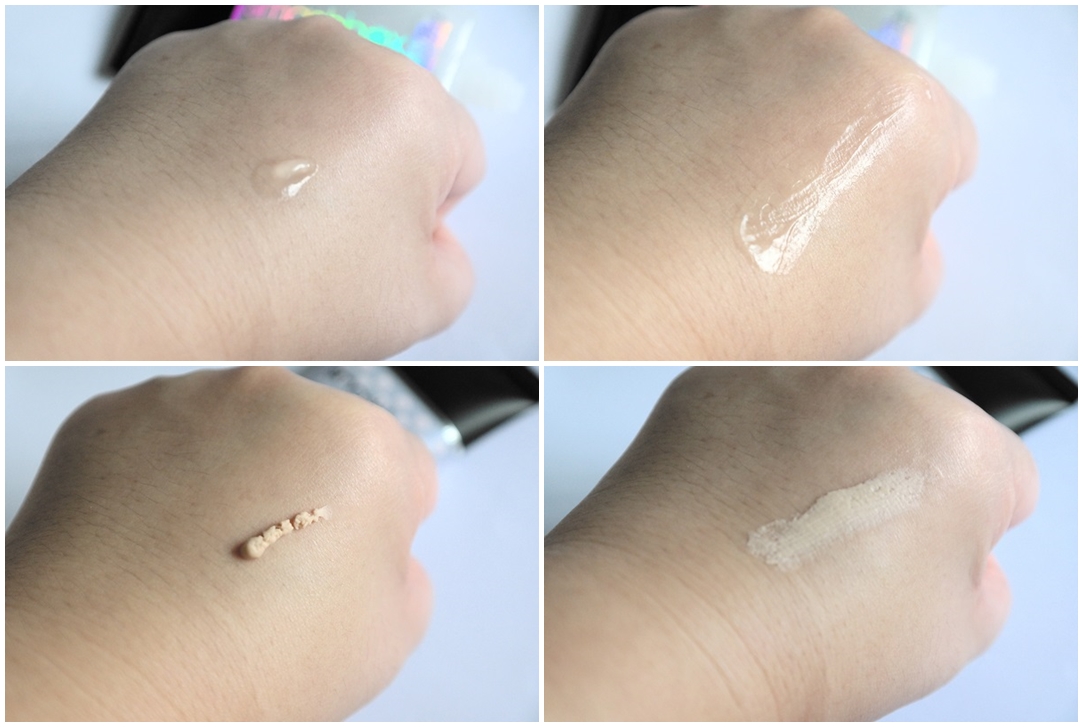 Unique Selling Points
Quoting from what the packages say:
The Smashbox Photo Finish Foundation Primer promises a perfect canvas for makeup application and a velvety-smooth, even complexion.
The Smashbox Photo Finish "Pore Minimizing" Foundation Primer ensures that it can dramatically reduce the appearance of pores instantly, also absorbs oil for up to 8 hours of flawlessly smooth, shine-free skin.
Which Smashbox Face Primer Talks Louder? : Battle of the Ingredients
The Smashbox Photo Finish Foundation Primer Ingredients
Grape Seed Extract –  slows down UV-induced effects of our skin. High in Omega 6 and helps to smoothen fine lines, constrict pores and speed up wound and scars recovery.
Safflower Seed Extract – effectively restores skin's moisture and has the ability to reduce sebum build up to unclog pores and prevent acne. It is also a skin cell regenerator that helps to keep the skin supple and clear.
Green Tea Leaf Extract – excellent in anti-ageing and anti-inflammatory properties. It helps to reduce the skin's oxidative stress such as age spots, pigmentation and acne.
The Smashbox Photo Finish "Pore Minimizing" Foundation Ingredients
Coconut Acid – this is actually hydrogenated coconut oil (just so you know why we don't get the "oil-free" part) and it helps to moisturize the skin and emulsify the other active ingredients together such as the skin-like color pigment. It helps in softening the skin and treats dry patches, resulting in plumper looking skin. Coconut acid also helps defend the skin against free radical damages due to its antioxidant properties.
Hydrolyzed Soy Protein – has great bonding properties that helps form a film-like layer for smooth makeup application. It is also a skin moisturizer and softener and helps to reduce the appearance of creases on the skin.

Verdict
The "pore minimizing' gimmick may have many sold but my skin is loving the original Smashbox Photo Finish Foundation Primer more. I am using exactly the same Makeup Forever HD foundation in both cases. Both may have reduced the appearance of my pores but the Photo Finish Foundation Primer is the one that has the blurring, smooth-focused effect. The pore minimizing one has overplayed itself – notice how it clogged up the pores at my nose; it occurred to me that the coconut acid and soy protein may have increased its viscosity so much so that it over-estimates the depth of one's pores. Less is indeed more in this case. If there is one thing that the Smashbox Photo Finish Pore Minimizing Foundation Primer is better at, is the skin-toned color it gives that makes my skin appear less ashy.

There is a reason why Smashbox included the original Photo Finish Foundation Primer in their holiday gift pack – as what the Sephora sales assistant told me, it is the bestseller of the lot.
Please follow and like us: