I'm all about acne-fighting these few months so please bear with me. Because Sun Tsu in his art of war strategy says to attack your enemy when he is weak, so now I'm literally on my thin. red. line. Know what I'm sayin'? Busting out those godforsaken pimples and acne before they get another chance to see daylight.
Australis Primer Makeup for Acne Treatment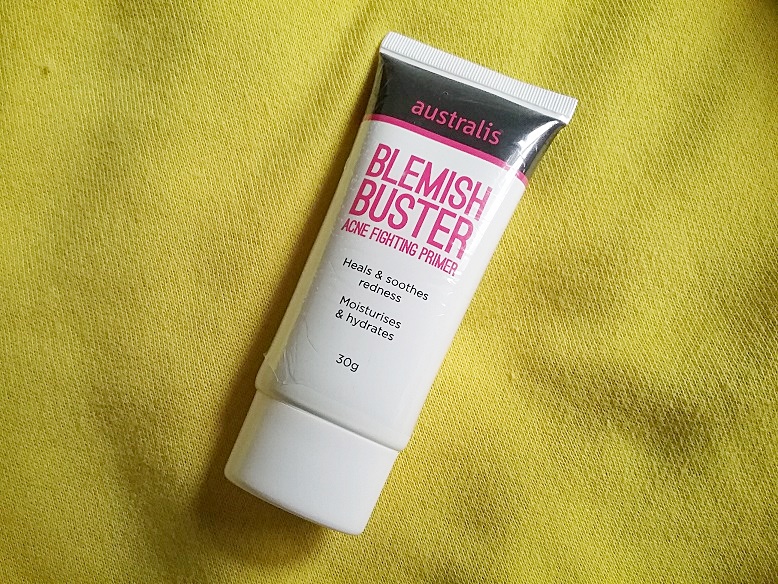 I have been steering away from heavy silicone-based primers ever since I was under acne siege. It's been a while that I'd been over-relying on makeup setting sprays to hold up makeup on my face. So I got this anti-blemish face primer from Australis during a Watson's atrium sales a few months back under the influence of the sales assistant (yet again) who said this product is water-based and specifically formulated to fight acne and heal the skin. So, yes. Why the hell not.
Water-based Primer Makeup: Great for Acne Treatment & Scar Removal as well!

Packaging
Like any other primers sold in makeup stores, it comes in palm sized flat tubes with a twist-cap. Squeeze to dispense.
Texture & Color
The best part of this product is the texture and the feeling of application. The light-blue tinted aqueous gel has a cooling effect on the skin when applied.
Scent
Strange as it may sound, it carries a sweet apple scent. This primer doesn't seem to have any fruit extracts in it but somehow the combination of the ingredients produces this surprisingly sweet refreshing scent.
Price and Where To Buy
Retailing at SGD$15.90 at John Little stores or at seasonal Watson's atrium sales, and at bigger NTUC Finest branch outlets.
Australis Blemish Buster Acne Fighting Primer Ingredients
The list on the packaging shown in the photo below is self-explanatory.
Yes it carries Silica Dimethyl Silylate which is a component of silicone as a slipping agent, but the presence of water and seawater thins out the consistency such that it gives a thin gel-like texture (as compared to a paste-like texture with other heavier silicone-constituted primer products). The substantial water content also helps to hydrate the affected areas under makeup.
The goodness lies in the Sodium Hyaluronate (natural skin salt) which absorbs into the skin readily without clogging pores and Ethylhexyl Palmitate (palm oil) which replaces silicone as an organic binding agent. And of course, Argan Spinosa (argan oil) has anti-inflammatory benefits in calming flare-ups and helps to heal blemishes and acne scars.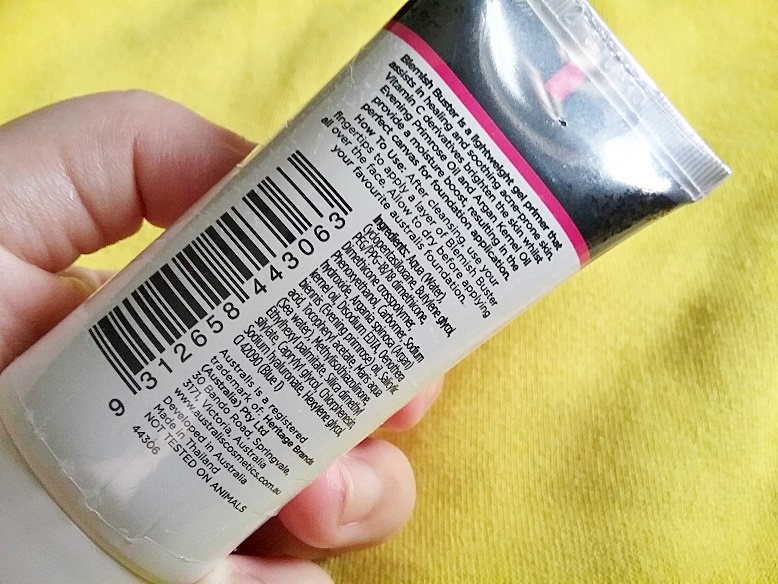 Verdict:
Great if not the Best Primer for Acne Prone Skin
I have been using the Australis Blemish Buster Acne-Fighting Primer for a few months now; not once did it trigger any acne or pimple growth.
This primer dries in about 10 seconds upon application and doesn't make your skin feel gooey even though it acts as a binder. It sits makeup well and feels less 'present' on the skin perhaps because of the evaporation of most of its watery content which makes it lighter and super comfortable to wear.
Does it reduce the appearance of pores? Not so. But does it make your makeup last longer? Hell yes. The greatest mileage out of this product is its ability to bind makeup to the skin without irritating it. Not only does it not cause any irritation, it helps heal and soothe acne prone skin. Though I owe Kiehl's for my cystic hormonal acne treatment, I'm sure this primer helps in taming the aggravation of my acne as well.
Please follow and like us: