Santa Claus is coming to town…or rather, mouth! Lush's limited edition Santa's lip scrub is really all you need before you lay on that lipstick for that pair of juicy smackers this Christmas. Not to mention that this sugar scrub is so festively delicious you can lick them off your lips for real!
Santa's Lip Scrub by Lush – A Sweet Festive Lip Treat!
Packaging
Red velvety sugars contained in a small see-through glass pot perfect for this holiday season. Because this sugary lip scrub is made from perishable ingredients (they are edible, duh), you may want to just peek at the bottom of the jar to check out the expiry date. I bought mine from Lush Japan, so ignore those words you cannot understand.

Color, Consistency & Fragrance
Santa's favourite crimson red couldn't have been represented better. The sugars are of a cheery cherry red (try saying that tongue-twisting description again) with a burst of cherry-cola flavor. The scent of cola is most prominent, followed by the smell of sweet cherry syrups and a citrusy scent. When applied, you can detect a little hint of the coconut's aroma. It is overall a very sweet and uplifting experience.
This lip scrub is made from castor sugar, so the grains are expected to be medium-coarse, the perfect amount of abrasion for our soft lips, just effective enough to exfoliate the dead skins away. Do not panic like we did when you see pieces of red flakes (yes, we thought they are chilli flakes at first), those are what known as "edible hearts" a.k.a. sugar cake toppers or sprinklers. It feels really sleek and moisturizing too, much wetter in consistency compared to their another lip scrub – Lush's Bubble Gum Lip Scrub, so the sugar crumbs stick to the lips better.
Price and Weight
The Santa's Lip Scrub by Lush retails at Lush Stores at SGD$21.00 for 25g.

How this Lush Lip Sugar Scrub Works – Ingredients
Cherries and Dates Extracts
Cherries are anti-oxidants and have great anti-ageing effects on our skin. It helps tightens the skin and reduce fine lines and wrinkles on our lips. Dates have been a skincare staple for a long time due to their richness in Vitamins. They help in boosting collagen production and contain minerals such as zinc and manganese that aid in the renewal of skin cells and maintain the suppleness and firmness of our skin.
Caster Sugar
Natural exfoliants to help remove dead skins from our lips. The granular consistency ensures deep massaging into the lips in revealing not just smoother but also fuller-looking lips due to the stimulation of the blood capillaries and increased circulation of blood flow in our lips.
Extra Virgin Coconut Oil, Persian Lime Oil, Black Pepper Oil, Aniseed Oil
We all know oils are excellent moisturizers for especially dry skin. Those with chapped, dry lips will love this product. Coconut oil is an excellent skin conditioner and softener that hydrates the lips naturally. Persian lime oil has astringent properties that constricts and shrink blood vessels below our skin, resulting in firmer-looking lips.
Do not be turn off by the presence of black pepper oil just because it is known to irritate sensitive skin. Unless you are allergic to pepper oils, you should not be too worried about it in this scrub because it is not strong at all. Black pepper oils are in fact so beneficial to our skin that it helps to heal even dermatitis and other severe skin problems. If you are in a cold country, it is also an essential in keeping your skin or lips warm and supple.
Aniseed oil smells like black licorice and has antiseptic properties. Like black pepper oil, it is has medicinal properties and helps to heal cold sores and chapped skins.

How to Use/ Apply The Santa's Lip Scrub
Like any sugar scrub for the lips, take a pinch of the product and buff it all over the upper and bottom lips, going beyond the lips' outline. Give it a good scrub for a couple of minutes before wiping with a damp cloth or rinse it off with warm water.
Lush's Santa's Lip Scrub Review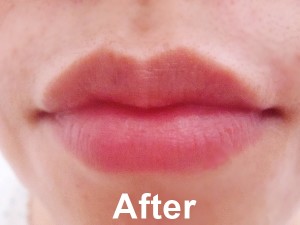 If you'd been reading us, you'd probably know by now we are Lush addicts. With super ingredients that only nourish the skin and make those lips mistletoe-ready, even you could not resist licking your own lips. What makes the Santa's Lip Scrub a coveted lip product is that it really is an all year round lip treatment and not just for the winter season. It preps and prime the lips well so that the job of applying any subsequent coats of lipsticks or lip glosses seems easier as well as making any lip color stay longer.
Of course, with a festive concept behind it all, Lush's Santa's Lip Scrub makes an excellent last minute Christmas gift idea for anyone too. You can't go wrong with a gift that only makes a person one step closer to having Angelina Jolie's sexy pouts.
 Now that your lips are ready…why not pop a bubble gum? Shop online for Lush's Bubble Gum Lip Scrub by clicking on it below!

Running out of #christmasgiftideas? Nobody rejects #lush -cious lips from #Santa #lipscrub #sugarscrub #lushsingapore http://t.co/HUVyeaJYiw

— SGBeautyProducts (@SGBeautyProduct) December 21, 2014
Please follow and like us: