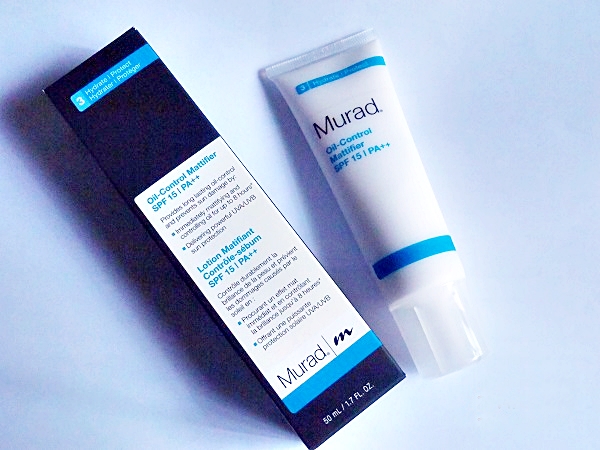 The good news is, for those with oily skin, Murad's Oil-Control Mattifier is here to mask those shine off your face. The better news is, this mattifying lotion also comes with SPF 15 PA++ sun protection properties that allow you to stay matte and protected from UV rays even when you are out in the sun. If this does not knock your socks off, we do not know what will.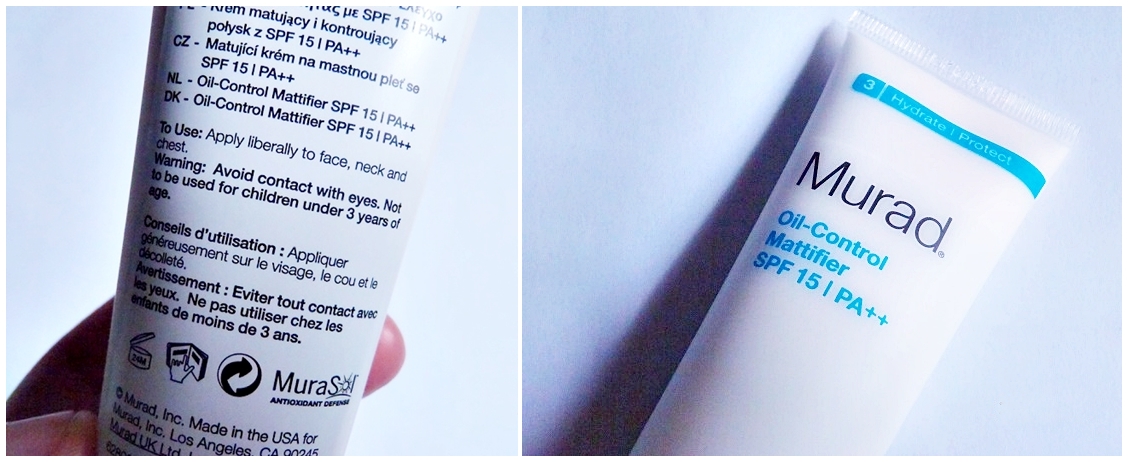 Murad Skin Care: Murad Oil-Control Mattifier Review
Packaging
Murad always come across as a reliable brand because of its packaging that carries a 'clinical' feel to it. And since it tags to Dr. Murad, the founder of the brand as well as a skin care doctor and researcher, we feel that using Murad's skin care products on our skin is likened to being in good hands.

This mattifying lotion comes in a translucent plastic squeeze tube with a translucent screw cap. The tube has a nozzle with which gives you good control in squeezing out the desired amount of product easily. Not gonna lie, we'd wished it come with a flip-cap instead; that would have freed us from some hand-fumbling between screwing it back on and keeping the cream steady on the back of our hand since the consistency can be runny.

Consistency and Fragrance
The product is of a light, creamy yet almost aqueous texture; and is fragrance-free. If you sniff it hard enough, it actually smells like a brand new, empty something; like a new empty box. It does not give any hint of contamination, if that makes sense.
Upon application the product does not get absorbed instantly, it floats a little before it is finally penetrated into the skin which makes sense since it should be 'film-like', forming a matte layer above the skin so that sebum and perspiration do not seep through that coat.
Size
The Murad Oil-Control Mattifier is in 50ml (1.7 fl. oz) sized tube
Keeping your skin Shine and Oil-Free
Key Ingredients
Cyclopentasiloxane – derived from silicone, it acts as a waterproofing barrier that prevents the oil and sweat from permeating through the pores of our skin, hence controlling sebum production and shine.
Hydrates and Protects
Don't be fooled into thinking that all mattifying products are drying to the skin. While the Murad Oil-Control Mattifier is not a moisturizer per se, it does not dry the skin out, instead it leaves the skin smooth and supple.
How it Works without drying out the skin
Inositol, Yeast Amino Acids – these are humectants and have moisturizing effects on our skin due to their ability to hold and retain moisture within our dermis. They also help to repair and revitalize dry, dull, and chapped skin.
Murad Oil-Control Mattifier with SPF 15 PA++
We know how important SPF is when it comes to blocking out sun damages that can adversely cause our skin to age prematurely and unsightly dark spots and wrinkles. The product comes with SPF 15 that is able to protect our skin 15 times longer in the sun.
PA is a Japanese sun protection rating that classifies sun protection capabilities of a skincare product (scale of PA+, PA++, PA+++). The more '+' signs a product is rated, the better sun protection it offers.
How it Works in Sun Protection
Ethylhexyl Methoxycinnamate, Zinc Oxide – protect the skin and block off sun damages such as UVA and UVB rays, thus has sun screening benefits that prevent the skin from ageing and degenerating quicker than it should.
How to Apply
Apply the product to cleansed skin, leave on for at least 5 minutes before make up.
Verdict:
Murad claims that this Oil Mattifier is able to mattify the skin and controls oil for up to 8 hours. Well they are not wrong since they also state that results can vary. For a humid climate like Singapore, it would be torturous to the skin if your perspiration and sebum glands go into a royal rumble with the product trying to hold the sweat and oil out. Under extreme cases (out in the sun running errands for example), perspiration can still condense through the product barrier. Dabbing them off with a tissue does the trick and your skin remains matte. No biggie.
On a relatively fine and cool day or in air-conditioned environment, this oil mattifier does keep your T-zone shine at bay for as long as 6 to 7 hours, no less.
One mental note anyone should take is to always allow the product to set at least for 5 minutes before applying makeup, because if you don't, you may find it tricky to apply a concealer or foundation product over it as the mattifying lotion may not be fully adhered to the skin and gives too much slip.
Price:
SGD$75.00 at Singapore Sephora outlets and at Murad counters of major Departmental stores such as Metro.
Grease is not for your face! Defeat the OILY MONSTER in you now! #drmurad #skincarereviews http://t.co/gQi15U2kut pic.twitter.com/TFxptkcoR6

— SGBeautyProducts (@SGBeautyProduct) August 27, 2014
Please follow and like us: