I got the Laneige BB Cushion foundation from Korea's Incheon airport's Lotte duty-free shop through a friend who was there last couple of months ago. Yes I will tell you the price now – it costs me USD$29.00 (SGD$40.00). This same product would've cost SGD$42.80 at the Shilla Duty-free store in Singapore's Changi airport, or retailing at SGD$59.00 at Laneige and Sephora stores here.

Like how it is sold in Laneige retail shops, the package comes with a compact with the cushion cream already inside, and a refill pack. My skin's a No.21 Natural Beige on their color chart.
Laneige BB Cream in 'Cushion' form: a Sheer to Medium Coverage foundation
This Laneige BB cream in cushion form I call it – was known as the "snow soothing" cushion as we knew it. I'd tried BB creams but not through this type of sponge-dabbing way of application. This product has a sister that is termed the Laneige BB Cushion "Pore Control" and comes with a light blue casing. Sadly, though it is this one that I'd wanted, I think I'd to forgive my friend whom at that time must be too flustered over which "BB" to grab prior to catching her flight. "BB" must have stood for "blur-blur" for her. Lmao.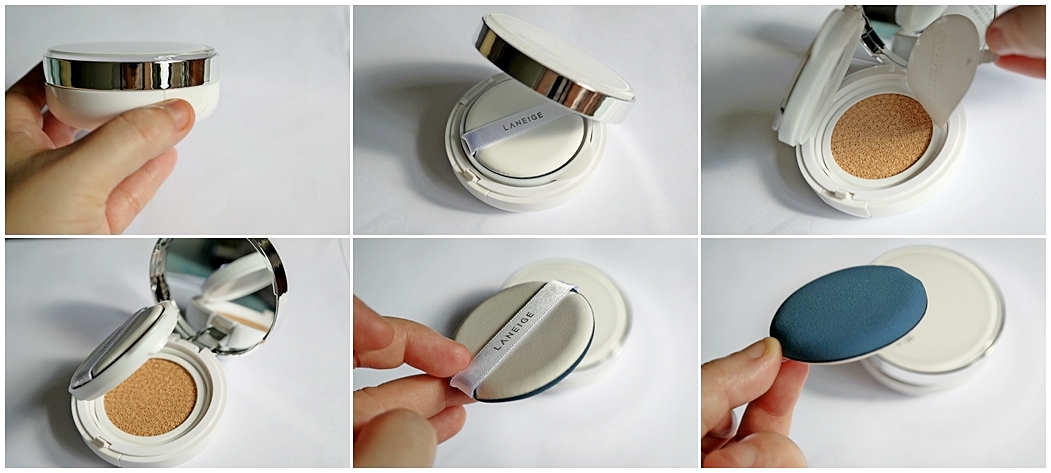 Packaging
The compact is simple enough to handle – press the mechanism to open the casing, lift up the plastic flap that houses the sponge buff, and there you have it; the sponge cushion soaked with bb cream all ready for you to use.

The Sponge Buff Application Experience
The foundation comes with a thin but solid buffing sponge applicator, the dark blue side being a non-porous, almost suede-like fabric material for dabbing and picking up of the foundation without actually absorbing the product on its own. This makes the product transfer rate on to the skin extremely efficient and takes no time for the first coverage to complete.
The contact the buff makes with the skin is to me, a weird one as it feels kind of cold and gripping at the same time. But I understood this as the intention is for you to dab on in layers and not as much as gliding the product on. Therefore, the friction there is necessary.

Coverage
The Laneige BB Cushion foundation is like liquid foundations, except that it offers a sheer to under-medium coverage; totally expected that of a BB cream. Evident from the above photos, even after dabbing on a second layer, blemishes like acne scars and pimples remain unmasked. This product prioritizes on brightening the skin and a dewy complexion, so it was good to see that it helps to fill in some pores as well. 
How to Apply the Laneige BB Cushion Foundation the most cost-effective way
The Laneige advertisements often make their BB cushions out to be bursting with product (think overflowing bb cream oozing and rippling out of the cushion with the pressure of one finger). Let me show you what is the real case here.

I gave it a real hard press here. Of course, you can apply this bb cream with finger as well but you'd rather not now that you know there ain't much of a product soaked in all that cushion disguise. Therefore use the buff dabbing method so you can apply it sparingly!
Ingredients: The Laneige 6-in-1 BB Cushion Technology
Some term this bb cream product as the Laneige 6-in-1 BB Cushion because of the 6 multi-benefits it brings:
Contains whitening ingredients that brightens the skin and diminishes the appearances of marks, blemishes and scars on the skin.

Comes with SPF 50+ PA+++ sunscreen UV protection to prevent the skin from harmful sun damages 50 times longer than without it.

Has Optimal Mineral Water in providing deep hydration to the skin

Is of a non-shiny and non-sticky formula

Has skin-soothing properties that offer cooling and refreshing sensation to the skin

Is also a water-resistant formula that resists perspiration and sebum so makeup can last up to 12 hours
Verdict: 
The Laneige BB Cream Cushion foundation lives up to its hype as far as luminous skin is concerned. Under both natural and artificial lighting, the skin reflects and diffuses with the right intensity. The dewy look it gives is a little different from the outcome of the Makeup Forever HD Foundation. This one delivers a higher degree of glow as opposed to 'dewiness'. It certainly helps to revitalize the dull skin tone I have. That's like strobing makeup without even trying. Thumbs up for that. Though coverage is light, a little concealing does the work.
One thing I'm not certain if it is a pro or a con is that the formula is so waterproofed that when I perspire, especially at the area above my upper lip, the perspiration droplets simply stay floated on the skin like some water nano-particles as if my skin's made of some hydrophobic coating. Living in Singapore is impossible not to sweat, so, ladies, just be careful with that and keep some tissues near you before the worse gets too obvious.

The Laneige BB Cushion SPF 50+ PA+++ really does last for at least a good 7 to 8 hours and oxidizes very little which is always a plus. But one tip for this though, is to ensure you have an oil-free primer underneath it. The BB cushion's mineral water-based formula does not jive well with oil unless you want to see your second skin sliding away.
Please follow and like us: