The Born This Way foundation by Too Faced Cosmetics was launched in August earlier this year and there'd been mixed reviews about it. There were reported cases from horrible breakouts to flawless dewy finish. With a wide spectrum of opinions like this, I think I'd better attest to this baby myself.

Too Faced Born This Way Liquid Foundation Makeup Review
Packaging
This product has a very interesting selling angle to it – Too Faced Cosmetics uses name like "born this way" and a line like "I woke up like this"; the marketing approach kicks up a notch by claiming the skin of the consumer and that sets this liquid foundation apart from the usual we'd normally gathered from other beauty brands. Instead of the "see that woman with that amazing skin? You can be her'" vibe coming from others, this one seems to be telling us "see that woman with that amazing skin? That's you" – Yes, I pay attention to details like this. I've already been sold on this campaign if you can't tell. 
The Too Faced Born This Way liquid foundation comes in a frosted cylindrical glass bottle – albeit a little oldish-looking (it would've been classier  if it is a squarish one), the packaging is still elegant with gold letterings and a gold rim with gorgeous embossing details on it as well as on the cap. 

Shades
They've got about only 8 shades in the store, this one I'm reviewing here is in Vanilla, a light nude base for neutral to pink undertones.
Price and Size
It retails at SGD$55.00 for a 30ml (1 fl. oz) bottle at Sephora stores in Singapore.
How it Works: Key Ingredients

Coconut Water, Alpine Rose & Hyaluronic Acid
You know you're looking at some serious skin-plumping and anti-aging recipe when you see these powerful trio.
Coconut water tones and hydrates the skin and also is an antioxidant in protecting the skin from sun damages and other free radicals in the environment.
Alpine Rose regenerates our skin's stem cells and boosts the overall quality of the skin in terms of structure and provides a natural skin barrier in protecting it from stress and ageing.
Hyaluronic Acid is known for plumping the skin's wrinkles and fine lines and is an excellent natural moisturizer for skin as it is a natural structural component found naturally in the body.
Consistency/ Texture
Unlike other dewy foundation like the Makeup Forever HD Foundation that tend to be more liquidy, this one feels surprisingly rich. On application, the product dries up rather fast too. So if you dab a little of it on different parts of the face before blending, be sure to make this process quick, or else blending could face with a little resistance on the skin.
These photos were taken around 9 plus am in the morning. The left photos below show my bare face (before) and after medium coverage application (one full pump of product) in the right photos. The product was laid over my moisturizer and Mac Prep + Prime Fixed Plus; I avoided primers this period because of my acne. I have not used any concealer yet in the After pictures too. Notice how it blurs out pores but not as effective in covering up blemishes and age spots. I didn't go on to build up to full coverage because once my pores are filled, any added foundation would have clogged up my pores. The concealer can do the rest of the job.
Throughout wearing the Too Faced Born This Way foundation, my skin feels ultra natural and light-weight despite the rich texture. Notice how nicely it bounces off light too?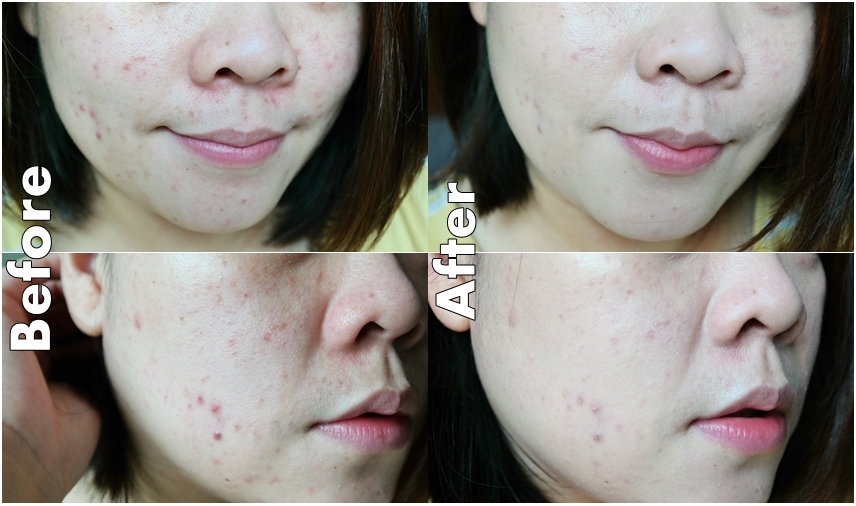 Verdict: Best Dewy Foundation Makeup for Oily Skin
This is how it turns out after 8 hours. This photo was taken around 5 plus pm.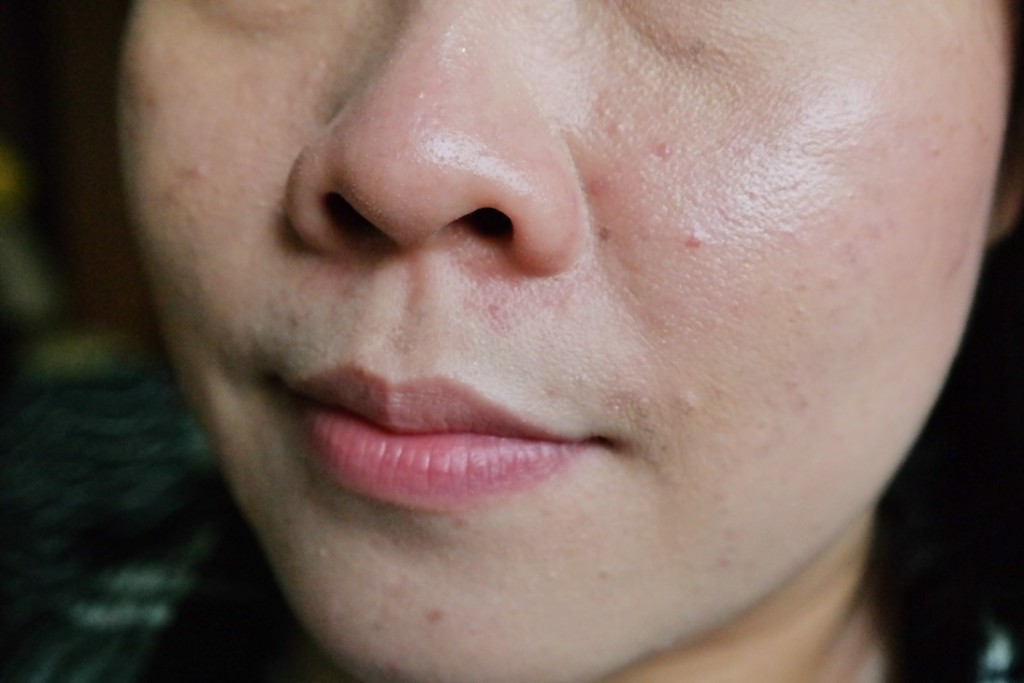 The first thing I noticed was how well it managed my sebum production. I did not blot out any oil or powder my face throughout these straight 8 hours of wearing the foundation. Granted, I wore this for at least 5 hours in an air-conditioned mall, but wearing others would've been worse. The second thing I noticed was how little this foundation oxidizes on my usually oily skin. Next, I check for any settlement of the product in my fine lines. No trace of such.
Whoa. It passed all the 3 most important tests of a foundation (imo), plus I really like the comfort on my skin it gives. No doubt it gives a sheerer than what I'd consider a medium coverage in most cases, I'm fine with that because the natural and radiant complexion (on top of the pros I'd mentioned) it gives is a great pay-off. It is difficult to find a liquid foundation that can achieve such naturally glowy or dewy appearance without weighing on the skin. Even the lighter weight Korean BB creams like the Laneige BB Cream Cushion tends to settle in my fine lines after a while perhaps because it is mostly water-based.
The Too Faced Born This Way foundation has now become one of my favourite foundations, and the brand too, is right up my alley for being 100% animal cruelty-free. Highly, highly recommended.
Please follow and like us: