The San Francisco-based Bare Escentuals company is known for its quality Bare Minerals mineral makeup line and their 'feel good' skincare range that could bring you that perfect glowy, healthy skin. In this article, we are going to do a review on their Bare Minerals SPF 20 Correcting Concealer (Correcteur).
First Impression
Packaging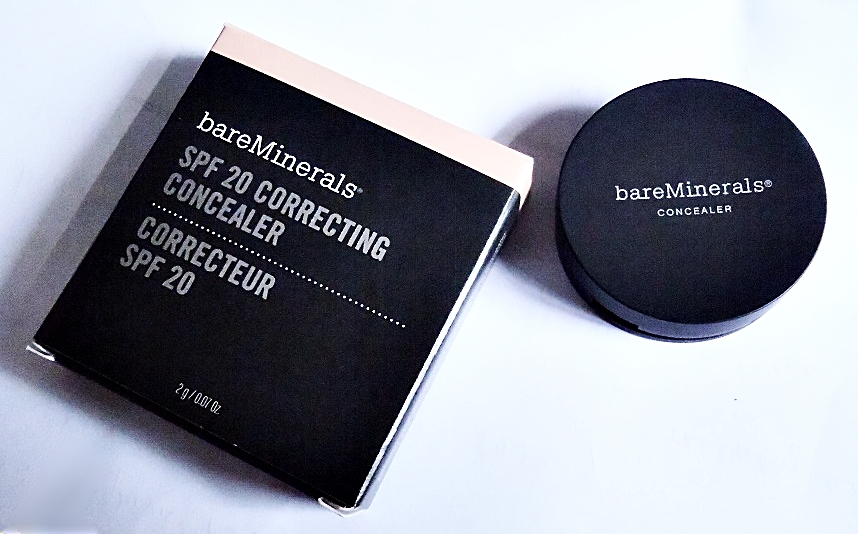 The Bare Minerals Correcting Concealer is a cream concealer that comes in a pocket-sized round pot with a lift-open lid that also double up as a mirror on the inside, that can easily be snap-closed. This product is made in Canada, and has a net weight of 2 grams (0.07 oz).
Shades
The product comes in 8 shades (light, medium, tan & dark in pairs of yellow and pink undertones), but the Sephora outlet that I bought it from only has two shades, i.e. Light 1 and Light 2; they are the lightest of all the shades and have pink and yellow undertones respectively.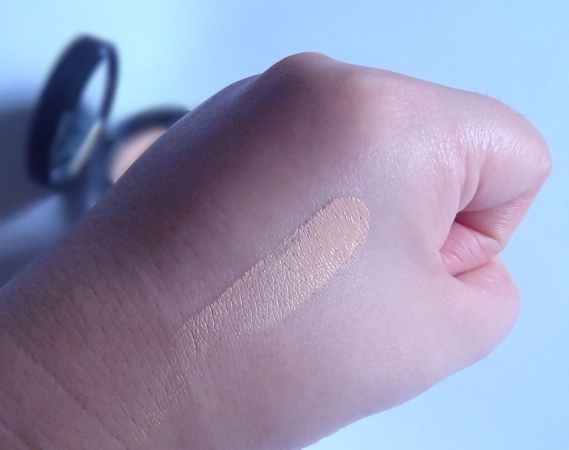 Scent & Texture
It has quite a strong earthy, clay-like scent to it; not that it bothers me but coupled with its waxy texture it certainly reminds me of pottery material more than any other cream concealers I'd used. The consistency of the concealer cream paste feels sleek and hydrating. As seen from the swatch shown here, it gives off a highly reflective, dewy finish.
An SPF 20 Correcting Concealer by Bare Escentuals
How it Works
Ingredients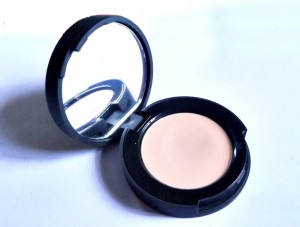 Here are some of the ingredients worth mentioning:
Broad Spectrum Sun Protection Factor (SPF) 20: Titanium Dioxide
The Bare Minerals concealer comes with SPF 20, this means it can protect your skin from sun damages that can cause dark spots, hyper pigmentation and ageing to your skin for up to 20 times more than what your skin can withstand without it. It also means the concealer is able to block out more than 90% of UVB rays that are coming at your face.
And since this concealer contains 15% of active ingredient of Titanium Dioxide, it also provides protection against the full spectrum of UVA rays. Titanium Dioxide is known for its UV blocking properties to defend our skin against ultraviolet radiation and is a common ingredient in sunblock and sunscreen products.
We use concealers to mask skin imperfections such as spots, marks, acne, freckles, redness or bumps, thus applying the product over these affected areas will prevent further skin irritations and cellular damage caused by sun exposure.
Skin Conditioners: Isodecyl Isononanoate, Phenyl Trimethicone, Hydrogenated Polyisobutene
Isodecyl Isononanoate, Hydrogenated Polyisobutene are emollients that acts as a lipid thickeners that softens and primes the skin. These ingredients bind the colour pigments and the formula together to form a film that bonds well to the skin.
Phenyl Trimethicone is a silicone-based skin-conditioning agent that prevents the loss of moisture from the skin by forming a protective barrier to the surface of our dermis. By doing so, it evens out the skin's texture makes our skin appear suppler.
Prevents Makeup Meltdown: Calcium Aluminum Borosilicate & Euphorbia Cerifera (Candelilla wax)
This is probably the most important feature I look for in a concealer product since concealers are usually applied under as the base to all other makeup like blushes, powder, fixing sprays, etc, and if it gives way underneath all those, all makeup will eventually fall apart.
Calcium Aluminum Borosilicate is a bulking agent that is water insoluble and therefore makes the concealer perspiration-proof thus preventing your makeup from melting or fading off your face.
Euphorbia Cerifera (Candelilla wax) is a plant-derived ingredient that acts as a stiffener that gives the concealer formula its structure so it does not run or discolor but holds well to the skin.
For that Silky, Velvety Finish: Silica, Euphorbia Cerifera (Candelilla wax), Cetyl Esters, Lecithin
Silica is known for its versatility in cosmetics uses; for their plumping and mattifying functions to name a few. However in this Bare Minerals concealer, Silica is vital for its anti-caking property that allows better spreadability of the product on to the skin, helping to fill up fine lines and wrinkles more readily, giving the skin a flawless silky satin finish.
Candelilla wax and Cetyl Esters also gives pliability to the film-like coverage to the skin and provides a smooth and lubricating application to the skin's surface. This in turn reflects a dewy, glowy skin tone when other makeup is subsequently applied.
Lecithin is a skin surfactant that helps reduce water tension on the skin. It is an emulsifier that binds water with the rest of the formula in preventing makeup from drying out so that it will not be cakey or flakey.
Anti-oxidizing Properties: Copper Ferment, Lemon Peel Ferment Extract (Lactobacillus)
Copper Ferment is rich in micronutrients and enzymes that speed up skin tissue renewal and cellular repair. It is a vital ingredient for promoting wound and scar healing as well as skin elasticity through the stimulation of collagen. Its antioxidant properties also protects the skin from free radical damage.
Lemon Peel Ferment Extract is of natural origin and is rich in anti-oxidant formulation. It is known for its skin-lightening effect and helps to balance and brighten skin tones. Therefore it has the inhibitive quality to prevent the formation of melanin, age spots and other skin pigmentation disorders, improving the skin's luminosity to your otherwise dull skin.
Together with Copper Ferment, Lemon Peel Ferment Extract (a.k.a Lactobacillus) not only bring strong anti-oxidant benefits but also powerful anti-ageing effects.
For that Nude Shade & Iridescence: Iron Oxides & Bismuth Oxychloride
Iron Oxide is what gives the concealer its colour. The colour of Light 2 (the one being reviewed here) has a yellow undertone whereas light 1 has a pink base tone to it.
Bismuth Oxychloride is a chemical compound that attributes to the pearl-like shimmery, iridescent look the product gives off your skin. Due to the white pigment it contains, Bismuth Oxychloride tend to deliver that flawless satin sheen that gives the illusion of a fresher-looking glowy skin appearance.
The Bare Minerals Correcteur: A Breakdown of detailed Concealer Reviews
Coverage: The Light Spots, Dark Circles & Pimple Tests
We put the Bare Minerals Correcting Concealer through a series of tests to see how well the coverage is for red bumps & blemishes, light spots, under-eye dark circles and pimples.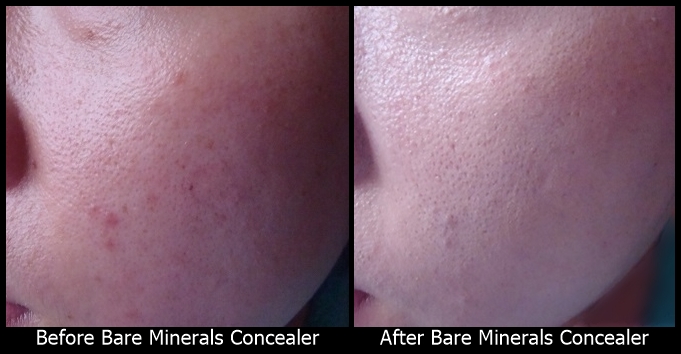 It camouflages redness and minor blemishes well by using just a tiny amount of the concealer. Because the formula is so hydrating, it takes no effort in blending the product over small marks and light spots for instant coverage. Translucent powder dusted lightly over the cheek areas is enough to set the concealer nicely and fill up the appearance of pores.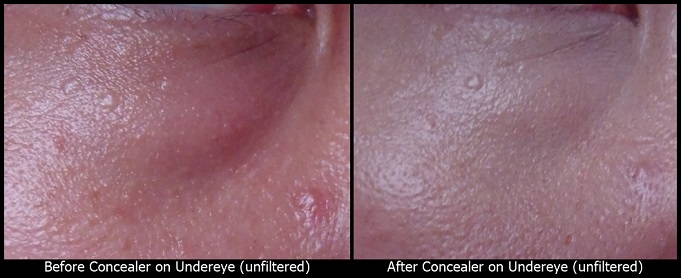 Despite concealing my dark circles with a second layer of the product, it didn't quite make the cut as you can see. Though it lightens the dark circles, I was surprised it didn't quite smooth out the crease of my eye bag. I had to pack the under-eye areas with powder in order to erase off the crease lines. Because it is a sleek formula, it did not help in de-puffing my eye bags. Even the small milia seed bumps were kind of accentuated from the application. You'll need an extra step to mattify your under eye areas if you have the same problems like mine.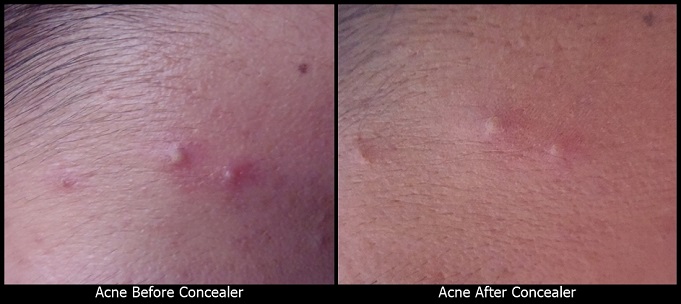 As far as concealing acne is concerned, the Bare Minerals concealer does a pretty decent job in hiding the redness around the bumps. Although it could not do much to the raised acne bumps, it definitely makes them less noticeable.
Price and Where to Buy
The Sephora-exclusive brand Bare Minerals is retailing their Bare Minerals Correcting Concealer at SGD$39.00 at Singapore Sephora outlets.
Verdict
The Bare Minerals Concealer is very buildable due to its blendable formula, thus it is versatile enough to build from medium to full coverage. The product is highly pigmented and has a sleek texture, thus it highlights any raised facial contours quite instantly. The best part of the face to apply the concealer on will be the cheeks, nose, chin or brow bones; anywhere you'll like that extra 'lift' but can be tricky if it highlights the wrong areas like in my case, my eye bags.
It gives a natural, seamless finish, so it does not matter whether you apply it just below or on top of your foundation. I have quite severe dark circles, thus I always prefer to apply the concealer under my foundation to avoid looking too ashy at my eye bag areas because the darker your under eye dark circles are, the more white pigment (from the iridescent quality of the product) is going to make those areas appear greyish. I find that applying foundation on top of the concealer gives me more control over this since the concealer is rather fluid, it is better that it moves with the blending of the foundation as opposed to blending it alone while the underlying foundation is being set.
It is perhaps of the silica and Bismuth Oxychloride content, I have to say that while this product brightens the skin and offers good coverage to certain problematic areas, its lustrous quality does not necessarily conceal all flaws.
Despite using a concealer primer and translucent powder to set my makeup, the concealer still creases at my crow's feet at both ends of my eyes after a few hours. I know it is not uncommon to take pigments off makeup as we dab off sebum or sweat, however I do see that this concealer does transfer on to my tissues and blotters more than others, meaning that its staying power is not as great.
Because it is of such a moisturizing texture and has great brightening effect, I will recommend the concealer only to those with dry and dull skin.
Please follow and like us: