Some drugstore makeup is simply not to be missed – in the name of beauty and more so the accomplishment to have achieved more with lesser money.
Maybelline cosmetics has helmed in their watershine lippies since eons and revolutionalized mascaras to the point where Dior has to bend their wands like Captain Hook's prosthetic right hand to claw back lash attention. Not far away L'Oreal too has to spread their bristles like butterfly wings all in the efforts of defense and attack back like rebels on guard.
Baby Lips was a hit but Baby Skin was just…mehh. The baby rolled out dressing too much like Benefit's Porefessional; the storm that spun its birth didn't bring anything more than drizzles. This dupe does no legitimacy.
In the world of concealers however, they're taking us on yet another upward roller coaster ride – once again putting higher end labels to shame.
Maybelline Instant Age Rewind Under Eye Concealer Review
Please don't be annoyed that we're featuring a product that is not available in Singapore. They're widely accessible online and drugstores around the world but here – we couldn't put our fingers on why too. But I get why it was constantly being featured as "monthly favourites" by the beauty community because my dark circles have finally seen light after all the past years they'd been toiling with me in the dead of nights.

Packaging
First off, the sponge ball applicator is genius. I'm not saying doe-foot ones or creamy sticks are bad but if the intention is to blend and blur off, why the heck do you need those precise strokes for? Not to mention the sponge releases the product quite evenly; and with its light, bouncy momentum, does the blending job in place of your finger too. That explains a lot why it is the size of your finger tip and mimics it perfectly for that matter.
The bitter part to swallow is that it takes forever to twist out the product. You may dispense more than what you need, use up the portion that's already been oozed out of the sponge, you'll have some ready for your next immediate use soaked in it. Fret not that it'll dry up because the sponge is packed with fleece-like microfiber so dense it retains moisture. With the clear half-capsule cap to seal it, you're safe.

Consistency
Despite its rich, thick and creamy texture, your skin doesn't feel burdened with it. This guy's freakin' amazing to offer you high coverage without throwing his weight around. It is fluidly but not to the point of sticky. Blends well with both liquid foundations and powdered or mineral makeup and dries up seamlessly.
Shades & Color
The Maybelline Instant Age Rewind concealer is available in Light, Fair, Medium, Honey, Neutralizer & Brightener, though in most drugstores I came across only the first three. The Neutralizer shade was designed to even out extreme dark circles, before you apply the concealer in your desired shade. In other words if you suffer from severely bruised under eye areas, one product is not enough for you. Lol.
The Brightener is technically not a concealer if you ask me – it is more of a highlighter, to be used for areas like the inner corner of the eyes, brow bones and bridge of the nose.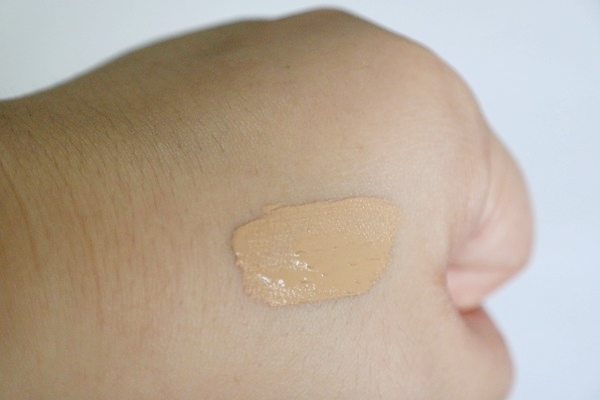 Price & Size
I picked up the Medium shade from my recent trip down under at Big W (they were having 30% off for the whole Maybelline rack) for AUD$13.09 (SGD$14.40). They were originally up for AUD$18.70. This product comes in 6ml tubes. I know blogshops like Under-Twenty20.com are selling online with ready stocks in Singapore for about SGD$20.00 each.
How it Works – The Key Ingredients
Haloxyl – an active ingredient known for its anti-ageing benefits to skin, especially targeting at under eye dark circles and wrinkles in moisturizing, firming and toning up of the skin under the eyes. Dry skin is one of the causes of dark blemishes under the eyes. (Thankfully I've found a remedy for dry skin under the eyes and on face <– click to learn more.)

Goji Berries – also known as wolfberries, they are commonly known for improving eyesight and now you know they benefit the skin too. They contain a powerful antioxidant called astaxanthin, that not only fights the signs of ageing but also helps the skin to glow and brightens its tone.
Verdict
Best Drugstore Concealer for Dark Circles, Acne Scars & Age Spots!
The coverage is excellent,  yet the texture feels light and comfortable on the skin. It is super blendable with different mediums of makeup and doesn't crease; I really have no complaints other than the inconvenience of getting the product out by twisting the stick mentioned before. Below is a video demo of my lazy face makeup routine featuring the Maybelline Instant Age Rewind Concealer to see its amazing power.
A word of caution though, is that the product's consistency is so much alike liquid foundation you may want to go easy on them if you want to avoid looking too caked up. I won't even say it is buildable because a single swipe of it under your eye area is all you typically need. Dust over lightly with setting powder for a longer wearing effect.

If you are blessed with good skin and only need that under eye touch up, using the Maybelline Instant Age Rewind Eraser Dark Circles Concealer Treatment alone may just suffice. I don't have good skin, yet I feel I can do with just this concealer alone (evident in photos above with no foundation or primer at all).
I'll be honest to say it didn't do much to my puffiness (even though Maybelline claims on the package that it diminishes puffiness) but to have finally found a drugstore concealer that can almost fully mask those age spots and brightens my under eye areas the way even some higher end concealers like the Bare Minerals Concealer or the Benefit Fake Up Under Eye Concealer cannot – this product is worth every bit of the hype. Click here for a product that I'd tried recently that is super useful in reducing puffy under eyes, eye bags and dark eye circles.

Update: The Maybelline Instant Age Rewind Eraser Dark Circles Concealer Treatment has finally arrived on the shelves of various drugstores in Singapore. It is retailing at SGD$19.90 as of February 2016.
Please follow and like us: