The Philosopy Purity Made Simple Cleanser is an award-winning skincare product that cleanses, tones and removes make up all at the same time, hence the term "made simple". Today, this 3-in-1 daily formula remains as one of the most saleable facial cleansers in Singapore.
Philosophy Purity Made Simple Review
First Impression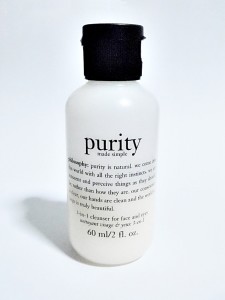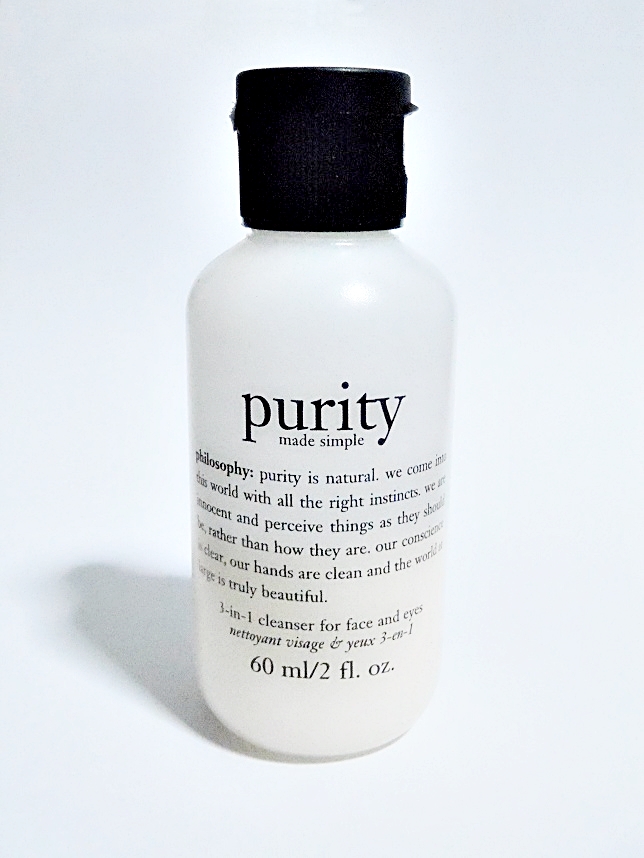 Packaging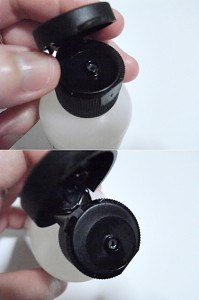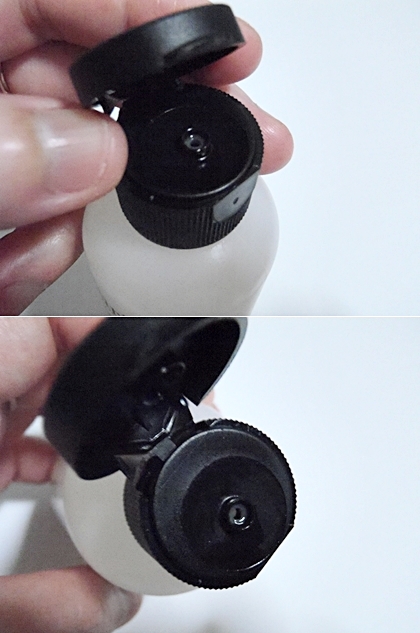 Like all Philosophy packaging, the Purity Made Simple facial cleanser comes in a plastic translucent bottle that has a clear bold header text that says "Purity" followed by the expressive motivational excerpt printed on it for your reading pleasure. The bottle comes with a flip cap for the 60 ml (2 fl oz) size and a press-down ledge cap for the 240 ml (8 fl oz) size.
Fragrance
If you are a Philosophy product user like I do (check out their other awesome product Philosophy Hope in a Jar), you will not be unfamiliar with the scent that the Purity cleanser brings. The Philosophy line of products have that signature plastic smell not everyone is a fan of, except that the Purity Made Simple only has that little hint of it.
The scent smells mostly lemony and calm, and believe it or not, it does have a therapeutic effect on application probably due to the presence of chamomile and rosewood oil.
Color, Consistency
The Purity cleanser is a smooth light yellow cream, almost serum-like in terms of fluidity. When the product was first dispensed, we thought it looked like a more fluid version of pale lemon curd.
When lathered on to damp skin, it becomes almost colourless and hardly produces any foam, yet provides excellent sleek in cleansing down the skin.

Size
There are a variety of Purity cleanser sizes available in the US, some of which are 90ml, 480ml and even 946 ml ones that come with the pump dispensers. In Singapore, we'd manage to only chance upon the travel sized ones of 60ml (2 fl oz) and the regular ones of 240 ml (8 fl oz).
Price
The Philosophy Purity Made simple facial cleanser is retailing at $36.00 for the 240 ml (8 oz) sizes at Singapore Sephora counters.
One-Step Facial Cleanser: Philosophy made it simple!
How it works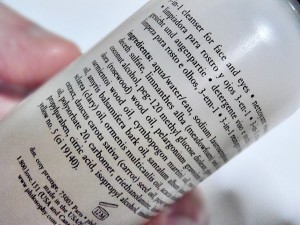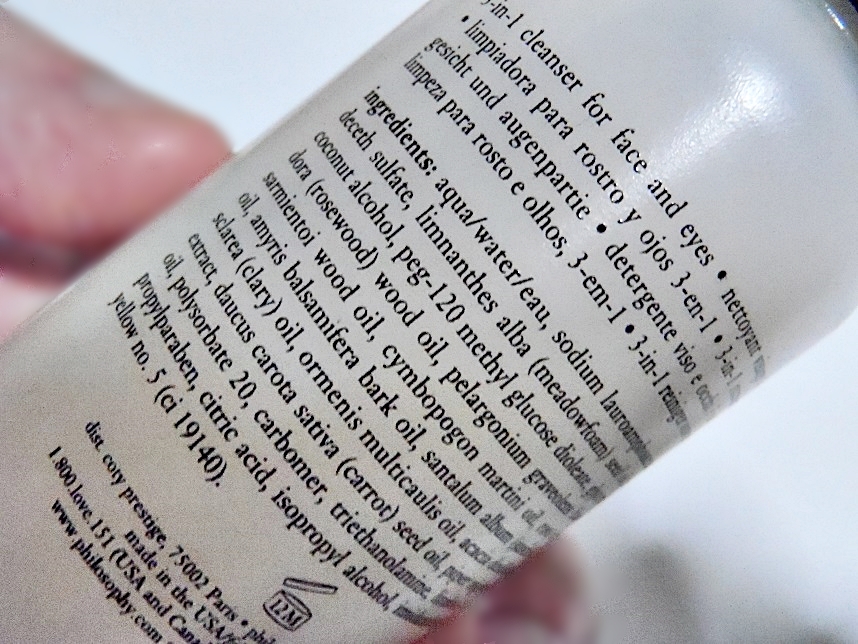 The Purity Made Simple Ingredients
Water, Sodium Lauroamphoacetate, Sodium Trideceth Sulfate, Limnanthes Alba (Meadowfoam) Seed Oil, Coco-Glucoside, Coconut Alcohol, Peg-120 Methyl Glucose Dioleate, Aniba Rosaeodora (Rosewood) Wood Oil, Geranium Maculatum Oil, Guaiac (Guaiacum Officinale) Extract, Cymbopogon Martini Oil, Rosa Damascena Extract, Amyris Balsamifera Bark Oil, Santalum Album (Sandalwood) Oil, Salvia Officinalis (Sage) Oil, Cinnamomum Cassia Leaf Oil, Anthemis Nobilis Flower Oil, Daucus Carota Sativa (Carrot) Seed Oil, Piper Nigrum (Pepper) Seed Extract, Polysorbate 20, Glycerin, Carbomer, Triethanolamine, Methylparaben, Propylparaben, Imidazolidinyl Urea, Yellow 5 (Ci 19140).
Let us go through some of the key ingredients and how they benefit our skin:
Sodium Lauroamphoacetate – A cleansing agent that is naturally derived from coconut oil that soothes the skin and prevent skin irritations
Sodium Trideceth Sulfate – A skin conditioning agent that helps in emulsifying the active ingredients to form a smooth formula
Limnanthes Alba (Meadowforam seed oil) – Provides glide in the cleanser formula and has anti-oxidizing benefits to the skin. It also provides an essential barrier in locking nutrients to the skin, and prevents it from drying out.
Coco-Glucoside – Naturally-derived from corn sugar and coconut, Coco-Glucoside is a mild skin surfactant that thickens the cleansing liquid for improved massaging quality.
Coconut Alcohol – A natural emollient from coconut oils, it helps to lubricate the skin as well as emulsify the formulation of the ingredients, resulting in hydrated, smoother-looking skin.
Aniba Rosaeodora (Rosewood oil) – A natural essential oil extracted from rosewood chips that helps in anti-ageing of the skin and produces a calming aroma for the product.
Geranium Maculatum Oil – This is a key ingredient for sebum and acne control for the skin due to its antisceptic and astringent properties. It balances the pH of our skin, so that it prevents the excessive oil production in our skin as well at the same time boosts hydration, making the dermis supple, soft and yet shine-free.
Cymbopogon Martini Oil (Palmarosa oil) – An essential oil that gives off a floral, rose-like scent. It also has antiseptic and antimicrobial qualities that fights skin infections and inflammations such as dermatitis. It also hydrates, rejuvenates and encourages skin cell turnover hence helping in scar and wound healing as well.
Santalum Album (Sandalwood) Oil – Has a therapeutic fragrance with a calming effect, great for stress-relieving. It is also an excellent moisturizer and has anti-inflammatory benefits.
Salvia Officinalis (Sage) Oil – A high performer in blood stimulant, it helps to brighten the skin tone and boost skin cell renewal. It also has antibacterial and astringent properties therefore provides protection to the skin against environmental pollutants and germs.
Daucus Carota Sativa (Carrot) Seed Oil – A skin conditioner that has skin healing properties that repairs, renews and restores the nourishment our skin needs.
Anthemis Nobilis Flower Oil (Chamomile) – Botanically derived Essential oil used for its natural floral fragrance as well as skin calming and soothing properties, an extremely helpful quality for sensitive skin. It has the ability to heal skin and mildly desensitize skin to relieve it from acne, bites, burns, rashes, etc.
One-Step solution to cleaning, toning and removal of makeup traces for the face and eyes
The Philosophy Purity Made Simple cleanser aims to provide a convenient and fuss-free way of integrating your daily facial cleansing regime every morning and night. The intention is to combine the 3 steps ritual of cleansing, toning and makeup removing into just one cleansing step!
How to apply
Dispense a small amount and lather the product into wet skin. Massage and work the cleansing solution thoroughly into the skin until you see that the residue turns slightly foamy (it will not get any foamier than just white streaks) before rinsing it off with water and pat dry.
Carry on with your serum and moisturizer as usual.
Philosophy Purity Face Wash: The Verdict
We love, love this Philosophy Purity Made Simple as a facial wash and we really think it leaves the skin squeaky clean after using it. However we think the three functions the product delivers on point were of course, the cleansing part and to us, the moisturizing and toning aspects of it. Not only does it rid of all oil and dirt traces, it leaves the skin soft, firm and surprisingly, hydrated. There were times we totally skipped moisturizing altogether and the skin remains supple, and the pores weren't tight like they do with other astringent products.
We tried using the Purity cleanser to remove makeup like what the product says it does, but unfortunately the results weren't as amazing. Even after cleansing the face twice with it, the traces of eye makeup remain there, and when the face is swiped with cotton pad, there was still foundation residue on it.
While we don't get the makeup removal magic out of the product, it saves us from the moisturizing step (in drier countries you'll probably still need to) and this is the new 3-in-1 selling point of it we'd discovered anyway: cleanse, tones and moisturizes in one single step, believe it or not! Plus we are addicted to the spa-like scent that makes the usually loathsome skin cleansing regime something we look forward to, especially after a long day.
The Philosophy Purity Made Simple cleanser is an awesome lot of essential oils goodness in one bottle, what more could we ask for?
Please follow and like us: