We are fans of Philosophy's skin care and this wouldn't surprise you. The brand presents their product range the way they should be – no frills, straight-up, and high-performing. The Eye Hope eye cream is, yes, you'd guessed it – a dependable formula that does not disguise itself as anything more than it can deliver.
As they say "eyes are the windows to your soul" – eyes can 'talk' and tell a lot about what a person is thinking. When you have tired-looking eyes, you often come across as having a lackluster disposition, and this can be detrimental to your social and working life.
We share a detailed review of this amazing eye product so you too can have a glimpse of hope in your eye and see how it can transform your life.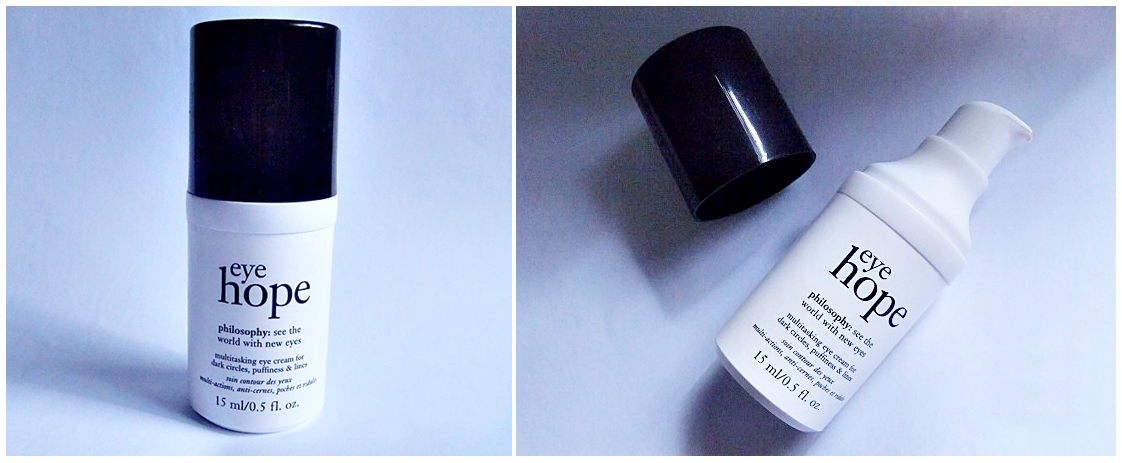 Philosophy's Eye Hope – Best eye cream for Dark circles, Fine lines & Puffiness
Eye Hope by Philosophy is a multitasking eye cream for dark circles, puffiness and fine lines.
Packaging
The product comes in a 15ml (0.5 fl oz) small bottle with a pump dispenser and a snap-on black glossy cap. The caption on the white bottle says "philosophy: see the world with new eyes". This is indeed true to word; read on and you'll understand why.
We love how light-weighted and easy the bottle is to be carried around and since it comes with a pump dispenser instead of the usual pot, it makes it fuss-free to get things done and over without having to screw open caps and risk smearing the product all over.
Fragrance
Though Philosophy is known for their fragrance-free skin care, the product has a mild scent of ripen peaches to it.

Consistency
The viscosity of the product is thicker than most eye creams that tend to be more fluid. It feels almost like a paste rather than a cream.
Price
Retailing at SGD$65.00 at Philosophy stores (Tangs Orchard, Ngee Ann City, Bugis Junction) and Sephora outlets in Singapore.
How it Works
We assessed Eye Hope on the usual 3 concerns of our eye areas: namely dark circles, fine lines and puffiness (or eye bags). We apply the eye cream the night before just prior to sleep, and woke up with visibly improved skin color and texture around the eye areas.

Eye Hope eye cream for Dark Circles
The difference between night and day light aside, you can see that the skin tone under the eye has significantly evened out and the dark circles under the eyes have visibly brightened.
Eye Hope eye cream for Fine Lines
The appearance of fine lines under the eye area was also visibly reduced. The wrinkles appeared to be less noticeable.
Eye Hope eye cream for Puffiness & Eye Bags
This product works best in the puffiness department. Notice how significantly the eye bag has subsided. While the eye cream cannot eradicate the swell totally, it helps to deflate it to quite an extent, resulting in a less haggard and more youthful appearance.
Moisturizes the Eye Area
The Eye Hope eye cream also has the ability to hydrate the skin around our eye areas to prevent the skin from getting dry, hence helps to plump up and lift the under-eye skin so that it appears firmer and give an overall perkier look.
Eye Hope: The Key Ingredients
Santalum Album (Sandalwood) Extract – helps to relief dehydration of dry skin that can cause wrinkles and fine lines around our eyes. Has excellent moisture retention properties in keeping the skin firm and supple.
Phellodendron Amurense Bark Extract – an antioxidant that is also anti-microbial and anti-inflammatory which helps slow down aging of the skin by catalyzing the skin's repair and renewal system.
Coffea Arabica (coffee) Leaf/Seed Extract – an antioxidant that prevents premature ageing due to its excellent astringent properties of caffeine that can tighten tissues to help reduce wrinkles and sagging of skin. It also increases the production of elastin and collagen that helps give the skin its plumpness and radiance.
How to Apply Eye Cream
There is really no rocket science involved in the steps of applying eye cream. The two most important things to note are:
1. Not to pull or tug the skin around your eyes as it is extremely delicate and sensitive; it may loosen or sag and cause your skin ageing process to be faster than it should be.
2. To always ensure that the eye product is well absorbed into the skin to prevent excessive cream or gel from clogging and causing the production of keratin and cysts or milia to build up on the skin around your eyes.
Take a tiny amount and dab onto the affected under eye skin. Pad with your ring finger (as it exerts the least strength compared to the other fingers) gently in a slow sweeping motion until all the product is fully absorbed into the skin.

Verdict
Philosophy's Eye Hope has been one of the best eye creams we have ever tried and used. With other eye creams, the skin around our eye area becomes less susceptible to the effects of the products and less responsive to the benefits they bring over time. But Eye Hope WORKS EACH AND EVERY TIME no matter what state our eyes are in. Of course it needs to work round the clock to see the amazing result. Nothing is quite instant except for this one here (Instantly Ageless Eye Cream) if you're interested:

Eye Hope has the ability to constrict tissues and firm up the skin around our eyes and perk up what may seem like eyes that'd been deprived of sleep for years. It makes blood flow through that deadly under eye area once again and brightens up dark circles as well as reduces unsightly under-eye bulge and lines – the result is more than good especially for a severe case like mine.

The price tagged to it is not exactly cheap (S$65.00) but most of the higher end eye creams in the market are also retailing around that price range. If it has to be this expensive, why not pick up the best among the lot?
Are You A Milia Seeds Sufferer?
If you are suffering from milia seeds around your eye areas like I do (as creams tend to clog up under the eyes where the skin is most delicate, they can be a little heavy for some users), here's an alternative solutionto reduce under eye bags, wrinkles and dark eye circles, . This is a product that uses beyond-nano water molecular structure for better absorption than creams and boosts cell renewals and the reduction of under eye puffiness more effectively without clogging your pores. Click here to find out more.

Please follow and like us: