An eye mask review finally! We've been employing eye creams on autopilot that sometimes we forget that some of the best eye masks offer instantaneous results. If you've been religiously slathering on eye creams, good on you. But have you not noticed that the skin around our eyes can be a total self-indulgent bitch – it's like it cannot yield to just one product for more than a few months (Philosophy's Eye Hope is quite a different thing). Somehow our (mine at least) under-eye skin's sensory responses to continuous use of a certain eye product could not last long. Once the product loses it novelty on our skin, you know it's time to move on to another eye cream. Of course, if you are an eye cream junkie and you want to avoid wastage, feel free to use them on round-robin.
Meanwhile Eye gel masks like this one here – the Bliss Triple Oxygen Instant Energizing Eye Mask, comes in handy when you merely need to cheat an earlier good night's sleep.
Bliss Triple Oxygen Instant Energizing Eye Mask Review
Packaging
Before anything, this Bliss Spa product has been getting a lot of bad light with their packaging that much I know. There were reviews saying that the seal breaking process was a mess and that the cotton pads didn't get soaked with the fluid. Not sure if I happened to be more cautious or got luckier than some, opening the packaging to me was a cinch.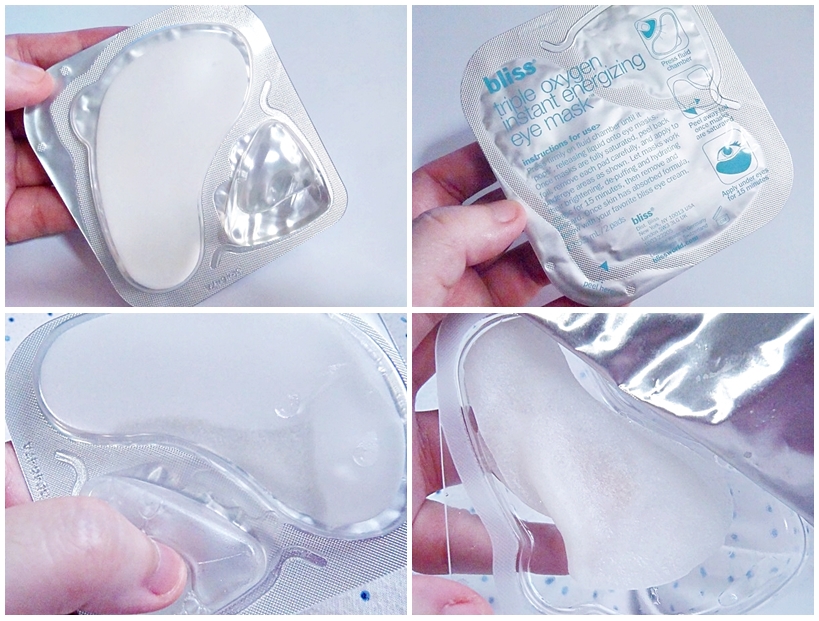 The pack of eye masks come in a foil double pouch that contains the dry eye pads in one, and the activating fluid in the other. You want to use your thumb to press down what they call the "fluid chamber" to break the seal that is separating the two compartments to allow the fluid to flow into the mask pads. I like to tilt it back and forth until I could see that the masks were thoroughly soaked. Then simply peel off the back from where it indicates, and pop those babies under your eyes for 15 minutes and discard after use.
Size and Price
One box of 4 packets (each packet contains a pair of eye masks) of 5.5 ml liquid each, retailing at SGD$79.00 at Sephora stores in Singapore. Yes I know, this means each 15-minute eye treatment costs about a whopping SGD$20.00! Use sparingly and only for very special occasions please.
Explore this Bliss Spa Eye Mask Product – The 3 Oxygenating Ingredients and more!
The Bliss Triple Oxygen Instant Energizing Eye Mask is marketed as akin to an energy drink for the eyes and promises to brighten, de-puff and hydrate the skin under the eyes to fake that 8 hours of sleep the night before.

The "triple oxygen" in this case refers to the three oxygenating ingredients, namely, Euk-134, Beech Shoot Extract and Sodium Hyaluronate.
Euk-134 is a super-oxide and a potent antioxidant that protects the skin against photo-ageing and sun damages from UVB radiation. It is also able to assimilate the skin's natural ability to regenerate itself, thereby combats free radicals as they come.
Beech shoot extract enables the skin to better absorb oxygen molecules from the environment and helps to oxygenate and detoxifies skin tissues. It improves the elasticity of the skin and aids in fine lines and wrinkles reduction.
Sodium Hyaluronate penetrates deeper than Hyaluronic acid as it is derived from its salt. It is a non-toxic ingredient and effectively restores moisture in our skin and prevents it from flaking. It hydrates and plumps our skin so fine lines are visibly reduced too.
Verdict:

Granted, the eye mask brightens my under eye area and lift my eye bag by a tinee winee bit (only if you can tell), but my eyes basically look as tired as before. In fact the quick boost it gave to my puffed eye inflated the eye bag even more, no? To think I actually heed their advice to chill the pack in my fridge for 5 minutes prior to using it for maximum de-puffing. My creases are still there and my eyes didn't really look refreshed either. The only thing it did good was making my dark circles appear a little rosier, like, as if to say at least I have healthier-looking eye bags now. But if you do not have severe eye bags like mine, then perhaps you will see a more significant result.
For those with highly sensitive skin, especially around the eye area, I would caution you to be careful with this product because the masks cause a slight burning sensation on my skin barely 2 minutes into applying them. It intensifies for most of the 15-minute instance, and I am not sure how it got better towards the end – whether it was due to numbness or not I do not know.
The mileage it gives doesn't quite measure up to the price tag. I wouldn't be too quick to judge if not for a fact that it says "Instant Energizing". Even if it is only for that one night we'd wished it could miraculously expel all dark circles, puffy eyes and under-eye wrinkles, the Bliss Triple Oxygen Instant Energizing Eye Mask goes up in smoke much as it made my eyes felt on fire.
Please follow and like us: