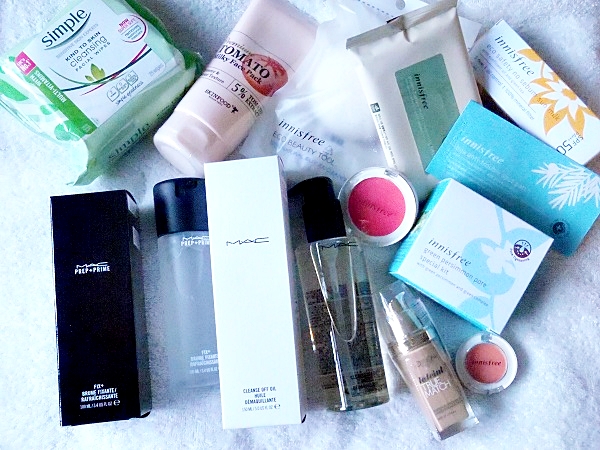 So I was due for some meetings in Kuala Lumpur last month and boy, was the venue the most inappropriate one. We ended our lunch meeting around 2:30pm, that left us exactly 6 hours of idling time before our 8:30pm dinner appointment with another business associate. What to do? Sunway Pyramid was basically shouting SHOP ME with their array of beauty brands floor after floor, turn after turn. So shopping it shall be.
L'Oreal True Match Liquid Foundation & Simple Kind to Skin Cleansing Facial Wipes from Watson's
Let's just say I started off conservatively with Watson's. One couldn't go past the L'Oreal rack without taking a second look at the marked down prices. I'd been hunting for the L'Oreal True Match Liquid Foundation in shade N3 for the longest time in Singapore. Both the Watson's and Guardian's I frequent are forever out of it. I finally found it here for 30% off the already cheaper retail price compared to Singapore's. It costs me MYR39.13 (SGD$14.60) as opposed to what I'd would have gotten for SGD$30.90 in Singapore drugstores.
Makeup removal wipes are always handy when you're travelling, they cut down your night routine by a fraction of time. So I picked up a pack of Simple Kind to Skin Cleansing Facial Wipes (25 sheets) at MYR15.21 (SGD$5.70) – seriously, if it didn't daunt on me that wet wipes may dry up over time, I'd have bought a few packs at one go because it costs me SGD$13.90 a pack back in my tariff-ridden city.
MAC Prep and Prime Fix Plus & MAC Cleanse Off Oil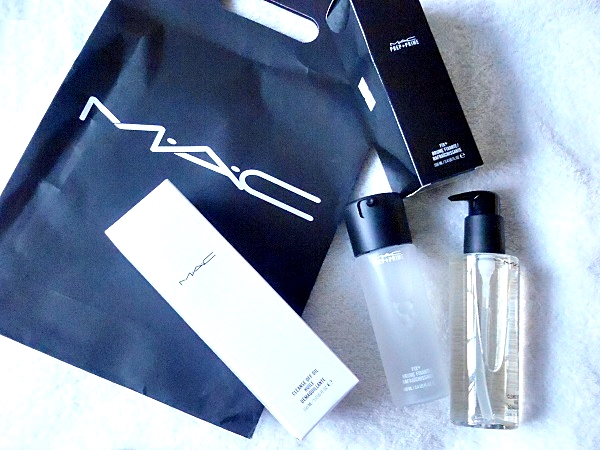 There were two MAC stores – at first I went to what seemed like a makeup kiosk with very little collection. Of course I attempted to ask for my MAC Fix Plus spraying mist which is also, again, always out of stock in Singapore MAC stores. The lady told me it was out of stock and then went on to cajole me into other products. Now if only she'd saved herself some cajoling time and tipped me off with her other full-fledged store instead, which, by the way, happened to be just around the corner. Anyways my instinct brought me there and I sniffed stock. A whole cabinet display of MAC Prep and Prime Fix Plus (100ml) was right there and then I found the MAC Cleanse Off Oil (150ml) just beneath and so that followed me to the payment counter as well. I knew I paid more for Fix Plus (MYR85.00 = SGD$31.74) because it doesn't cost more than SGD$30 in Singapore that much I know. I paid MYR104.00 (SGD$38.83) for the MAC Cleanse Off Oil which retails at SGD$48.00 in MAC Singapore. I get that their Prep and Prime Fix Plus is a holy grail to many but still, the pricings of Mac Cosmetics are beyond me.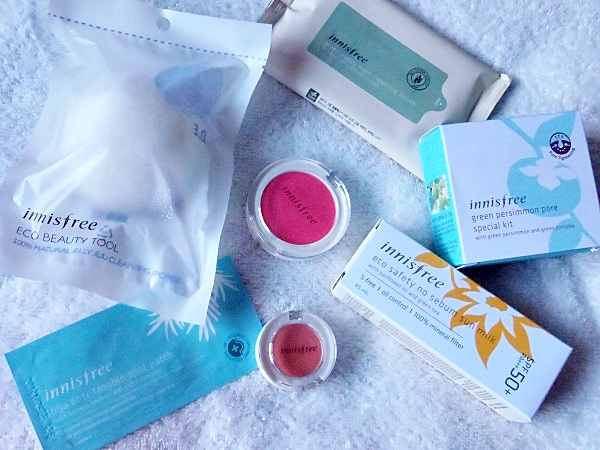 At first I was only keen to pick up the Innisfree Jeju Konjac Cleansing Sponge (MYR12 = SGD$4.50/ costs SGD$8 in Singapore) because it is high time I use it to compliment the removing of my Innisfree Super Volcanic Pore Clay Mask but then I ended up with more. You wouldn't be able to help yourself too when their cosmetics section beckoned you with those Spring's poppy colors. So I grabbed a mineral single eye shadow in that perfect peach, and a dolly pink mineral blusher. Oh but not before picking up the Innisfree Eco Safety No Sebum Sun Milk SPF50+ sunscreen (MYR57 = SGD$21.30) too and their Anti-trouble Spot Patch (MYR12 = SGD$4.50) to battle off those pimples. The Green Persimmon Pore special kit and the Green Barley multi-cleansing tissue may look all in full and general sizes to you, I swear they are freebies thrown in.
Skinfood Tomato Milky Face Pack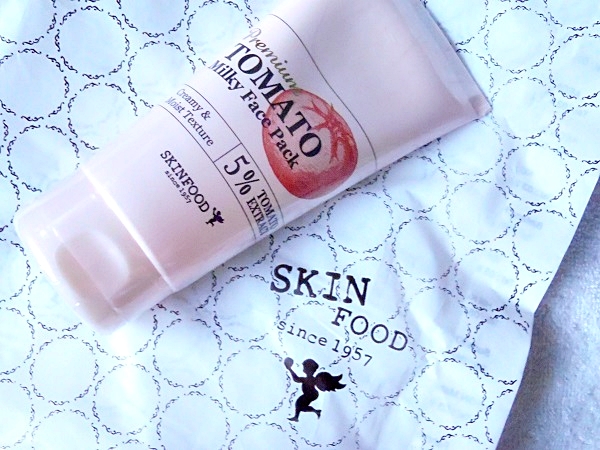 Another Korean beauty product – Skinfood. The Skinfood Premium Tomato Milky Face Pack (MYR63 = SGD$23.50) was aggressively promoted by the sales lady as the ultimate face lotion/ mask for brighter, glowy skin. Happy with the current healthy skin tone I have, I'm not exactly a fan of brightening or lightening product other than spot treatments, but glowy? Hell yes! Again I didn't end up with the original product I'd wanted to check out (avocado multi balm – out of stock), but this tomato face lotion-cum-mask that promises luminous skin. This product does what Korean beauty lines do best – you'd guessed it – a sleep-in formula, but also flexible enough to be rinsed off after 3 to 5 minutes if you fear it may clog your pores.
I can't say this trip hurt my wallet, on the contrary it protects it from being damaged more by saving those dimes (whaaaaat?)….. well you have to be a beauty junkie like me to believe that this makes going across the causeway so much worthier.
What's #spring w/o a #shoppinghaul ? We splurge again but. #YOLO . #bbloggers ##sgbloggers Link in the bio! pic.twitter.com/kaqQzWUY4J

— SGBeautyProducts (@SGBeautyProduct) April 12, 2015
Please follow and like us: