To be honest, I first got this Moonshot Cosmetics Powder Fixer foundation as a cheaper alternative to my Laura Mercier Smooth Finish Powder Foundation that I've had hit pan on. I've owned this Moonshot Powder Fixer in 202 for a while now; not gonna lie, when I first tried it on, I instantly felt that it weighed heavier and appeared cakier on the skin as well. But after sometime I did find a way to work around this, and the result was surprisingly satisfactory.
Korean Powder Foundation Makeup Review: Moonshot Powder Fixer in 202

Packaging
I didn't think I'd ever say Korean cosmetics packaging could outdo the French, but this one apparently did. The Moonshot powder foundation casing is slimmer because of the flat top and bottom (as opposed to the fancier curved-in bottom stands), and secondly, the cover closes by way of a magnetic clasp (as opposed to clicking it down). The only downside about the magnetic closure is how you'd have to force open it without any button to push in or any groove to leverage on. But for someone who has weak finger strength (aka me) to have no trouble opening it, this should be negligent. Like all powder foundations, there's a compartment at the base where you flip up the powder pot, where the sponge applicator is.
Moonshot Cosmetics says the applicator comprises one 'sponge side' for more coverage (whatever that means; I thought the whole thing is a sponge?) and one feathery side for a softer, lighter application. The sponge is soft but densely compacted however it is quite feathery on both sides as far as I'm concerned, and not as smooth on the surfaces if you know what I mean. This makes it pick up more product than it should, on both sides, no less.
Consistency/ Application
Though the Moonshot Powder Fixer powder is of micro particles, it has a drier consistency which makes it get picked up more by anything feathery by static maybe? When applied on skin, the powder does not sink in but forms a dry layer on top of my skin (seen in the middle photo below). This was what initially made me uncomfortable and regretted buying it.
I have the tendency to apply concealer first before layering on my foundation, but with this Moonshot Powder Fixer you need to reverse this routine. Not just with any concealer, but a creamy one like the Tarte Cosmetics Amazonian Clay 12-Hour Concealer I've used in this case, or the Benefit Fake Up Concealer. So what I did was apply a light primer (the Australis Blemish Buster Acne Fighting Primer in this case) before applying the Moonshot Powder Fixer. Then I spray on my Urban Decay All Nighter Makeup Setting Spray to slightly moist out the powder foundation to increase its bonding to the skin. Only then I started to conceal my acne scars and blemishes with my creamy concealer. These attempts weren't made to achieve a dewy skin look, but to make the initially 'powdered look' less powdery so it appears more natural-looking. The result was great. Photos from left: 1) Bare skin, 2) After applying Moonshot Powder Fixer but before setting spray and concealer, and 3) After Setting Spray & Concealer.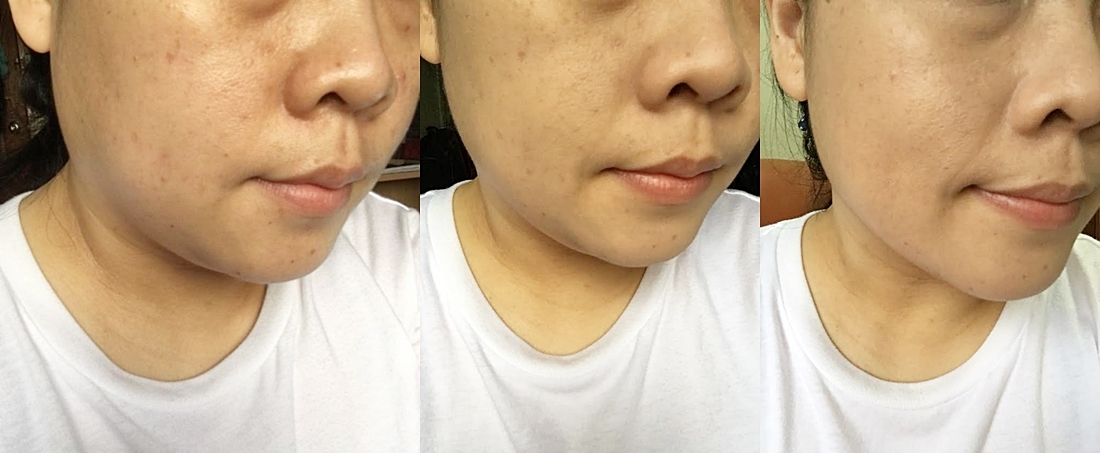 Coverage
The product offers light to medium coverage as seen in the above photos, my age spots and blemishes are still evident although the powder fixer did take out a fair amount of redness from my skin. The shade 202 happens to be a good redness neutralizer for those who need to know. Rest assured it won't turn you yellow. I appear jaundiced here due to the 5pm Sun.
Moonshot says to apply wet if you need more coverage. You could wet your sponge with the product on before you apply. But I prefer to introduce moisture only after I apply the product dry on my skin as described in my routine above.
Price and Where To Buy
SGD$44.00 at Singapore Sephora stores
Verdict:
Powder Foundation for Oily Skin
Yes, it requires a little additional work to make this powder makeup work. Yes, I admit I got freaked out by my own reflection in the mirror when I first put it on. Not to be mean but until I did what I did, I thought the powder looked kinda close to morgue makeup at first.  The Moonshot Powder Fixer foundation powder seems lesser of a hassle to manage by the day, perhaps because I'm so used to the face makeup routine now. I'm liking the end result so far, so I'd say, if you're looking for 'flawless' face powder makeup (as the name of this product suggests), don't buy into the name, lol, because it isn't. But if you're looking for a powder foundation that has good oil-control, the powder consistency in this product could serve this purpose. I have oily skin therefore while I don't appreciate the cakey feeling this powder gives at first, with those few tweaks I'd mentioned earlier, I've learnt to like this product for its ability to adapt to sweat and sebum.
Please follow and like us: