The last time I'd ever used a powder foundation was when 'compact powders' were the go-to makeup for many during my earlier working days. Over the recent years I'd enjoyed experimenting makeup, I'd been wearing only liquid foundations or BB creams. So to have stumbled upon the Laura Mercier's range of powder foundations in Sephora a couple of months back was a re-ignition of sorts; of those powdered makeup days.
Partly why I picked the Laura Mercier Smooth Finish Powder Foundation up was also because I'd wanted to try the Laura Mercier Secret Brightening Powder; I thought a powder product is better off with a powder foundation as a base, so why not.
Mineral Makeup: Laura Mercier Powder Foundation vs Liquid Foundation
One thing for sure powder foundation is easier to apply or touch up whether you are in the powder room or on-the-go; for obvious reason: they don't spill. Secondly, I find it easier to control the coverage of powder foundation than liquid foundations. You can tap off your brush or dust off excess foundation powder from your face as and before the powder particles start to bond with the skin. For liquid foundations, you can only build it up but you cannot reverse the process by simply wiping some off – just saying.
Packaging
Just like pressed powders, the Laura Mercier Smooth Finish Foundation Powder comes in a round compact with a mirror on the flip side, and a compartment below where the round sponge applicator is. You want to press the front mechanism to spring open the cover, and lift the pan layer up to take the sponge out. Truth be told, I'm rarely a believer of sponges (other than for pressed powders application) when it comes to product distribution on the skin. I'd been using my Tarte buffer airbrush brush for powder makeup and it's been very reliable so far.
Shades
There were about 8 to 9 shades of the Laura Mercier Smooth Finish Foundation Powder at the Sephora store I went to. The medium skin tone range was a little challenging to pick out, at least for my skin color. I was toggle-swatching between a few with neutral and yellow undertones as I believe I am right smack in the middle of these two. Finally this is no. 04 (fair with neutral undertone) that I settle on. Amongst it were the fairs, lights, mediums and deeps with generally pink/yellow/red undertones.
Coverage and Consistency
Sheer to medium, but buildable to full coverage without getting cakey. The product is pigmented and micro-milled, like all Laura Mercier powder products. The video clip and the photos below show how it counters the redness in my skin just by one sheer layer of buffing the product in.

Price and Weight
SGD$73.00 for 9.2 grams (0.3 oz) of product available at Laura Mercier counters in major departmental stores and Sephora stores in Singapore.
How It Works – Ingredients
Soybean Glycerides – helps to hydrate from deep within the skin and as a result evens out skin structure and maintains a smooth and soften look on the skin.
Shea Butter – vegetable fat derived from the nut of the Shea tree, shea butter is not only an excellent skin moisturizer, it is also rich in antioxidants in repairing cellular damages resulting from UV radiation from the sun. It is also a rich source of vitamins A, E & F as well as phytochemicals that not only nourish and hydrate the skin but also boosts collagen production.
Sun Protecting Factor 20 – this powder foundation comes with SPF 20 for UVA/UVB rays; always good to know that it has your skin sun-protected.

How To Apply Powder Foundation for Oily Skin
For oily or combination skin like mine, use the foundation as it is and buff it into the skin after priming. But like I mention, I prefer using a buffing brush to the sponge applicator provided any time. Most oily skins come with larger pores (explains the over-production of sebum), and like most mineral makeup, this powder formula is very finely milled and some fear they may clog pores. One way to counter this is to prepare your skin with a makeup setting spray not just to prime your skin but to create this barrier to neutralize our acidic sebum and perspiration to increase the bonding between the foundation powder and the skin without clogging pores; as well as slows down any oxidation that can make your makeup appear discolored.
Powder Foundation for Dry Skin
If you have dry skin, there is also a way out for you with this product. Like 2-way cakes, the Laura Mercier Smooth Finish Powder Foundation can be applied wet or dry. Pick up the product with the sponge or a brush and spray it with a little water or a liquid primer such as the Urban Decay All Nighter Makeup Setting Spray or Mac Fix Plus, and work it into your skin. Just make sure you moisturize your skin thoroughly before using a powdered foundation so you have a hydrated base to work with to avoid any creases.
Verdict: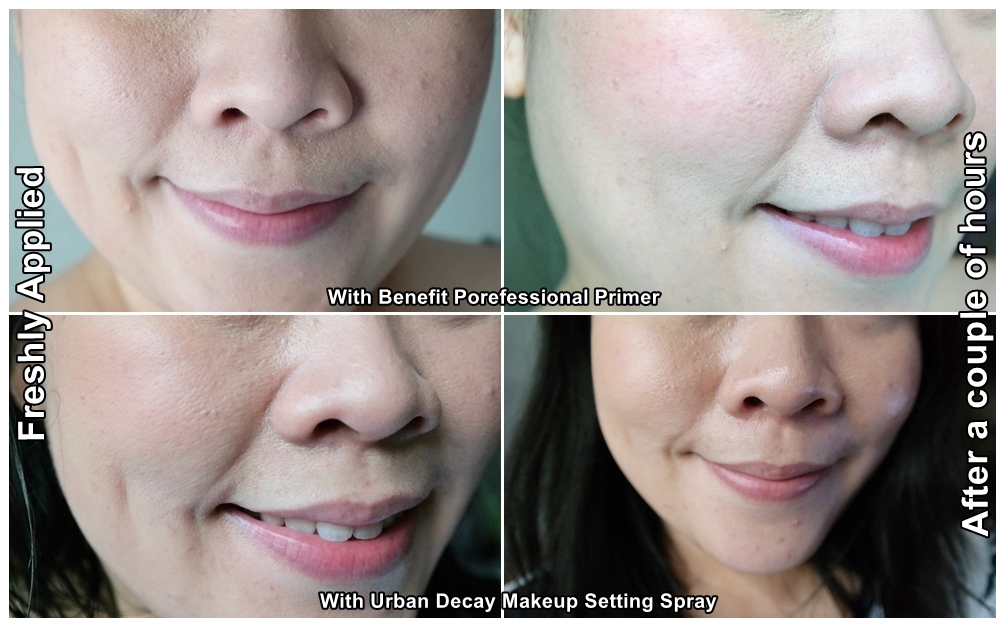 I have been using this powder foundation for about 3 months now and I am loving it. I tried it on bare skin (moisturized skin only), with different primers, as well as setting sprays over these months. The results were all consistently good. The best result of using this foundation powder is not at the time when it is freshly applied because when your skin is freshly cleansed and primed, powder foundation may make it dry due to the immediate absorption of the underlying moisture. The photos above illustrate quite clearly what I've just said. If you'd read my previous review on the Urban Decay All Nighter Makeup Setting Spray, you'll know that I use it as an underlay beneath my makeup rather than over it. It really does the trick for me.
This product looks best on my skin after 1 or 2 hours when the powder particles grow on my skin and somehow blend with my natural sebum. Some of you may find it gross but trust me, it is our skin's natural oil that helps to complete the natural veil of the second skin, whether you like it or not. The result of it is a soft focus effect with a slight glow but doesn't make your skin shine like it's oily. The product contains talc and Zea Mays (corn starch) both of which are great oil absorbers, so oily skin sufferers like me should definitely try it.
Please follow and like us: