I've had this Jo Malone English Pear & Freesia Cologne since last Christmas and I thought I'm just going to share quickly here the experience of wearing it and all.
Jo Malone Perfume or Cologne?
Though widely and presumably known as perfumes, they are actually colognes. They contain lesser essential oils than perfumes but more than aftershaves in that sense. The art of perfumery here warrants the precise drips and drops of oils and solvents, because you want to exude that lofty androgyny within the feminist in you and not envelope someone smelling like a freshly showered man.
Heck. Let's Talk Some Scents.
Packaging
Jo Malone has taken a few notches up from Fresh perfumes packaging in terms of her trademark clean, crisp and sturdy glass bottles. Both brands are geared towards a series of identical no-frill-looking, not your usual decorative flacons in short. But Jo Malone's are obviously weightier spin-offs backed up by stark boxes and bold bows (say that again) and of course, a lot of frills in this one, since it makes you untie, unbox and uncap before you finally get to the real thing; all too Christmas-morning-ish but still had me sucked in.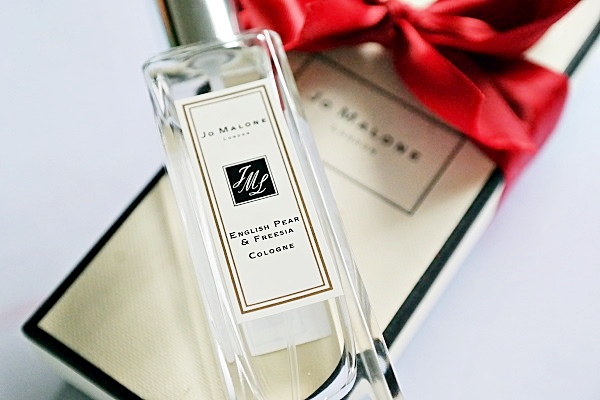 Size and Price
SGD$100.00 for a 30ml (1 fl. oz.) bottle.
Jo Malone English Pear and Freesia Review
Fragrance
The whole sense of wearing colognes instead of perfumes isn't about steering away from the idea of feminism but embracing the sensualities of it. The scent of the English Pear & Freesia is of distinct high and low at the very same time on first spray. It is funny how  they can hit you at the same time and yet you can tell them apart. You can't even do that for colors; I mean, can you tell violet from blue in the face of an indigo draft?
The sweet ripen pear top note diffuses from my skin just in a matter of minutes, and the rest is up to the tangy heart note of Freesia to play. I'm surprised the base note of Patchouli and Amber don't really show up even after some time. The solemnness of amber and the verdant nature of patchouli are hardly traceable throughout. The heart or middle note is unmistakably the strongest and longest lasting. Imagine sniffing a granny smith apple directly outside its skin. Sour on the aura but sweet in the core.
What it means to me:
You know when all else is gone, the heart (note) remains – Keep all sweet memories inside you and while things may seem poignant at this point, a fresh new day awaits.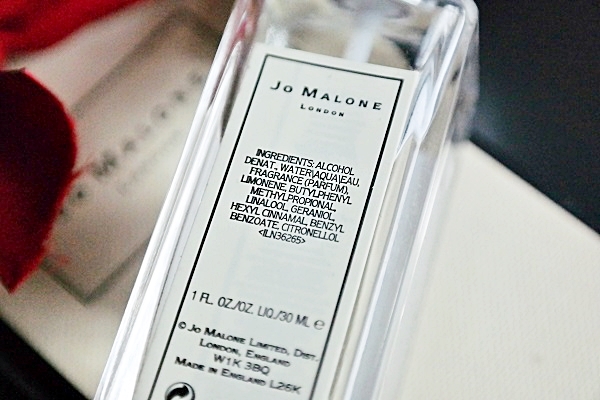 Where To Buy
The Jo Malone Boutique is located at Ngee Ann City #02-09A and at Level 1 of Tangs Orchard Departmental Store.
Check my other Jo Malone mini reviews here if you're interested:
Please follow and like us: