Chloe Perfume Review
The Chloe eau de parfum is also called the Chloe Signature fragrance as it was the perfume that became a huge hit so quickly that it paved the way for the french brand's subsequent launches of their other Chloe extended scent range that carried this signature scent, i.e. Chloe intense, Chloe EDT, Chloe Rose Edition, Chloe Roses de Chloe, etc.
First Impression
Packaging
It is hard for any girl not to take notice of the dainty and girly packaging of the Chloe Perfume. The light coral pink clear liquid is stored in a see-through ribbed glass spray bottle with a silver band of metal section topped with an oval-shaped transparent cap for the spray nozzle that you can easily snap close and pull open.
Chloe knows where exactly to add that delicate touch – by having a light peach-coloured textured ribbon wrapped around the neck of the spray nozzle, the bottle of perfume shouts first love and feminism in its purest form.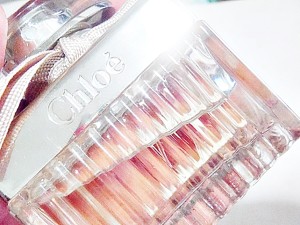 Size
The Chloe eau de parfum comes in three sizes: 30ml (1 oz), 50ml (1.7 oz) and 75ml (2.5 oz).
Fragrance
Powdery floral, hint of sweetness, breath of fresh air
Occasion/ Mood
Perfect for: First date, casual lunch date, after-shower weekend afternoon chill, walk in the park, or simply just hanging out in the open morning dew of spring and summer
Chloe Eau de Parfum: How it Works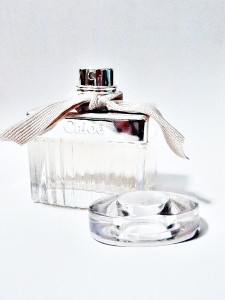 Top note: Mostly of Refreshing, Sweet & Intriguing Aromas – Pink Peony, Freesia, Lychee
Pink peony
Spring and summer flowers sought after for both its fragrance and elegant aesthetics, known for its feminine scent almost like rose's, but lighter in depth, peonies are known for complimenting many other main floral notes
Freesia
Funnel-shaped bulb flowers in warm yellow or orangey tones native to Africa that embody summery berry-sweet notes
Lychee
Smells as florally-sweet as they taste as fruits; like boiling sugar syrup but not to the point of caramelization, quite literally.
Heart or middle note: Medley of Sentimental Memories – Magnolia flower, Lily of the Valley, Rose
Magnolia flower
Has a magical nostalgic touch, wherever and whenever your fond memories may be. The scent of magnolias makes time come to a standstill with its vanilla undertone and sublimed citrons. (I feel I was making my way through a fruit orchard to grandma's cake at home in my case).
Lily of the Valley
Smells like the sweet, crispy air of spring. To some extent it comes close to freshly cleaned linens.
Rose
Chloe knows the rose is where the heart belongs because the hopelessly-romantic fragrance of fresh rose petals is just so delicate and mellow it can tug the strings of hearts.
Base note: Of Composure and Poise – Cedarwood, Honey, Amber
Cedarwood
This undertone is surprisingly not your typical solemn, woody and masculine trace of a man's cologne, but more of like fresh pine. It sets a calm tone and helps neutralize the top notes that can be a little charged up.
Honey
If scents were to be of a visible medium, the colour of the honey scent will be gold and is what gave the Chloe perfume its French sweet splendor and understated luxe.
Amber
Unlike most of the other ingredients that are flowers, amber is a plant resin that comes with that earthy, smoked syrup scent quality just because they are extracted from within the wood bark of trees.
How to apply
The Chloe perfume is more of a daytime perfume, therefore you need not go overboard with wearing it. The only pulse points you'd want the perfume to emit from are the insides of your wrists. You do not want to dab or spray them at intimate points like behind your earlobes or in your cleavage because there is no need for whoever you are with to get there as yet.
Being a spring/ summer scent means you may have the tendency to perspire at the time you are wearing it. Trust me, you wouldn't want to smell someone who mixes her perfume with sweat as it may come off as really old-womanly yucky.
Although it is an EDP, the Chloe Eau de Parfum is refreshing enough to be applied like an EDT, i.e. give it a good long spray into the air and walk yourself through it.
The Chloe Perfume Price
Where to Buy
Price
The 50ml sized bottle is retailing at SGD$140.00 in major departmental stores and SGD$113 at duty-free Nuance Watsons Changi Airport.
You may also buy Chloe perfume online on beauty e-shopping sites.
Chloe perfume gift sets (Chloe Eau de Parfum 50ml with Chloe Eau de Parfum Lotion 50ml) are also available at Singapore Sephora stores.
Verdict: For the Reserved Sentimentalist
Those who have gone through enough fragrances will agree with me that certain labels seem to be selling their bottles instead of the scents. Unlike most other fragrances that are clearly overpowered by their packaging, Chloe has a way of impressing with their scent more than just a pretty bottle. The Chloe Eau de Parfum is one of the few fragrances that have won me over by what is inside and not by its looks.
I love that while the bottle packaging gives a warm coquettish demeanor, the essence of the fragrance itself actually exudes a sensual, yet sensible tone. The sugar-coated top notes are definitely noticeable, but it is the heart and base notes that tame those down to level-headedness that are most alluring.
Please follow and like us: