Laneige wasn't the only one who came up with eyebrow cushions no doubt, but they were the first to do so. It's not hard to guess that correctly since most of us have already sworn on their cushion foundations and BB creams eons ago.
The Laneige Eyebrow Cushion-cara first rolled out in late 2016 and then about a year later, Iconic London followed suit with a similar eyebrow cushion product. In this Laneige Eyebrow Cushion-cara review, I'm gonna cover from the ease of carrying this eyebrow compact around right up to the wearability of the brow makeup.
But if you want to view this product in action first, here's a short demo video of how easy it makes natural eyebrow makeup application to be:
Laneige Cushion-Cara Eyebrow Makeup Review
The Laneige Cushion-Cara Eyebrow makeup compact case usually comes in a glossy black finish with dark grey font on it. But I purchased mine last December, so I was fortunate enough to get one in their Laneige Holiday 2017 packaging which is seen here decked in pink polka dots.

Packaging
The Laneige Eyebrow Cushion-cara comes in a small compact case that is mirrored on the inside of the cover, and has a plastic flap over the cushion pan that you want to open to start using it. As if the compact isn't portable enough, you can pop the cushion pan out and ditch the compact case altogether like this (photo on the above right) if you decide to carry only what is really necessary with you.
It wouldn't be a Laneige eyebrow product if it doesn't come with a well-made travel-friendly eyebrow brush. Don't be deceived by the size of this mini foldable brow applicator, it may be small looking but it is far from dainty or flimsy. This dual-ended brush comes with a nice angle to work with, and a quality spooley that is curved on one side and straight on the other.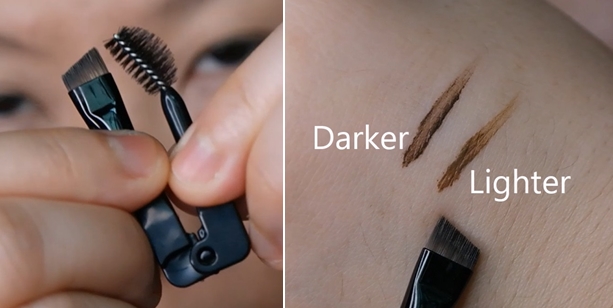 Shades
The eyebrow shade featured here is in their No. 1 Two-Tone Gray (Gray Brown/ Khaki Brown). This color combination was released together with their No. 2 Two-Tone Brown (Dark Brown/ Light Brown) when Laneige first launched this eyebrow cushion-cara. And then a year later, they decided to drop two more new shades, i.e. No. 3 Two-Tone Brick (Red Brown/ Orange Brown) and Two-Tone Blonde (Beige Brown/ Blonde), much to the happiness of those with both natural and dyed auburn and blonde tresses.
The dual toned eyebrow shades are already helping with achieving naturally looking brows a ton; now that there is a wider shade range -that's just icing on the cake.
Formula/ Texture
The Laneige Eyebrow Cushion-cara is marketed as a liquid to powder brow formula and this, I find isn't really true. Yes, like any other cushion products that come in sponges soaked with liquids, this product gets picked up wet first. When you start applying it onto the brows, the product is easy to manipulate for the first 20 seconds or so, before it starts to dry up, however I wouldn't call it powder form. It dries up to a texture that is softer and thinner than a brow pomade, and that's what is making eyebrows look natural.
How To Apply
I like to pick up the darker shade (Gray Brown) by dipping in with the brush as it makes shaping and outlining the brow shape easier, as well as filling in with the remaining product on the brush after that with the sharper edge of the brush. I then pick up the lighter shade (Khaki Brown) with a back and forth sweeping motion so that the pigment goes deeper into the brush width-wise. The reason for doing so is that I use the lighter shade to apply width-wise to the brow head for a more natural sprout, as well as dragging it in the opposite direction in which the brow hairs naturally grow to create the illusion of a 'bushier' brow volume. I'm trying my best to explain in words here but just in case you still don't get it, do watch the demo video clip above.

Verdict:
Laneige Eyebrow Cushion-Cara Review: Shapes Natural Brows Better than a pencil or a pomade


For one, an eyebrow pencil goes blunt over time. That sharply chamfered edge only a new eyebrow pencil comes with does not last. Neither can you sharpen any automatic ones. This alone can frustrate many of us especially when we are shaping the tapered side towards the brow ends. The sharper the strokes, the easier to mimic natural brow hairs.

Two, the product from the cushion-cara dries down slower. This poses as a huge advantage to those struggling with mistakes in shaping or outlining the brows, because the longer the product takes to dry, the more time you can take to clean up or correct them. The eyebrow pomade on the other hand, while more pigmented and structured, dries down much faster. The softer texture as well as the dual tones the Laneige Eyebrow Cushion-cara gives also enable one to play with natural eyebrow looks easier.
Price & Where To Buy
Retails at SGD$36.00 at Laneige Singapore & Sephora stores as well as online.
Please follow and like us: