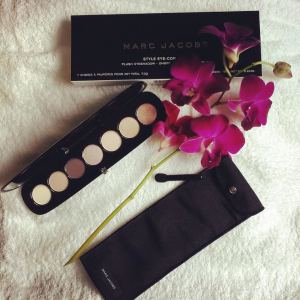 The Marc Jacobs Makeup line has finally made its debut in Singapore April this year (2014) in Sephora stores and wow, can we just say the packaging alone is enough to knock our socks off.
Like we cannot wait to paint, we grabbed the eye shadow palette first, and what can be better than a basic neutral eye palette for us to begin with to review its true power? Here's our go for the no. 206 – The Lolita of the Style Eye-Con No. 7 Plush Eyeshadow.

Neutral Eye Shadow Palette – Marc Jacobs Style Eye-Con No. 7
Packaging – Sleek and Light-Weight
Sleek, smooth, sophisticated are all words that could go with this eye palette's packaging. We'd never owned any sleeker full-sized eye shadow palette than this. It is light weight and slim, which makes it as convenient to bring along for trips as other travel-sized eyeshadows.
The box comes with a black fabric pouch with a single stud for closing. In it contains the black glossy palette packaging and a tiny sponge applicator.
A light press on the silver button mechanism in turn releases the eye palette packaging easily. Simply clasp shut it after you'd finish using it.
Price: Retailing at a whopping SGD$90.00 at Singapore Sephora outlets.
Total Net Weight: 7.0 grams (0.24 oz)


How To Apply Neutral Eyeshadows from Marc Jacobs' The Lolita Palette
There are 7 neutral shades comprising all warm toned nude and brown hues, the last 4 out of which are shimmery metallics while the first 3 are matte (from left). Unlike the Urban Decay Naked Palette that has cool toned neutrals, this palette offers neutral shades that are warm-toned.
While there are no hard and fast rules on using any particular shade on any particular part of your eyes, we identify them immediately with the following:
From Left:
Shade 1:
Lightest shade of nude skin colour with an underlying pink tone. This shade is great not only for highlighting brow bones but also the bridge of the nose. You can also apply this shade on the inner corners of the eyes for an eye brightening effect.
For those who has olive or cooler skin tones, fret not. Because the shade is a beautiful pastel, you can dab it above the upper lash line with black cut crease shadow to create a 60s look.
Shade 2:
Medium warm brown shade that may be a little too light to be used on the crease. For paler and fair skin however, this shade casts a beautiful earth-toned soft brown depth in accentuating the eyes.
Shade 3:
This dark, almost charcoal-like taupe shade can be used dry or wet depending on how creative you are. Spray water onto your eyeliner brush and dab it on to the eye shadow and there you have it – an instant liquid eyeliner. You may also apply this colour onto your top and bottom lashline and smudge it out for a smokey eye look.
For the lack of eye brow pencils, this shade can double up as brow powder to fill up sparse brow hairs.
Watch this video to see this in action:
Shades 4 to 7:
These are bolder metallic shades that can be pact on to the eyelids for a sparkly luxurious night look without being too over the top as opposed to psychedelics. Wet your brush to apply them for a more intensifying appearance. You may also use them to line on lower lash lines or on inner eye corners for that festive look, perfect for the coming holiday season.
Verdict: Rich Colour Pay-Off but Big Product Wastage
The colour pay-off of this palette is indeed second to none – one of the richest we'd ever tried. Each shade is highly pigmented and when used with eyeshadow primers, they really do not budge even if you try to correct your earlier application; you'll need makeup remover to do so. Yes, they are that long-lasting.
The only downside is probably the wastages that happen whenever we try to pick up the pigment powder with our brushes. The particles are somehow loose, so while they get picked up, there are also some that crumb off the compact, just laying around there. By swirling your brush on them again does not help as this will just crumb off more. So what do we do? Simply blow them away into the air.
When dusting on to the skin, more eyeshadow specks come off. So basically, we are using up more product than we need to achieve a certain eye look each time, which totally pains our pocket considering how pricey this eye palette is and how soon we will be hitting pan.
" #Eyeshadow you so u are not just #neutral but a #palette -able sight." #marcjacobsbeauty #Sephora #sephorasg… http://t.co/jIVSRZDaJG

— SGBeautyProducts (@SGBeautyProduct) November 14, 2014
Please follow and like us: