I've owned the Kat Von D Shade and Light Eye Contour Quad palette in Sage (and also in Rust) for sometime now but I've only just realized how handy it comes in recently when I was basically rushing through an evening look for a dinner I was terribly late for. It only made sense that I should pair my eye makeup with a Kat Von D Lipstick and since I have her Studded Kiss lipstick lying around the corner, I simply went for it on my lips to complete the night makeup look.
Oddly enough, this particular Shade + Light eyeshadow palette in the shade range Sage seems to be the least popular one among Rust, Smoke & Plum. When it comes to sales, this one always has stock while the rest of the shapes were snapped up. Not sure if I was already sick of the warm eye looks plastered all over social media, or that I was suddenly into classic Fall shades when I bought this one, but I know I'm not one who shop by trends.
Kat Von D Shade and Light Eye Contour Palette Review
Let's take a look at what this Kat Von D Shade and Light Eye Contour Quad eyeshadow palette has to offer.
Packaging
The KVD Shade + Light Eye Contour Quad comes packed in her usual black goth case, almost coffin-like. The case feels great to hold because it provides a lot of grip due to the solid embossing and the palm size of it. This makes this eye palette super portable on top of how light weighted it already is.

Shades & How To Use this Kat Von D Eye Contour Quad
It comes in 4 shades, duh, it's a quad – there are no names to each shade, but rather, Kat has thoughtfully included the intended function of each of them. From the left, the beige shade is for you to swipe all over the eye lid as a base color, the moss green is recommended to be used for defining the eyes, such as on the lash lines, the cool taupe is for contouring, i.e. crease area & outer corners, and lastly, the off white is a highlight for brow bones and inner corners. If you're still unsure, there's a leaflet provided that is self-explanatory with illustrations.

Most of us know Kat Von D by now as one of the Queens of pigment, the formula is awesome with little kickback except for the highlighting shade which is a little chalkier than the rest. But I'm not complaining, highlighting shades aren't suppose to have a lot of color payoff anyways; it is supposed to be dusted off, leaving that residual shift of which the look was meant for. So what I did was to follow exactly, and the result is in the photos below.
This palette is really straightforward and easy to use. If you are a makeup beginner or simply, a lazy quick-fixer like me, you will appreciate this eye contour palette A LOT. You know it is like one of those recipe boxes? All the ingredients come prepared in a box, all you need to do is to follow the step-by-step guide and you got your meal whipped up as promised (even though you can't cook).

Verdict:
Great Eye Makeup Palette for Hooded Eyes
Also, I have to add that this eye contour palette works great for hooded eyes like mine. Since hooded eyelids have no creases, I haven't really got that much eyelid estate to risk experimenting oddly-matched colors with. The shades have to complement one another, yet tie the whole look together, and for that I thought Kat Von D did an excellent job in those color selections.
I've had my fair share of experimenting the best ways to apply eye makeup for hooded eyes. Here's a demo video for you if you're interested.
Kat Von D Studded Kiss Lipstick Review: Gothica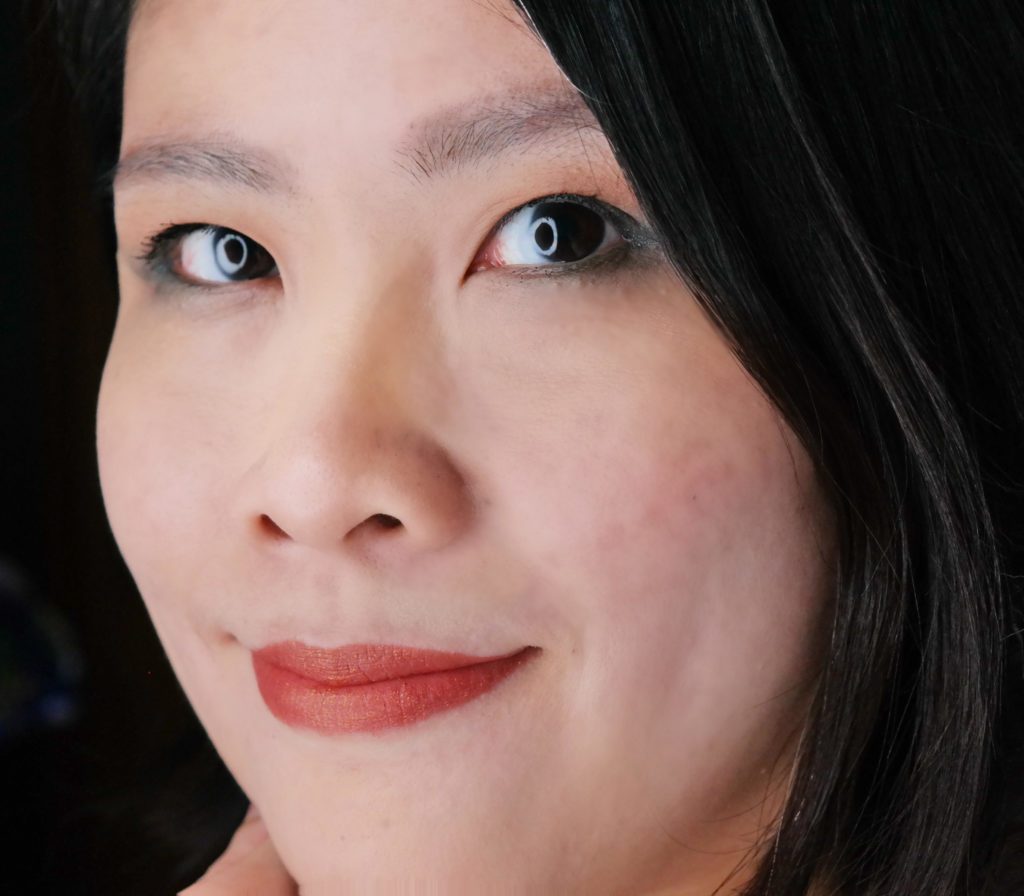 When Kat Von D released her range of Studded Kiss Lipsticks, the shade Gothica caught my eye instantly. I had wanted something festive, bright and a little sparkly; basically something that makes others as well as myself get in the holiday mood when seen. So as I mentioned, I just grabbed a fellow KVD product for the lips to finish the look before I dashed out of my house, and that happened to be Gothica. The shimmer bit is slightly speckled no doubt, but when these tiny gold specks come with a crimson base like this, they seem like fairy dust that bring joy which also warms and amp up my otherwise all-matte eye look. It doesn't feel gritty on application or when worn on the lips even though it looks like it can be. Not to mention that this lipstick shade comes into good use this Lunar New Year too; this one is certainly a bang for my buck!

Price & Where To Buy
The Kat Von D Shade + Light Eye Contour Quad in Sage, Rust & Plum retails at SGD$21.00 each (50% off at Sephora.sg at this time). The new shade in Fawn retails at SGD$42.00.
The Kat Von D Studded Kiss Lipstick in Gothica has been discontinued, but she's just released her new generation – the Studded Kiss Creme Lipsticks earlier this month in promise of a better and more opaque formula. I'm perfectly fine with her old formula of Studded Kiss lippies except that it could have worn on longer. The Kat Von D Studded Kiss Creme Lipsticks retail at SGD$30.00 each at Singapore Sephora stores and online.
Please follow and like us: