So here's the deal. I'd wanted matte skin for this time of the year yet I refuse for it to conform to the sombreness of what the Fall season usually brings. This season has no room for sun-kissed glows (at least to me) but I'd still like my skin to look bright and even-toned without giving away too much of an artificial glow.
The Marc Jacobs Cover(t) Stick Color Corrector in 310 Bright Now is thus put to the test and this is what I found out.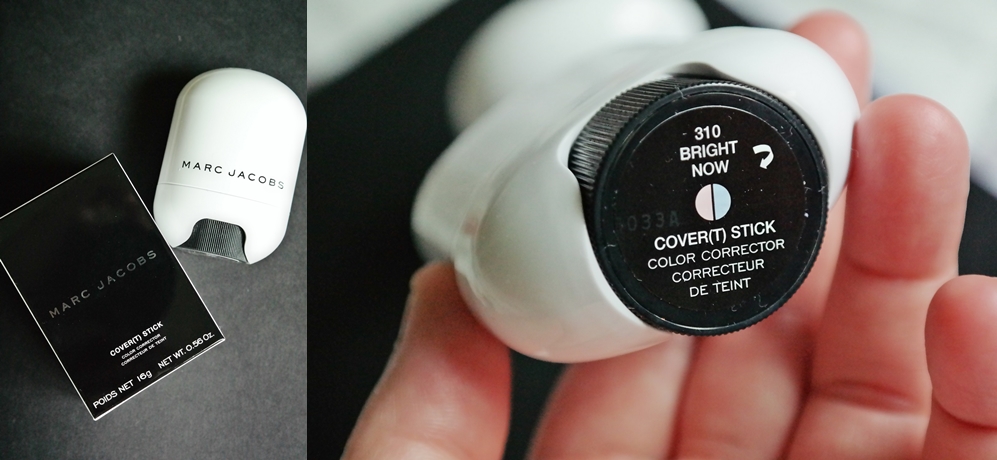 Marc Jacobs Skin Color Corrector: Brightening Makeup Base & Pore Filler in One!
You know sometimes it scares me when I see how much foundation makeup some girls are piling up on their skin to make it look shine-free. The matte skin I want this period is a translucent look; one that requires only some sheer matte foundation powder while getting the job of concealing skin imperfections done. Matte, not caked. Real skin, not mannequin skin. Soft focused, not high beamed.
Packaging
If there's any beauty brand that constantly refuses to be of cookie-cutter packaging, Marc Jacobs has got to be it. So much so that he makes this stick corrector out to be like some kinda deodorant stick. Twist the black roller at the bottom to get the product out and reverse it to retract. Simple as that.

Texture/ Color
The product comes in this marble swirl of peach and light blue. The peach is suppose to neutralize skin that has turned darker due to dehydration and pigmentation while the light blue, which is slightly of a pearly iridescence when applied, helps to brighten the skin and blurs out pores. Together, they also even out dull skin tone.
Whether you swatch it on the back of your hand or your cheeks, you can tell how buttery-sleek it is. When you feel it in between your fingers, the product comes off as smooth as silk.
Scent
Not my favorite kind of smell I must say, as it reminds me of calamine lotion.
How To Use

Because of how silky the texture is, the result of applying could leave visible streaks on your skin. It takes a minute or so for it to dry up from a cream consistency and when it does it feels powdery and ultra-smooth. As such I find the best way to apply this product and to optimize its effect was to apply powder foundation over it before it dries up. You want to layer the two and not mix them together (can you imagine powder over powder?) or the brightening effect would be so diffused the purpose of correcting any targeted area would be defeated. The same goes when I didn't prefer using liquid foundation over it because any wetter consistency would have ruined the area that has a yet-to-dry cream or a dried powder base. The Marc Jacobs Cover(t) Stick Color Corrector is not a highlighter so I wouldn't suggest to use it over your foundation. It wouldn't have brought about the desired result the product is intended for if used in that sequence anyways. Correct, then cover. Not the other way round.

So you want to swipe the product over areas you'd like to brighten and correct. For me, those areas will be my temples, my under eye areas, and my cheeks and face due to the age spots and acne scars.
You may wish to see this short demo of how I use this colour correcting stick to 'lift' and bring forward some of my facial features in this video:
Price & Where To Buy
Retailing at SGD$64.00 at Singapore Sephora stores.
Verdict
Best Color Corrector for Dark Circles? Nope.
In this demo, I'm not using any concealer and the Laura Mercier Smooth Finish Powder Foundation has been used.

Let's talk about what it does first.
What it does is correcting redness largely because of the light blue component which is cool-toned. You can see that much of the redness in my skin has been 'neutralized', and the overall skin tone is evened out.
Another thing it does it pore-blurring. I have used makeup primers and most of those that help with pore filling are often silicone-based, which is what also turns me off because silicone often causes acne to my skin. The Marc Jacobs Cover(t) Stick Color Corrector is not a primer but it does help with minimizes the appearance of pores.

Now let's touch on what it does not.
It does not correct dark circles well as you can see from the photos. I know I should've applied a proper concealer over it but hey, if it does the correcting job, I should be able to see some brightening effect before that. I excluded the concealer because I want to be able to see what it does to my skin on its own.Unfortunately my dark circles weren't exactly brightened. They're simply overcast. Usually peach colors can correct my dark circles for a fair bit (like my Catrice Color Correcting Concealer), but the light blue pearly part overpowers the peachy counterpart here.

So it does not help moisturize your skin either as evident from the dry patches on my cheek in the photo on the right. We can't hold it to those since it isn't a concealer per se nor it claims to moisturize, but these are still worth considering before you decide to purchase it. I have oily/ combination skin and yet it brought out the very random dry patches I have. It does not dry out the skin, don't get me wrong. It just magnifies the visibility of the flaws such as dry patches and fine lines that drier skins have because of its color and satin consistency. So those with drier skin types should really think twice about using this.
The whole point of this color correcting stick is to brighten the skin by eliminating dullness. But I find that while it takes away some redness and covers up some age spots, it ashes my skin tone out instead of brightening it. I'm not sure if my yellow Asian skin is to be blamed for this but I did not like the new veil this product is casting on me.
I wouldn't say this is a bad buy, but I wouldn't use it on most parts of the face. I will probably use it for areas like the sides of the nose where the redness and pores are, and perhaps on areas like the bridge of the nose and centre of the forehead and chin that I would like to bring forward subtly, like I would for a highlighter, except that these are done underneath the foundation.
Please follow and like us: