The holidays are here and we know how difficult it is to shop for Christmas presents especially for those who are dear and special to you. You want the perfect gift for them so it can be of use and hold certain value to them and yet contain that element of surprise for them when the boxes are unwrapped.
And if you are unfortunate enough to be travelling with a work schedule so tight you could hardly find time to shop, guess what? Singapore Beauty Products.com is here to offer you some Christmas gift ideas that you can pick up at our Shilla duty-free stores (formerly Nuance Watson) at Changi Airport.
No, we know what you are thinking – travel exclusives give the impression that you didn't spend a lot of time thinking of what to buy for that person. We think otherwise – it is precisely they are in your mind and you had to gift them something even amidst your travels! Plus travel exclusives gift packs are not just for the frequent travelers but also handy for them to bring these items in their bags with them on-the-go. Now let's take a look at what is gift-worthy.
Year end marks drier months with colder winds, so send them some love that is warm and moist to nourish them inside and out.
The Body Shop Travel Exclusive Mini Body Butter Collection

The Body Shop is known for their body butters that are hydrating yet not greasy and they compliment their Body Shop body scrubs greatly. I guess you can call this a coffret set of body butters if you want, however although they are called "mini body butters", one 50ml sized tub (1.69 oz, 48 g) is enough to last through some time. Here's a picture showing the comparison in size beside the regular tub of 200ml (6.7 oz, 192 g). Costing only less than SGD$30 at Shilla duty-free stores (formerly Nuance-Watson) at Changi Airport, this gift is of excellent value.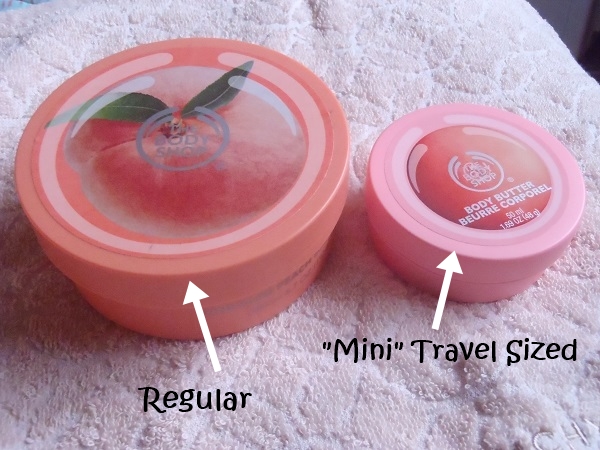 This travel exclusive body butter pack comprising body butters in Mango, Moringa, Pink Grapefruit and Satsuma, can be split up into individual tubs and are perfect as holiday gifts for your colleagues or friends. As a full set, it is also ideal for someone to indulge in an assortment of fruity and floral body buttery scents in hydrating the skin during these dry winter months without having to stick to one particular flavor for months.
Philosophy Hands of Hope

We swear by Philosophy skincare and if you'd been following us, you wont be surprised by this recommendation. The Hands of Hope Hand and Cuticle Cream by Philosophy is a fragrance-free, highly moisturizing hand cream that promises to nourish the hands even under the harshest of weather. Not only does it provide lasting hydration, it smoothens out wrinkles, leaving your hands soft and supple for up to a few hours. The consistency is non-greasy and feels very light-weight and soufflé-like, making your skin feel like bouncy baby skin if this makes sense.

Retailing at just SGD$26.00 for 120ml (4 oz) sized tube at Shilla duty free shops, you can't find this size and price at Singapore Sephora stores. Sephora retails Hands of Hope at SGD$15.00 for a 30ml tube. This gift gives a good up-sized hope to anyone's hands, for real. Their hands will thank you.
 L'Occitane Lucky 8 Hands Kit Hand Cream

Who can resist hand creams made in France, like, seriously? If you know someone who wears perfumes, chances are she loves French-scented hand creams too. We know L'Occitane's Shea Butter Hand Cream is their best seller because of its rich, buttery texture and skin repairing power. This season they come in eight different fragrances in one coffret set! 2 original Shea Butters, 1 Rose, 1 Cherry Blossom, 1 Peony, 1 Almond and 1 Verbena hand creams all thrown in there for you. How lucky can the recipient of this gift get (hence lucky 8 indeed)?
Each 30ml (1 oz) hand cream comes in their own individual packaging, so it makes it easier for you to gift to colleagues and friends too. The Loccitane Lucky 8 Hands Kit hand cream set retails at SGD$91.20 at Shilla duty free shops at Changi Airport; this makes one hand cream at about only SGD$10.00 each!
Please follow and like us: