Laura Mercier is known for their face makeup range in providing flawless, natural finish to skins. Apart from this Matte Translucent Smooth Focus Pressed Setting Powder we are about to review, Laura Mercier also came up with other powder products such as loose, mineral and shimmer setting and finishing powders.
Laura Mercier Translucent Powder: Mattifying Powder, Oil & Shine-Control
This translucent powder is meant for makeup touch-ups by pressed setting it on to the skin, with the aim to set and hold especially the foundation on your oily areas such as the forehead and nose (T-zone), the cheeks and chin areas so that your complexion stays matte and shine-free. It also helps to even out skin tones and corrects imperfections such as redness.
Packaging
The Laura Mercier Smooth Focus Translucent Pressed Setting Powder comes in their signature dark liver colour square compact powder casing. There is a press button at the front edge of it to release and flip open the case, with a mirror on the other side of the cover for easy checking of your makeup and gussying up.
The product is of a very slight mint green shade, although it doesn't quite show up in photos.
It comes with a square sponge applicator and a transparent plastic separator between the sponge and the powder.

Price
It is currently selling at SGD$55 in Sephora stores and major Departmental stores in Singapore such as Tangs and Robinsons.
Size/ Net Weight
8.1 grams (0.28oz)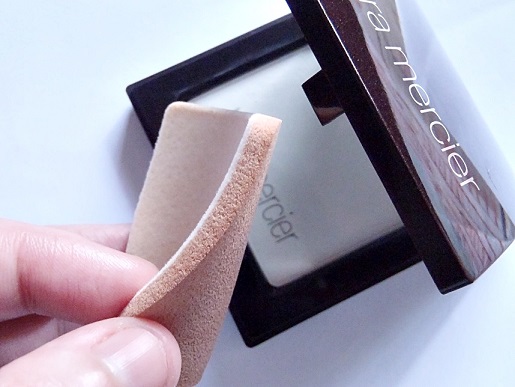 How to Apply
This is done by gently dabbing on the powder pot with the darker coloured sponge side (the sponge has two different sides) evenly a few times before pressing the product with the sponge on to the oily areas such as your T-zone, as evenly distributed as possible so that the coverage is uniform.
To ensure a smooth-focused look, you got to use the lighter coloured slip side of the applicator that has a denser, flocked fibre texture to 'blur' out any uneven patchiness by buffing gently into the skin in circular motion. Do not drag otherwise you will just be transferring the product back on to the sponge.
The second step is optional in our opinion, because the nature of the powder is very fine and thus blend in quite well to the skin, unlike some other pressed powders that can be chalky and loose, causing excess built-up.
You may apply this product with or without makeup on your skin.
Laura Mercier Matte Translucent Powder Ingredients
How it Works
Fragrance-fee, Paraben-free
This product is fragrance-free and paraben-free, perfect for the health-conscious individuals as well as for those with sensitive skin.
Oil-free, Non-Comedogenic
Because the powder formula is so micro, lightweight, and does not contain oil, the product is non-comedogenic and does not clog pores.
Talc-free
Talc is a mineral (magnesium silicate) used in some cosmetics as an anti-caking agent and contains asbestos that has harmful effects to the respiratory system when inhaled. This Laurier Mercier translucent pressed setting powder does not contain talc.
Key active Ingredients
Ethylhexyl Palmitate, Ethylene/Acrylic Acid Copolymer, Zea Mays (Corn) Starch, PTFE, Silica, Lauroyl Lysine, Nylon-12, Water/Aqua, Sodium Dehydroacetate, Lonicera Caprifolium (Honeysuckle) Flower Extract, Lonicera Japonica (Honeysuckle) Flower Extract, Glycerin, Ascorbyl Palmitate, Epilobium Fleischeri Extract, Epilobium Angustifolium Flower/Leaf/Stem Extract, Phenoxyethanol, Argania Spinosa Leaf Extract, Potassium Sorbate, Sodium Metabisulfate. (+/-): Mica, Iron Oxides, Chromium Oxide Greens
Zea Mays (Corn starch)
Zea Mays are absorbents and gives opacity for that translucent coverage of the powder.
Lauroyl Lysine
Lauroyl Lysine is made from coconut fatty acids and helps to bind the ingredients of the powder as well as softens the skin's texture.
Lonicera Caprifolium (Honeysuckle) Flower Extract, Lonicera Japonica (Honeysuckle) Flower Extract
They are both honeysuckle extracts and are anti-bacterial agents that inhibits and prevents the growth of micro-organisms and bacteria in our skin.
Epilobium Fleischeri Extract (Alpine Willow), Epilobium Angustifolium Flower Extract
Plant-derived ingredient that benefits oily, acne-prone skin and sensitive skin as they help to clarify pores and have anti-blemishing properties ideal for acne or pimple treatment.
Argania Spinosa Leaf Extract
This is commonly known as Argan oil and is considered as a super-ingredient in skin care due to its high anti-oxidant level, rich in vitamin E and essential fatty acids. It is the key to anti-ageing and skin cell repairs that helps in the restoration and renewal to healthier, younger-looking skin.
Laura Mercier Translucent Pressed Setting Powder Review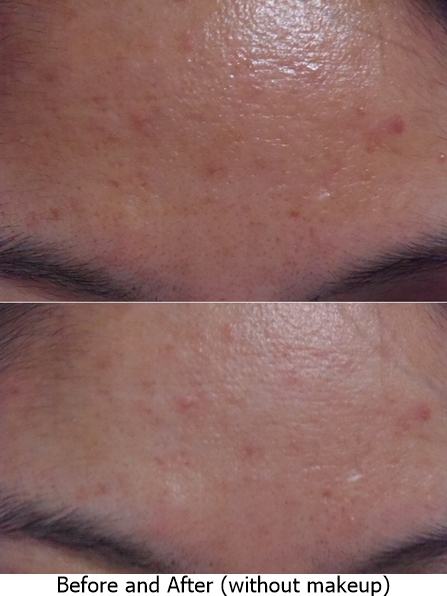 Verdict
The matte and anti-shine staying power of the Laura Mercier Translucent Pressed Setting Powder depends on the environment you are in. If you are in an air-conditioned environment most of the time or where temperatures are drier or cooler, for example, working in an office, shopping in malls, etc, the performance of this translucent pressed setting powder is able to keep the skin free from shine and oil for at least 6 hours straight, no less.
If you are out in the sun or happen to be at an outdoor event of any sort where the weather is humid, the product can only help to maintain that oil-free matte finished look for about 3 hours or so at best, before the first sign of oily T-zone becomes visible and touchups are required.
It does not necessarily 'set' makeup or foundation per se, since how well the make-up bonds with the skin depends on how well this mattifying powder absorbs oil and perspiration, which again then depends on the climatic condition your skin is subject to.
The packaging is lightweight and easy to be pressed open and clasp-close, very easy to bring along with you for touching up on the go. Due to the nature of translucent powder being chalky, using sponge to dab the product into the skin is hence necessary as it is more effective than dusting it with a brush. We suggest keeping the clear plastic separating the sponge applicator and the powder after each use to prevent the oil and bacteria trapped in the sponge to transfer back into the product.
We also recommend washing the sponge applicator as frequently as you can (or you may buy extra sponge applicators as spares while the original one is being dried) for hygiene to prevent contamination to the skin.
The Laurier Mercier Translucent Pressed Setting Powder does what it promises in delivering that soft-focused appearance as it diffuses light on the skin quite effectively, giving a lighter and brighter skin tone at the same time. This mattifying powder is super-fine and gives a sheer and natural porcelain look, unlike some other pressed powders that can come across cakey and clog pores.
We love that this pressed translucent powder can also be used without makeup on. While it does not cancel off redness completely (mainly because I was bare-faced here with no concealer or foundation coverage to begin with), it effortlessly refreshes dull-looking skin and reduces the appearance of pores.
Is it overly-priced? A little. Do you need it in your life? Yes, if you are a greasy monster and looking for a mattifying product that will not cause you acne breakouts to fake a smoother and brighter complexion.
Please follow and like us: