I've been using the Laura Mercier Secret Brightening Powder for more than 6 months now and here's my review of it. We've heard alot about the Laura Mercier Translucent Loose Setting Powder from beauty gurus and the likes; but this little one here seems so much lesser talked about (hence deemed 'secret brightening' I suppose) even though it is formulated to target at one of the greatest beauty concerns – our under eye areas.
Laura Mercier Secret Brightening Powder – Light Reflecting & Makeup Setting Review

Unlike the translucent loose setting powder, the Laura Mercier Secret Brightening Powder is made to brighten darkened skin areas such as dark under eye circles and in boosting dull skin in general. You can use it to set under eye makeup such as primer and concealer so they last longer, at the same time brighten our under eye skin area so you can fake that amount of sleep the night before even though you could really be a zombie in disguise.
Packaging
Comes in a translucent container, similar to their loose powder packaging, only smaller in size. There's a perforated 'sieve' I'd like to call it; as, if not for the purpose of filtering out (in this case, back in) most of the amount you don't need yet, why is that feature there? The agonizing part is that the size of the holes are too big for the micronized powder pigments to come through slowly, so let's say, you happen to bring it along for travelling and it got inevitably turned upside down along the way. The next thing you realised when you open it was you get a snow mountain full of product you don't need and all it takes was a slight gust of wind or a tiny puff of breath, some product'd be like, gone with the wind.
It can be messy with some overflowing powder along the rim as well and if you attempt to screw the cap back on, you'd only force more powder to fall out. So each time before you uncap the packaging, please remember to tap it down a few times, and shake it a little from side to side to sift most of the product down. For those of you who ain't as anal as me on this, then maybe this is no big deal to you.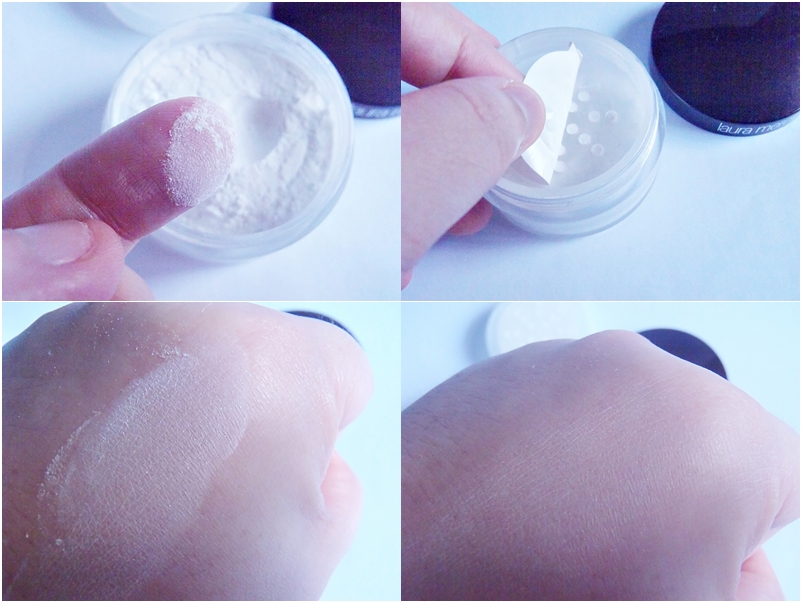 Texture & Color
This product comes in two shades but the Sephora outlet I bought this from sells only the white one (shade 1). The other comes in a nude color (shade 2).
The powder feels light as feather and fine as icing; has a little light-reflecting component in them if you could see it closely which is essentially the ingredient that gives luminosity to the skin. It also feels quite mattifying.
Price and Size
Retailing at Sephora stores and Laura Mercier counters in major Departmental stores at SGD$39.00 for 4 grams (14 oz).
The Concealer Makeup Setting Powder Test
The "before" (left photos) below are with concealer already applied on to the under eye areas. The "after" ones (right photos) are with the Laura Mercier Secret Brightening Powder applied over the concealer. Both columns comprise distant and close-up shots.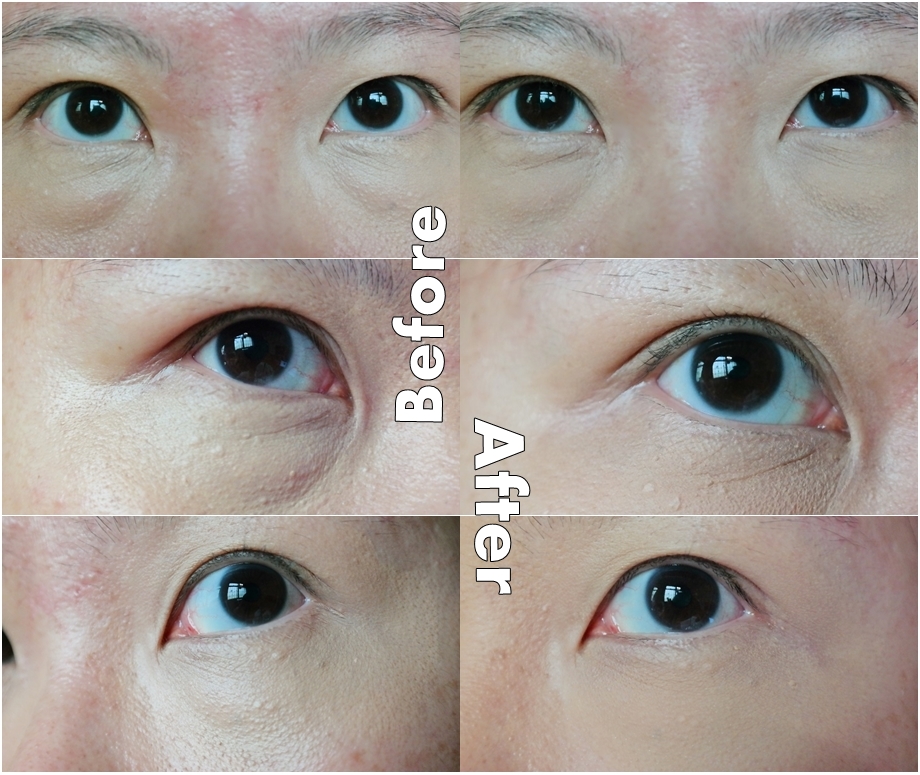 Verdict
Ok, I have a love-and-hate relationship with this product. Notice how the results vary between my left and right under eye.
My right eye bag has always been bulgier and naturally, with deeper creases. Now, what's unsettling here is the powder (pardon my pun) that just couldn't fill up my fine lines, thus making them appear even more obvious here. Sure, the product did say that it will not settle into fine lines but then why would it be that way if it is meant to create a soft, luminous look? Accentuating wrinkles certainly isn't part of the equation.
Despite this, my left under eye was set quite satisfactorily; it manages to mask a little of the melia seeds and prevent the cream concealer from sliding off.
The tip here is to dust off with this product very lightly and try not to apply more than a 2nd time (you can apply using your finger or a small fluffy brush), as too much of this brightening powder can cause your makeup to pill (makeup turns bead-like and roll off your skin). Also, ensure that this is your last step to your makeup; I tried spraying on my makeup setting spray as a finishing touch and ended up seeing the powdered layer disintegrating into tiny globules over my pores and that is so. not. cute.
You may also apply the Laura Mercier Secret Brightening Powder onto other areas you'd like to matte out, such as your T-zone and the area above your upper lip. It does a mattifying job better than a brightening one if you ask me, and that I was thankful for because – how else to get rid of eye bags like mine if they're brightened only to draw unnecessary attention to them?
Please follow and like us: