Philosophy Hope in a Jar Review
First Impression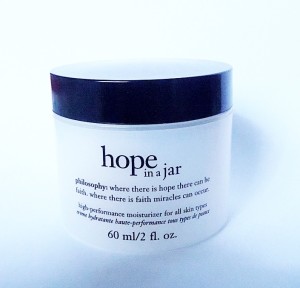 Philosophy's Hope in a Jar daily moisturizer is one of their best sellers in the Philosophy skin care line.
Packaging
Hope in a Jar moisturizer comes in a white frosted plastic jar and a black screw-on cap. The US-based Philosophy skin care line is known for its clean and no-frills packaging with inspiring bold captions and quotes, making quite the impression.
Size
Philosophy's Hope in a Jar comes in a standard size of 60ml (2 fl. oz.) as well as miniatures in 15ml (0.5 fl. oz.) for trial and travel sizes.
Fragrance
Known for its fragrance-free products, the Philosophy Hope in a Jar moisturizer has no perfume scent (synthetic fragrance) to it. However the product does have a trace of what not everyone will find pleasant.
Strange as it sounds, if there is anything close, it'll have to be of plastic vinyl or leather; only this lies in the middle note, topped by something that smells more clinical, if this makes sense.
Consistency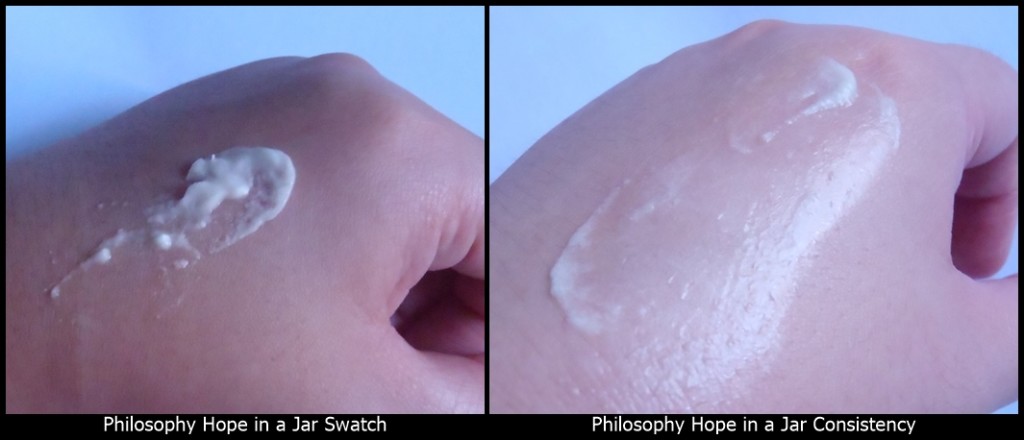 In the photo on the left I have done a swatch on my skin by scooping a dollop of it so you can have a close look at its first texture of the product without blending it first. The photo on the right shows the consistency of it when the cream is being massaged into the skin.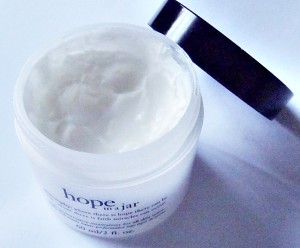 The Hope in a Jar moisturizing cream looks and feels like light whipped cream or soufflé to the touch, it is very light-weight, yet you can feel there is a lot of moisture content trapped within that texture. You can feel and even see how hydrating this cream is when you apply it on to the skin. The product is an airy, almost watery, thin paste that does not penetrate into the skin as readily as other creams do; you got to massage it for a good 10 seconds or so before the product is completely absorbed because of the large amount of aqueous content it holds. (Read on towards the end of my verdict on possibly why it was formulated so).
Considering how aqueous the texture is, it surprisingly does not feel sticky or uncomfortable after application, most probably because it is not a heavy cream.
Hope in a Jar Ingredients:
How it Works
Lactic Acid: An Emolient and An Exfoliant
The Hope in a Jar Daily Moisturizer contains naturally-occurring lactic acid (Lauryl Lactate) that functions as an emollient as well as an exfoliant, both of which are essential skin-conditioning ingredients.
Cutaneous aging is caused by intrinsic (inherent, physiological) and extrinsic (incidental, environmental) factors, therefore Lactic Acid, one of the gentlest Alpha Hydroxy Acids (AHAs), is capable of providing solutions to both of these skin degeneration causes. It is able to replenish moisture from within and boost cell turnover and cell renewal in the epidermis at the same time.
Behenic and Stearic Acids & Behenoxy Dimethicone: Wrinkle Fillers
Behenic Acid and Stearic Acid are fatty acids and are known for their skin smoothening properties. They are surfactants that are able to bind the active ingredients of the product to provide a more evenly distributed coverage as well as reduce surface tension for it to penetrate into the skin more deeply for more effective use.
Together with Behenoxy Acid which acts a water-repellent protective barrier for the skin, the Hope in a Jar moisturizer is able to fill in fine lines and wrinkles because of the smoothening function brought by the Behneic and Stearic acids. As such, the cream gives a smooth and plumped skin base with good slip for makeup to glide on and adhere to.
Beta-Glucan: An Anti-Oxidant that Fights Free Radicals & Bacteria
This daily moisturizer also contains Beta-Glucan, a plant-derived natural ingredient that helps with the skin's immunity which brings about anti-oxidant, anti-aging and healing effects. It has anti-inflammatory and anti-irritant properties that calms the skin and helps with moisture repair, as well as provide protection to the skin from harmful free radicals and pollutants in the environment.
Philosophy Hope in a Jar: The Daily Moisturizer
How to use
Philosophy's Hope in a Jar is a light-weight daily moisturizer that you can apply once in the morning and once in the night time.
In your morning skin care routine, apply it onto freshly cleansed skin as a hydrating base before putting on makeup.
During the night, apply it after your serum for a foolproof moisture lock.
Where to Buy
Hope in a Jar daily moisturizer can be purchased at any Philosophy stores located at Tangs Orchard level one (concept store) and Bugis Junction #01-16, as well as Takashimaya Shopping Centre (newly-opened outlet in May 2014).
It is also available at Sephora Singapore outlets island wide.
There are also various local e-shops that sell them online.
Price
Hope in a Jar retails at SGD$59.00 for the 60ml size.
Verdict: Recommended for the Frequent Traveller
To be honest, when I first took in a whiff of Hope in a Jar, I found it bearably off-putting. After all it is not your typical perfumed or refreshingly-scented moisturizer. Even after I apply it on to my face, the smell still lingers for a while.
It wasn't until I brought Hope in a Jar with me for my trip overseas shortly after I'd purchased it (because it is so light-weight it is travel-friendly) that the goodness in it, unpleasant scent aside, has grown on me. I was in Shanghai during early March, trapped in a 6 degrees Celsius winter weather and I'd already began to see fine lines and light spots appearing on my face and the skin of my nose and cheeks peeling like crazy. Foundation and blushers would not stay and the parched skin makes the makeup look uneven.
That was when Philosophy's Hope in a Jar gave me not only hope for my skin but delivered what it promised. My skin drank up the product like it hadn't drank for years and before I knew it, it has restored its moisture, lightens the spots and my skin normalizes itself once again only after 2 days of applying. The peeling, parched skin patches were gone, and makeup goes on perfectly. The good news is, while the smell of it may not be nice when you first apply it, it goes off after you put on your make up; so I guess the scent can be easily subdued by other products.
While I mentioned earlier that the moisturizer may not absorb as quickly as other creams, Hope in a Jar really does absorb rather well in cold and dry weathers and penetrates deeply into the skin and nourishes it from within.
For frequent travelers who are exposed to dry climates and dry air quality in the flight cabin constantly, the Hope in a Jar daily moisturizer is highly recommended for you. For one, the soufflé texture is so airy and whipped that it is not capable of spilling or bursting out like some other creams do when you travel with them.
Thumbs up to the Philosophy team behind all that research, science and technology.
Please follow and like us: