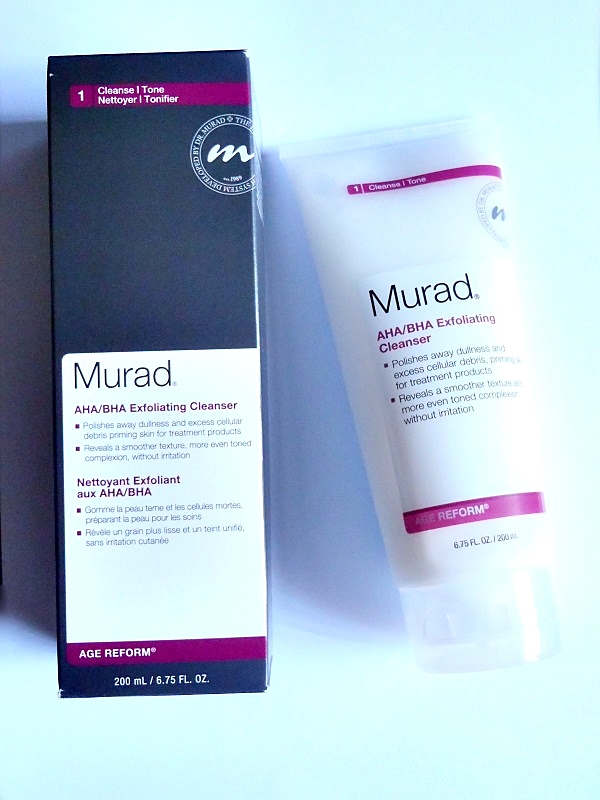 The Murad AHA (Alpha Hydroxy Acid)/ BHA (Butylated Hydroxyanisole) Exfoliating Cleanser is in essence a face scrub that helps to polish away dead and dull skin cells and primes the skin for subsequent products to work better.
It is the Murad's Step 1 Cleanse | Tone of their acclaimed "3-Step Regimen" (Treat | Repair being Step 2 and Hydrate | Protect being Step 3) under the anti-aging group of hydrating face cleansers.

Dr Murad Exfoliating Facial Cleanser Review
Packaging – The cleanser comes in a sizeable translucent squeeze tube with a narrow nozzle that controls even the tiniest amount of product well when dispensing.
Consistency – The product is creamy and grainy with granular sizes similar to that of castor sugar, except that they don't quite melt as readily when in contact with bodily heat. It has a fairly thick viscosity.

Fragrance – It is almost fragrance-free, however on closer sniff it smells a little like corn and soap mixed together. Definitely not off-putting.
Size – 200ml (6.75 fl. oz)
Price – Retailing at SGD$68.00 each at Sephora stores in Singapore.
How It Works
The three exfoliating agents namely, Salicylic Acid, Lactic Acid and Glycolic Acid are mainly responsible for the effective cell turnover rates in our skin and all these will not do wonders without their able assistants – the Jojoba beads.

Salicylic Acid – one of the BHAs derived from tree bark and helps to shed dead skin cells so as to boost skin radiance and tautness. It is also the key active ingredient for the treatment of various skin disorders such as dermatitis, calluses, psoriasis, etc. The next benefit will come as no surprise for those who are constantly on the lookout for anti-blemishing and acne-fighting solutions. Yes, salicylic acid also helps to clear acne without dehydrating our skin.
Lactic Acid – one of the AHAs derived from milk and often used in skin peels products due to its cell renewal properties that not only reveal a younger-looking and smoother skin texture beneath but also even out dull skin tones. Like salicylic acid, it also helps to reduce acne outbreak, as well as wrinkles and fine lines. Additionally, lactic acid also inhibits melanin production (skin discoloration and pigmentation) caused by sun exposure and ultraviolet rays, so it also serve as a skin brightener.
Glycolic Acid – one of the AHAs derived from sugarcane and is often referred to as a miracle worker for skin. Like lactic acid, it is also popularly used for chemical peels largely because of its exfoliating qualities in dissolving dead skin cells and clearing of clogged pores and blackheads. It is also an effective pH balancer and as such restores skin to its desired suppleness and elasticity.
Jojoba Beads (Jojoba Esters) – they are hydrogenated jojoba oils known for their moisturizing and purifying properties and the ability to prepare our skin for better absorption of other nutrients and benefits. Jojoba is a multi-functioning skin care ingredient because it is both an emollient and an exfoliant that polishes and conditions our skin at the same time. Jojoba oil is the one of the closest to our natural skin's sebum, making it easiest for it and other phytonutrients used together with it to permeate the skin effectively.
* Contains laureth sulphate
How to Use the Murad Exfoliating Cleanser
Apply a small coin-sized amount over moistened skin. Gently massage into face and neck. Do not use it if you have sore wounds or open cuts on the skin.
Note – Wet your skin considerably to ensure a smooth scrubbing momentum. As the consistency is thick, the scrubbing process may cause a chafing feel if it is not thinned out enough. We recommend using the product on alternate days at most; please read further as to why we suggest so.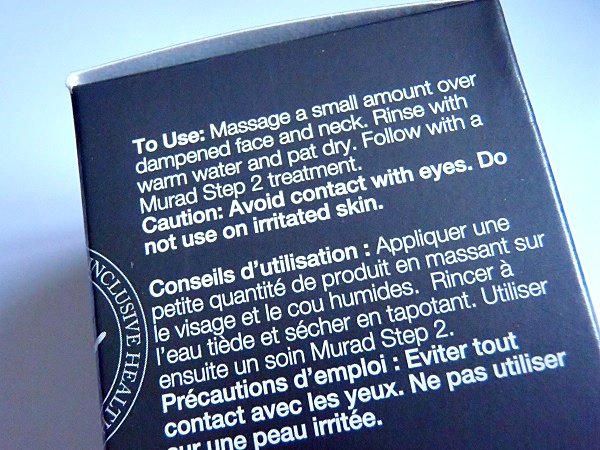 Verdict
What we love about the Murad AHA/BHA Exfoliating Cleanser is that it does not dry out the skin even though it is packed with active exfoliants that many fear could strip off our natural oils in our skin. Having said that, as the grains give a good degree of wearing pressure on the skin, of which though, gives good blood circulation, we still feel that it is a little too harsh to be using this product on the skin daily not just because of the  skin scraping alone, but also because of the skin 'peeling' effect the acids have on the skin. The product does not foam much, which can be an indication of the limited presence of laureth sulphate (foaming agent), making it a safer product to use.
Although the Murad Exfoliating Cleanser is pricey for a face cleanser, it still gives any chemical peel a run for its money because a little of it indeed goes a long way, and a cumulative and gentler alternative at that. It does not need much product to lather up all over the face for a squeaky-clean cleansing regime each time, so you can be sure one tube of it may last you for a good year or more. 
Not staying in Singapore or rather shop online? Click on the product image below: 
The #murad #exfoliating #facialcleanser is a dupe for #chemicalpeel in a nutshell. #facialscrub #drmurad #jojoba pic.twitter.com/0471SBdgA7

— SGBeautyProducts (@SGBeautyProduct) January 16, 2015
Please follow and like us: