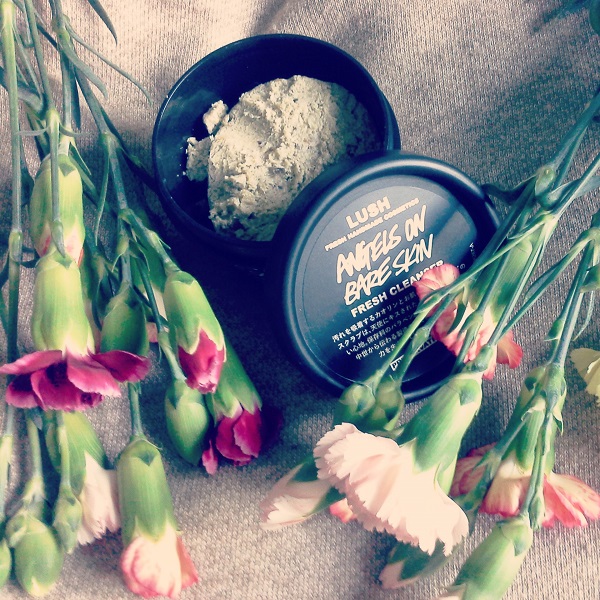 The Angels on Bare Skin fresh cleanser is gentle enough both as a facial cleanser and for body use, and safe for all skin types; even for dry and sensitive skin. In fact it is beneficial for dry or chapped skin as it is very moisturizing. The product is preservative-free.
Lush Cosmetics: Angels on Bare Skin fresh cleanser

Packaging
Got mine in Japan so we have a sticker bearing the caricature of the Japanese who created this pot of product on it – how cute is that? Now every great LUSH product comes in a recyclable black pot.
Price/ Size
Retailing at SGD$25.00 for 100g sized pots at Lush Singapore outlets. They've got the 240g ones but they are rarely available.
For the context of this post, we feel a need to give a shout-out to LUSH Japan, whose LUSH factory is located in Tokyo. Despite English not being their native language, we received awesome services from the Lush stores there and at a fraction of the prices sold in Singapore for most products. The Angels on Bare Skin for example, retails at JPY980 (SGD$11.70) for the same size in their Shinjuku and Ikebukuro stores.
Fragrance
The Lush Angels on Bare Skin smells like floral infused tea. You can almost be certain there are chamomile and lavender in there on first whiff, and it certainly smells like you are in a spa.
Consistency/ Texture
The product comes in this scoop of packed crumbs. When you pinch a tiny bit out and place it on your palm, it just crumbles off into some damp almond meal (but of course! There is ground almond in there), with the occasional lavender flower bits in them.

How to Apply/ Use
This is as easy as practically smearing a pinch of the product all over your face.
Simply moist your face with water beforehand or add 1 to 2 drops of water on to the crumb of product you'd broken off from the mass in the tub and work into a paste. But do not do both as you do not want the consistency to be too wet such that the product begins to slide off. On contact with water, the product begins to emulsify into a milky liquid.
Work the product into your face or body in a massage. Sniff in to savour that essential oil aroma before rinsing off.

Angels on Bare Skin: the Recipe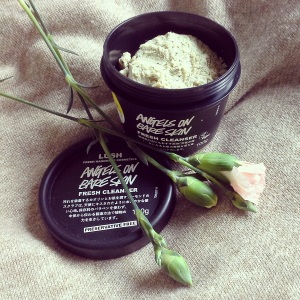 Key Ingredients – How it works
Chamomile Blue Oil (Roman & German chamomile), Lavender Oil, Lavender Flowers
Known for their calming and soothing properties it promotes skin healing and helps to diminish marks, spots and scars on the skin. They also aid in relieving itch from inflamed skin and other skin irritations.
Ground Almonds
Serve as a gentle exfoliant in scrubbing away dead skin cells for smoother looking skin. Also contains vitamin E, an anti-oxidant that fights aging and sun damages. It is also a rich source of protein that has amino acids which stimulates collagen creation that firms up the skin's elastin.
Rose Absolute
Rose Absolute is actually a rose oil extract from Rosa Damascena. It is a wonderful astringent and helps shrink pores and makes skin appears smoother and more radiant. It also has anti-aging and anti-inflammatory effects, making it an excellent essential oil for even sensitive skin.
Lush Reviews: One of the Easiest: Angels on Bare Skin fresh cleanser
Angels on Bare Skin fresh cleanser is perfect for those with dry and combination skin. This handmade cleanser is ah-mazing and leaves skin so soothed and moisturized we don't even need any moisturizer after that! It is so mild and safe for even sensitive skin it doesn't break the skin out.
The Angels on Bare Skin cleanser leaves our skin feeling supple and with no signs of dryness or tightness no matter how many times we use it in a day (for the record, we could use up to 5 times), whether it is during the morning or night time skin regime or makeup removing or, whenever you feel like giving your skin some tender love.
In the scent department, this cleanser sends you direct to spa heaven to meet the angels (hence the name we think). Need we say more?
Skin is to be as smooth as a bare naked angel's butt with this one. #lush #lushreviews #angelsonbareskin http://t.co/IUMJYsBtn9

— SGBeautyProducts (@SGBeautyProduct) November 1, 2014
Please follow and like us: