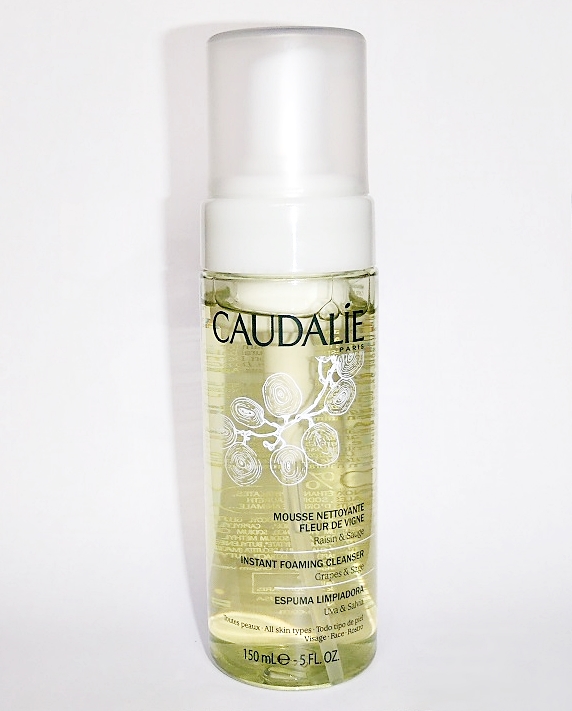 The Caudalie Instant Foaming Cleanser is a mild and gentle facial cleanser that balances the skin and removes impurities effectively without stripping off the skin of its natural oils and moisture.
It is hypoallergenic and free from parabens and harsh chemicals hence is safe for sensitive skin and even skin that is prone to acne and breakouts.
Caudalie Instant Foaming Cleanser
Packaging
Just by looking at this cleanser is refreshing enough for your eyes. Garbed in a clear, spring green bottle and a translucent cap atop, the packaging alone is a breath of fresh air.
As with other foaming facial cleansers, the Caudalie Instant Foaming Cleanser comes with a generous nozzle and a strong pump.
Fragrance
The cleansing foam gives an almost next-to-nothing hint of herbal floral scent.
Consistency
Because the pumping nozzle is so strong and dispenses a quick and firm amount of product, the foam is airier than most foaming cleansers give. It is also super light and easy to glide on skin. The foam sizzles off slowly when left untouched on the skin – that we thought was quite therapeutic.

Size and Price
The Caudalie Facial Foaming Cleanser comes in a full size of 150ml (5 fl oz) and retails at SGD$39.00 each at Sephora stores in Singapore.
Ingredients – 99% Natural, Mild and Hypoallergenic – Like all Caudalie Products!
Paraben-free, Sulphate-free, Phthalate-free, Phenoxyethanol-free!
Now without all these adverse preservatives and chemicals, the product is indeed quite Da Bomb. The last thing you'd ever want your skin (especially sensitive skin) to experience is harsh substances and conditioning agents doing good to your skin in one way but then harms it in the other.
Key Ingredients: How It Works
Chamomile, Red Grape, Sage Extracts
Chamomile has calming properties and helps to soothe the skin and prevents sensitive skin from flaring up and keeps acne and breakouts at bay. It is also a skin lightener due to its natural bleaching ability and helps to keep a healthy glow on skin.
Red grapes contain a natural compound and an antioxidant called resveratrol, which fights against ageing and protects the skin from ultraviolet radiation and other sun damaging effects.
Sage is an herb that has medicinal effects on skin and is known for treating skin disorders that require anti-inflammatory and antiseptic remedies.

Caudalie Skin Care: Instant Foaming Cleanser Review
Granted the Caudalie foaming cleanser may be a tad too mild for some, especially those with very oily skin, you may find this a rather "short-term" fix. The sebum tend to return on the skin a little too soon after using it.
However, there has to be some trade-off here considering it indeed effectively removes grime and dirt off the skin and being all hypoallergenic at the same time. It is not so much as it doesn't do its job; it just does not control oil as well. Thus we will recommend it to those with combination and/or sensitive skin but not those with oily skin.
For other hypoallergenic cleansers, check out our review on the First Aid Beauty Face Cleanser.
Feasting too much this #thanksgiving ? Worried about breakouts before #Christmas ? Calm your zits down! #caudalie… http://t.co/T1ketyvux9

— SGBeautyProducts (@SGBeautyProduct) November 29, 2014
Please follow and like us: