Just in case you think I attribute the acne improvement on my skin all to the Aesop Chamomile Concentrate Anti-Blemish Masque, no. There was another unsung hero behind all that hard work of cleansing and detoxifying my skin deep from within. The Aesop chamomile mask purged the toxins out (I know, chamomile has its fits too) so that the Boscia Detoxifying Black Cleanser can keep them at bay, you see?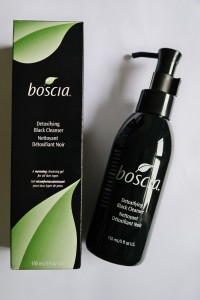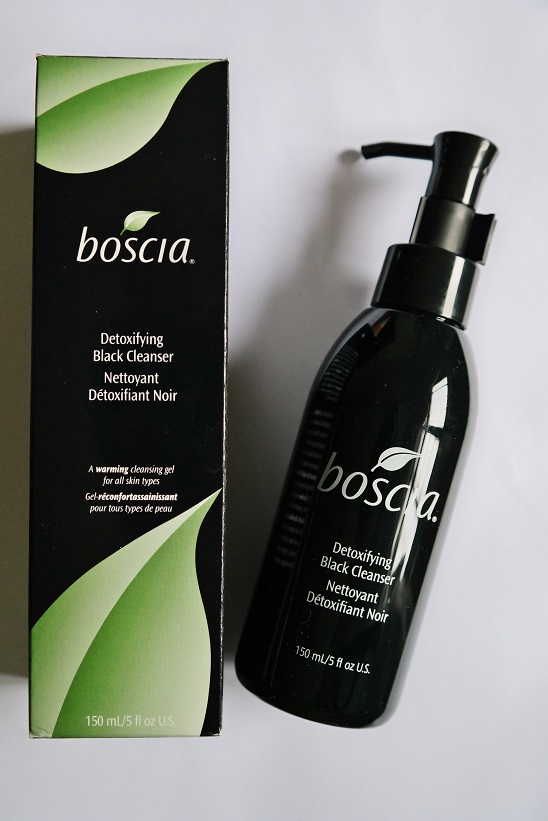 Boscia Detoxifying Black Facial Cleanser Review
Packaging
Comes in an opaque black plastic bottle with a slim press pump; dispensing just the right amount for each use each half pump.

Price & Size
SGD$41.00 retailing at Singapore Sephora Stores for 150ml (5 fl. oz)
Texture/ Consistency
Just like liquid bath gel, it is kind of sticky-fluidly. Looks very black and thick when it first comes out, but you will soon see that it spreads quite thin easily and blanches into this light greyish liquid on your skin without foaming.

Warm Sensation!
The cleansing gel when massaged into the skin gives a split-second warm sensation, and that is that precious moment when the product "activates" on your skin, if that makes sense. Do not make the same mistake I did by rubbing the gel between my palms prior to massaging it into the skin, or you'd have missed that microsecond of what it can do best for your skin.
Fragrance
Please moist your skin thoroughly before applying this charcoal cleanser. Water not only helps to lather smoother, it also waters down the charcoal smell which can be very ammonia-like and off-putting. If sufficient water is mixed with it, the smell diminishes. So all's good.
Active Ingredients
Charcoal Powder
If you are into Boscia products, you'd be familiar with their charcoal line of skincare. The Boscia Detoxifying Black Cleanser contains charcoal powder that extracts and absorbs the toxins and sebum from our skin, thereby purifying it by unclogging our pores deeply. And because the toxin-removal ability burrows deep down, it makes dirt and oil harder to accumulate, hence inhibits the development of acne and pimples.

Geranium Oil – has antimicrobial activity on the skin that not only calms stressed skin but prevents further contamination to the skin. It also helps to speed up the healing treatment of acne scars and blemishes.
Licorice Root Extract – known to effectively treat skin disorders and infections, and also an excellent skin lightening ingredient for reducing the appearance of blemished skin such as acne scars and hyperpigmentation.
Willow Herb Extract – prevents further irritation and inflammation and reduces oxidative stress to the skin. It provides fast relief to flare ups and helps in constricting skin tissues and the tightening of pores.
Artichoke Leaf Extract – has astringent effect on the skin which removes dirt and bacteria in preventing acne from re-developing. It also helps to tone the skin and increases its elasticity.
No Parabens, Sulfates or Phthalates!
Parabens are preservatives to prevent bacteria from growing in skincare products and cosmetics, Sulfates are chemicals adding to them as foaming agent and Phthalates are chemicals used in these products to prolong their shelf lives and flexible consistency. The Boscia Detoxifying Black Cleanser does not contain any of these that could have triggered adverse health effects or allergies.
Great even without the Boscia Konjac Cleansing Sponge with Bamboo Charcoal
Verdict:
Probably the Best Facial Cleanser for Acne Prone Skin
Though heavily advised by lots of other reviews to pair this Boscia black cleanser with its konjac bamboo charcoal exfoliating sponge, I chose to use it alone. The result's been great so far even without the exfoliating bit. My face's manifest raw acne needs no expert to tell me they cannot be exfoliated just yet.
I have to say that this Boscia Detoxifying Black cleanser is a match made with the Aesop Chamomile Concentrate Anti-Blemish Masque. These two have worked perfectly together in eliminating the acne on my forehead better than expected. It doesn't just purify the skin but also lightens the blemished marks.
Despite the charcoal powder, the formula is non-drying and leaves my skin comfortable and squeaky-clean each time after cleansing. The best part is that new acne has stopped developing, as if subdued by the combination of the powers. This is definitely a highly recommended product for acne-prone skin sufferers; I hope those with the same plight as me can benefit from this sharing.

Please follow and like us: