I've been using the Caudalie VineActiv Serum for two months now and it is safe to say that I have a fair share of experiencing it to be able to finally review it.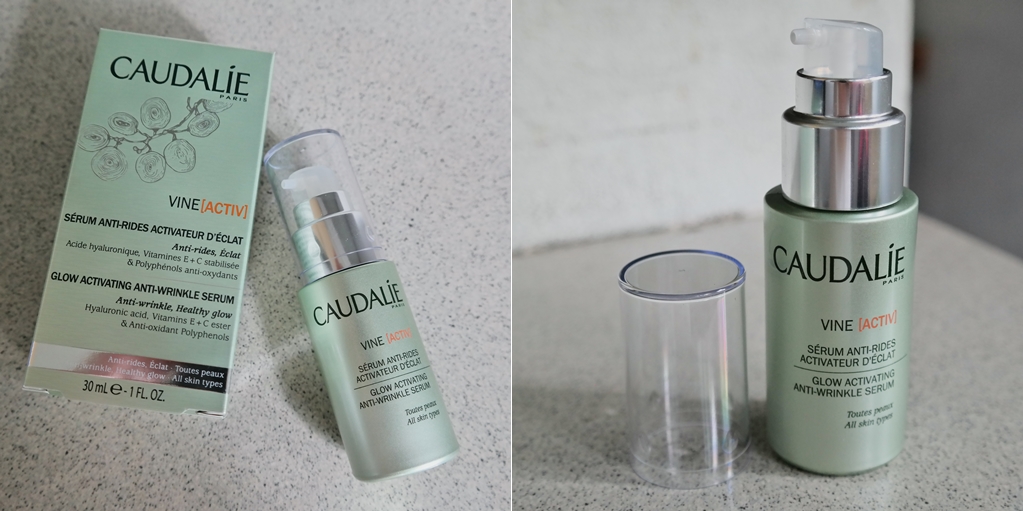 I've loved Caudalie anti-wrinkle serums ever since I'd used their VineExpert Firming Serum a couple of years back. My pores clog easily so I'm usually very careful when it comes to serums. When I found out that Caudalie has discontinued their VineExpert line of skincare, I kept my eyes peeled for other non-comedogenic and plant-based anti-aging serum, but none fit the bill as they either broke me out, or weren't exactly phyto-friendly.
So when their Vine[Activ] range hits Singapore Sephora's shelves a few months back, I decided to get the serum. What made it even better this time with this product is that it comes with the glow activating factor that targets to achieve not just smooth, but a healthy-glowing complexion.
Best Face Serum with Vitamin C, E & more: Caudalie VineActiv Serum Review

How It Works: The Key Ingredients
The Caudalie VineActiv Glow Activating Anti-wrinkle serum boasts a number of ingredients both oily and dry skins will love – Grape seed polyphenols (known for its photoprotective & antioxidative potency), vitamin C & E (known for boosting skin radiance & anti-aging), Spruce extract (known for skin firming and soothing), Hyaluronic acid (prevents moisture loss), etc.
Packaging
The Caudalie Vine Activ Glow Activating Anti-Wrinkle Serum comes in a 30 ml (1 fl. oz.) satin green pump bottle and a clear cap enclosing the pump dispenser as with all their serums' packaging. One pump gives you a 5-cent-coin-diameter amount which is enough for me to work around my entire skin.
Texture
It feels fluid and not cushiony, which is great because cushiony products tend to potentially clog pores. It is silicone-free, and uses Xanthan gum (fermented sugars) and Acacia Senegal gum (tree-derived gum) as bonding agents, which run thin in this formula, at least in my opinion. The reason why this little amount goes a long way is because its texture is super hydrating. It isn't as rich as most serums are and is one of those products that just enable your skin to suck it all in without being tacky. But because of this you need to work this serum faster than necessary because otherwise you may find that it absorbs so fast it doesn't have sufficient time to be applied evenly. Just look at the photos below – it took me just 3 seconds to massage the product from its aqueous nature (middle pic) to all almost being absorbed into the skin.

Scent
Smells a little like wine (probably due to the grape seed extract) with a slight veil of lemon. But it isn't too strong.
How To Apply
Caudalie says to apply to face, neck and chest in the morning and evening before moisturizing. But I know how much skincare my skin can take, so my skincare routine is kept very minimal.

I cannot have serums and creams happening together. My skin seems to love mostly water-based products and needs a lot of 'breathing' so I keep to just 2 layers of product at any one time. I applied one pump of this Caudalie VineActiv Glow Activating Anti-wrinkle serum all over the face usually after toner or if I'm using a hydrating spray or facial water (acting as moisturizer), I will use the serum over one of those. Only on drier days, I will spray another layer of hydrating spray (such as the Caudalie Grape Water), or my anti-wrinkle facial mist treatment on top of the serum layer.
Verdict:
Best Vitamin C Serum for Sensitive Skin!
Don't be alarmed by the 'before' photo (I know I looked unready af) but this is the only bare-faced photo I could find taken before I started using this face serum. The 'after' photo was taken this afternoon. In both I was bare faced – always with that sallow skin with random redness and pigmentation peeking through.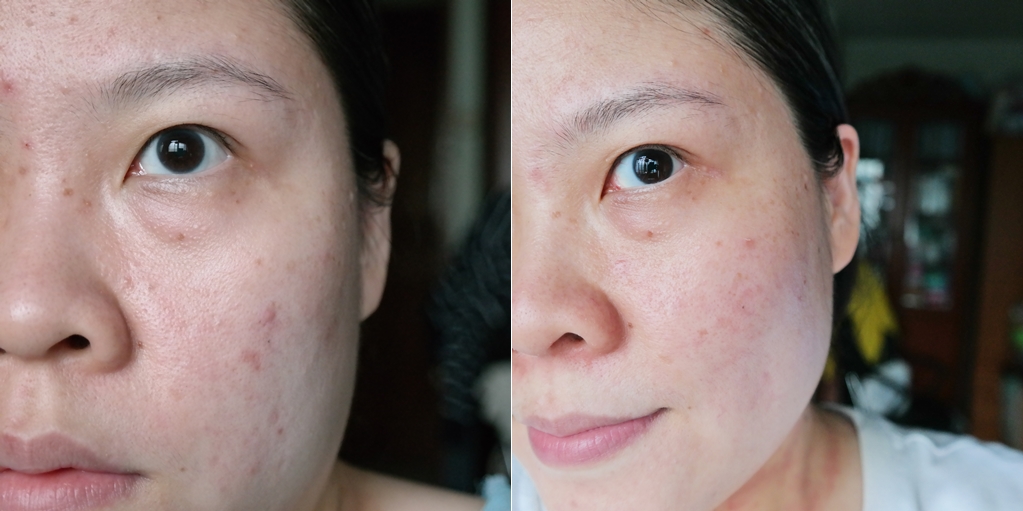 My skin usually can't take vitamin C serums well; perhaps due to my skin's sensitivity, vitamin c's collagen production and exfoliating capabilities do cause redness and irritate my skin quite often. But this one doesn't, it simply brightens and smooths out the skin tone and texture.
So hell yes to a more luminous and translucent skin in the later picture. The Caudalie VineActiv Glow Activating anti-wrinkle serum does what it says it can do – reduces fine lines and helps dull skin to glow! No doubt it doesn't help with reducing redness or pigmentation, but because it boosts such significant radiance, my skin appears more translucent and brightened. This product helps with hydrating the skin too; matte foundation paves a smoother surface without so much as appearing patchy or bunched up on creases.

Price & Where To Buy
Retailing at SGD$65.00 for 30ml at Singapore Sephora stores.
Please follow and like us: