If you have dry skin on your face or under the eyes, then very likely, you may also suffer from premature skin wrinkles. When you have persistent, severe skin dryness or very dry flaky skin on the face or around the eyes, even the best moisturizers for dry skin cannot penetrate into our skin deeper than we hope they can. Moisturizers often come in creams, if not serums, and are usually of concentrated formulas because of the necessary structure they need to have in order to deliver the nutrients through a carrier to the skin. As such, the molecular sizes of the product are weightier, making them harder for the skin to absorb to the best of its potential.
This new product that I'm about to share may well help hydrate dry patches on the skin in the most logical and sensible way, so much so that you wouldn't, in your wildest dreams, think it could be this far from being fancy.
Best Face Moisturizer for Dry Skin is Water…but wait. Not just any water.
The best face moisturizer for dry skin is none other than water! I told you it's not fancy, except where, it is not just any water. It is what known as Quantum Physics ("QP") Water.
99% of skin problems are caused by the lack of water or moisture loss in the event of ageing, or due to environmental conditions, hormonal imbalance, etc. The moisture deficiency in our skin affects the performance of its protective skin barrier and slows down skin cells renewal. When the protective barrier function of our waterproof outer skin layer is lost, the skin becomes incapable of retaining the level of hydration and elasticity that is needed to keep the skin supple and firm, and as a result, the skin begins to sag, causing wrinkles and fine lines to develop, sometimes prematurely. As a result of the weaken epidermal barrier, the underlying dermis becomes more sensitive and susceptible to pollutants, ultraviolet radiation and sun damages. As such, in worse cases, dry, red, itchy and even scaly skin could also occur.

When our wounded skin cells are being repaired at a slower rate than when it comes under the attack from the pathogens and free radicals they are exposed to, the skin disorder persists and repeats such that old cells are unable to be rejuvenated fully, leaving the skin with scars or discoloration. Eventually when these skin cells die, the skin becomes hardened, flaky, crusty, or darkened for some. We know dark under eye circles are caused by the lack of blood flow in the capillaries near our eyes, but not many know that the lack of blood flow can be due to dry under eye skin too. Because the skin crinkles up to form those tiny folds and ridges for a long time, those parts are not getting sufficient blood flow from the blood vessels due to poor circulation.
It took me 10 months to review this product. Watch the video to believe how it works to reduce your wrinkles and fine lines.
How It Works To Reduce & Prevent Under Eye Wrinkles, Fine Smile Lines & Crow's Feet
If you wonder how to reduce or prevent your under eye wrinkles, fine lines like smile or laugh lines and crow's feet, or ponder over why your acne always manage to find its way back no matter what eye cream, anti-aging cream or acne treatment you'd tried, the QP Water could be your solution.
The tap water here in Singapore, while potable, is still chlorinated water. Chlorine, while added to the water supply to kill bacteria, is carcinogenic, and so the water is not in the best and purest constitution for the skin's benefit in the long run.
You've heard or read about micro and nano molecules from many moisturizing products and agents, but what about beyond-nano molecules? The reason why QP Water is able to replace moisture a gazillion times better is because of its beyond-nano molecular structure that enables its water molecules to not only penetrate into our skin more effectively and deeply, but makes them harder to volatilize, hence enabling moisture to be locked into the skin.
But the ultra-fine molecular size of it is not all; this is a product of Quantum Physics technology (hence the name "QP"), where, the water molecules are being energized for a quicker-than-normal absorption rate into the skin, as well as increased skin cells renewal activity. Notice I'm not typing it in quote marks as 'energized' because it is not in the least bit far-fetched; every single atom is literally being kinetically charged (not electrically). Imagine a product entering the skin and doesn't just work its way in for a while but continues to give vitality from deep within the skin for a long period of time. Needless to say, this product is gearing for results that last for the long term.
So. You may find this a little gimmicky-sounding.

Listen, have you ever wonder how crystals are formed? Let me crystallize this for you if you don't speak water (pardon the pun!). Not just about them taking shapes but how every single one can be formed into the exact same, identical geometric shape under controlled circumstances? Crystals come in diamonds, quartz and snowflakes, but how do you explain certain batches form only snowflakes together, for instance? When certain external forces and climatic conditions are kept constant, they stabilize the liquid molecules, and when molecules are stabilized and aggregate into solids, the result can only be ending up in the same shapes as those that are formed under the same conditions. Now apply this set of principle in the storage of energy in QP Water. The molecules would be delivering stabilized and unwavering energy to the skin. So when the skin's energy is held constant throughout, this not only helps to even out the skin but also balances its pH level, which is necessary in preventing any skin disorders arising from the acidity or alkalinity of the skin.
Still not getting it? Ok.
Imagine your skin is a mattress, and the energized QP molecules are the spring coils within it. Now imagine the spring coils all bouncing at the same frequency, wavelength and pressure. This will then result in a smoother surface of the mattress as there isn't one coil that is bouncing out of momentum, or emerging higher or sinking lower than the rest. Not only will this uniformed kinetics result in a smoother layer of things, the more the surface is made to bounce in tandem with the whole of it, the more elastic and firmer it becomes; much like kneading doughs causing the gluten to become elastic, or the constant slamming of fish balls to make them bouncy, lol.

Packaging
The QP Optima Water comes in 150ml sized clear bottles (otherwise known as refills) with a metallic screw-on cap and a drip opening of a size capable of dispensing controlled slow drops when tilted, and releasing several drops on each light tap. It is similar to those travel bottles containing your facial toners and treatment essence waters and is spillage-proof.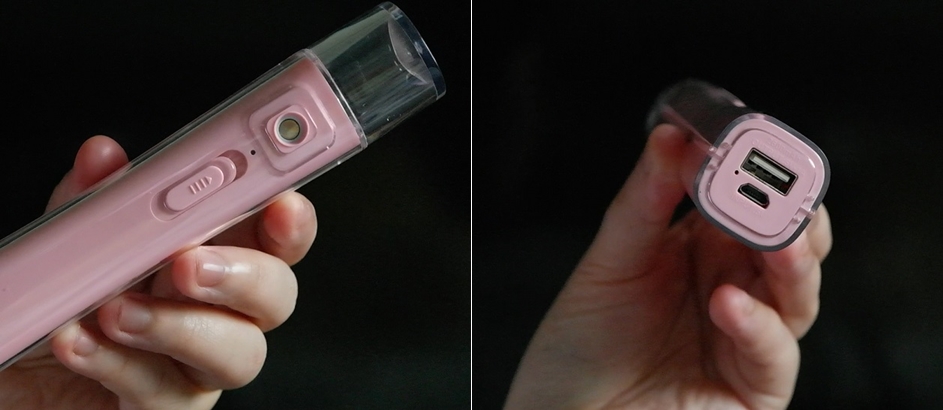 The QP Optima Water is best used with its accompanying QP Optima Facial Mist which comes in two color options (pink or white) and takes the shape of a handy tube form, almost like a small hand torch or microphone. This facial mist is also doubled up as a portable charger. It has a USB charging output and a micro USB input for it to be charged as a stored power bank for charging other devices other than for the activation of the mist. It has a clear cap on top which is the capsule to contain the QP Water.
How To Use
Open the clear capsule of the facial mist by gently twisting it off. Invert the capsule so it acts like a small cup. Dispense the QP water from its bottle to the capsule by inserting the mouth of the bottle into the capsule and gently tapping the product into it. Fix the body of the facial mist by twisting it close with the capsule while the capsule is still inverted with the QP Water inside it.

You want to slide up the button of the facial mist to switch it on. The QP water will then be released in a stream of mist that sprays out continuously for 25 seconds. I like to hold it about 2-3 cm away from my face, and moving it around slowly while concentrating on my eye bags, crow's feet and laugh/marionette lines. Any distance nearer than this I find, the pressure at which the product hits on your skin will be too great and some of it may just ricochet off without getting a chance to be absorbed. Any further than that will then allow some product to just go straight into the air without making enough contact on the skin. Additionally, you may want to do this while lying down on your back to prevent any excess water from trickling down so that more product can be absorbed.
Shelf Life
This product has no expiry. You heard me right. You don't have to worry that it will go bad, or loses its effect over time. The QP Water is a facial treatment mineral water. If you open up the bottle and let the water to be exposed to air, it will evaporate just like any water. But the stored energy will never be gone, no matter how many times you open the bottle or how little product has left. So as long as you keep it in the bottle with its cap screwed on tight, it is basically safe to use at any time.
Verdict: The QP Optima Water and Facial Mist are probably also your solution on
How To Reduce Eye Bags, Puffy Under Eyes Naturally: No Cream or Removal Surgery!
If there's anything I'm known for in the name of beauty, it would be my humongous eye bags. My puffy under eyes also resulted in more fine lines being formed around the eye bags. The routinely use of the QP Optima Water Facial Mist actually helps to reduce my eye bags to some extent by boosting the hydration under my eyes and making the fine lines less visible.

I have been using the QP Optima Water with the Facial Mist every night over 3 months from October to December 2016, and the result was significant – lesser fine lines were seen. I sprayed the 25 seconds of mist twice each night on the affected areas. And then I ran out of the QP Optima water and stopped using it for 3 months, before starting to use it again from March through mid May 2017 (present day). The 'before' photos you see here were taken in Oct/Nov 2016, and the 'after' photos are taken in present days. You know I'm telling the truth when I have an acne this big to prove my timeline. Lol.

My under eye areas did get back to being slightly drier during those months when I stopped using the product, however the difference is that it didn't get to the point where my concealer makeup could actually settled into my fine lines like when before I knew this product. Just look at my right eye photo of the past (below, left) – enough said. To me, this is an indication that this product does work in hydrating and plumping up the skin in the long run before your younger-looking skin decides it is time to stay.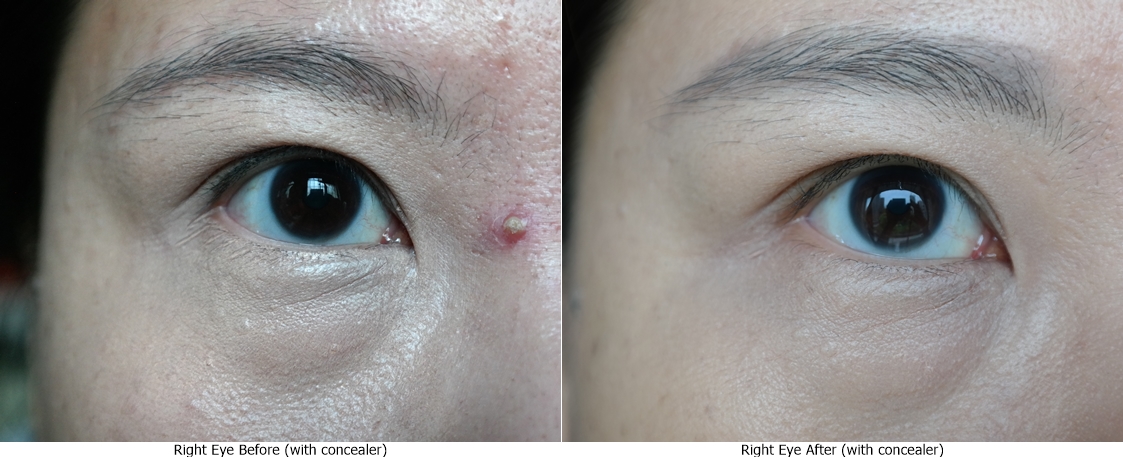 No doubt this product does not get rid of eye bags or under eye puffiness completely, but when the skin around the eyes becomes smoother, naturally, the eye bags become less obvious. From my personal experience, it isn't just about the smoothening and tightening of the dry skin around the eyes, but the high energy technology and superb skin penetrability of the product that helps with firming up of the weaken tissues and muscles that had been sagged down and accumulated at the area below the eyes over time by restoring their elasticity through the energy trapped in them. In other words, the product helps to lift the loosen muscles under the eyes; in a non-invasive sort of way.

Best Eye Cream? How About Best Facial Treatment Water for Dark Circles?
Why hunt for the best eye cream for your under eye dark circles when a lighter medium like facial treatment water may help get rid of them? Do you notice that the discolored skin tone of my eye bags have evened out a little? Look at the photos above again. With or without under eye concealer, you can tell the difference between the before and after pictures that my dark eye circles have lightened. There's always a chain reaction in skincare; hydrated skin leads to less wrinkles leads to better oxygen circulation in the skin leads to even skin tone.
I don't know about you but I'm pretty stoked to have experienced one of the best, safest and easiest (to use) anti-aging products, especially when I have been staying away from eye creams and serums just because these mediums tend to clog up my under eye skin and if you'd noticed, I do suffer from milia seeds on those areas because of this. I cannot risk having them develop into skin tags or some hardened cysts over time and, while you may say laser treatment can rid of it; oh you don't know me enough to know that an ant bite could possibly make me shed a tear or two. My pain threshold is extremely low, so you can imagine how grateful I am for this marriage between water and technology.

No doubt the QP Optima Facial Mist Water treatment plays the long game. But it plays it well. And most importantly, it is slowly emerging as the ultimate winner in the marathon of skincare rather than coming in sprints of quick fixes before your skin problems come to haunt you again.

Price & Where To Buy
The QP Optima Facial Mist and Water are currently only available online on the brand's website. Use the following PROMOTION CODES to get your EXCLUSIVE DISCOUNTS (of which may I boast to be one of the most attractive if not the most attractive offer around!):
QP Optima Facial Mist
Retails at S$57.00, but you can apply this coupon code SGB-QPFP7 upon checkout to get an instant S$7.00 off (You only pay S$50.00).
QP Optima Water (Refill, 150ml a bottle)
Retails at S$25.00, but you can apply this coupon code SGB-QPRP2 upon checkout to get an instant S$2.00 off (You only pay S$23.00).
QP Optima Package Deal (1 x Facial Mist +  1 x QP Optima Water)
Retails at S$75.00 per set, but you can apply this coupon code SGB-QPSP5 upon checkout to get an instant S$5.00 off (You only pay S$70.00).
So dry skin, wrinkles, eye bags, aging and even acne skin sufferers, visit the company's website NaturalWorld.Sg to order yours now. Natural World is based in Singapore, however they do ship worldwide, so you can order it from most parts of the world. I hope this article has been useful for you.
Please follow and like us: