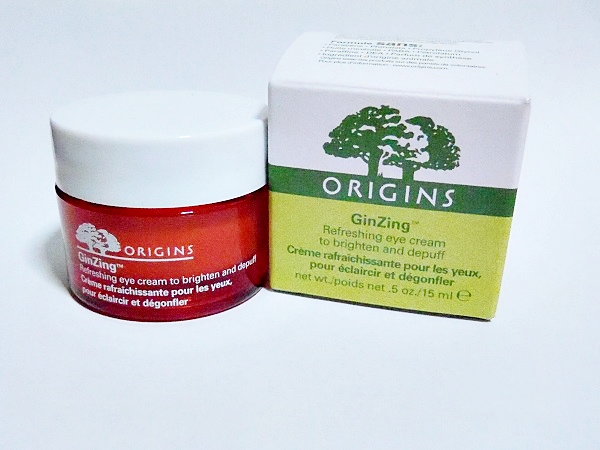 I can finally do an Origins Ginzing Eye Cream review, after having own and tried it for six months now. The only reason I dragged it this far is because I fell in love with the Philosophy's Eye Hope along the way and so was unable to attest to the Origins Ginzing eye cream due to not using it as regularly.
Not gonna lie, I didn't think it was a good eye cream at that time because I did not see any immediate effect I expect it to give even though I only use it irregularly from time to time. So I took the whole month of November to religiously use it in the morning as well as nightly before sleep to see the effects are only visible over a slower build of time. Here's our review of the Origins Ginzing Eye Cream after a month of using it and it only.

Origins Ginzing Refreshing Eye Cream: First Impression
Packaging
The eye cream is contained in a small zesty-orange glass pot and topped with a glossy white cap; it is so revitalizing just by looking at it alone.
Colour and Consistency
The product bears an iridescent pearl-like lustre to its nude cream. The eye cream feels dense and concentrated; not necessarily thick. It doesn't budge even when you tilt the tub upside down which makes it good for travel as it doesn't spill. When you pat it onto your under-eye skin, it takes a little more effort in allowing the product to be fully absorbed into the skin because each pat with the finger basically leaves a stiff peak of the product and hence it takes quite a number of finger-patting to complete the task.
Fragrance
There is no fragrance to speak of, really, except maybe when you inhale the product closely, it smells kind of similar to Philosophy's Eye Hope. The product does not contain any synthetic fragrances.
Size and Price
The Origins Ginzing Eye Cream retails at SGD$62.00 for a 15ml (0.5 oz) sized tub at Sephora, and counters of major Departmental Stores in Singapore such as Tangs, Robinsons, Isetan and Metro.
Origins Ginzing Eye Cream Review: Ingredients
What the heck is Ginzing, really?
For those who do not know by the obvious pun here, "Ginzing" refers to Ginseng, the root of the Asian herbal plant that has both health and skin nourishing and medicinal benefits. This eye cream contains Panax Ginseng that helps in revitalizing our tired skin by providing anti-ageing and skin-firming effects as well as improving our skin elasticity.
Magnolia Extract
Magnolia extract is great for repairing wrinkles and plumping of the skin. It also helps whiten and brightens the skin tone underneath the eyes.
Coffee Beans
Coffee beans are antioxidants as well as astringents. They are known to be a good fighter against premature skin ageing. The caffeine in the coffee also helps in constricting the blood vessels in our skin, resulting in better blood circulation and hence able to reduce dark circles and prevent eyes from looking dull and tired.
No Parabens, Phthalates, Paraffins, synthetic fragrances and more.
Parabens and phthalates are preservatives and may cause skin irritations to those who have sensitive skin over prolonged period of use. Paraffins (Mineral oils) are skin conditioners that may also cause skin rashes and itch to some people. The Origins Ginzing Eye Cream does not contain any of these.

How To Apply the Origins Ginzing Eye Cream
We recommend to apply once in the AM and once at night before sleep. Be sure to apply in a quick and light tapping manner to enable quick absorption of the product into the skin. The cream doesn't feel exactly light, so the last thing you want is for it to clog your pores.
Brightens Dark Circles & Depuffs Eye Bags? Meh.
The Origins Ginzing Eye Cream promises to reduce dark circles, eye bags and puffiness around the eyes. Other than improving the skin's tautness slightly, my eye bags and puffiness remain obvious and my dark circles did not lighten (photos below are night (middle, before) and day (right, after) shots so any difference in skin tone should be disregarded).

Verdict: Good Eye Cream? Maybe Not
In all fairness, we've given this Ginzing eye cream a go for a period of slightly over a month on top of the occasional use a few months before that. Other than the fact that it is a safe product to use as it contains no harmful chemicals or preservatives that could potentially harm the skin, we have to say performance-wise, this eye cream does not make the mark. It pretty much does none of what it says; at least for my skin. There is no "tingling" sensation from the application either; of course we are not to say that there should be any sensation in order for a skin care product to be working. But you get the idea – it is just what it is.
Please follow and like us: