Today's review is going to be a quick one because when it comes to anti-aging eye creams, they either work or they don't, right? Pretty straight-forward.
Estelle & Thild has always been a brand that I'd like to get my hands on because of the organic (certified) skincare range they carry. This Stockholm based label is not only a multiple award-winner, they're also featured in many magazines and well known for their work which evolves around beauty with a conscience.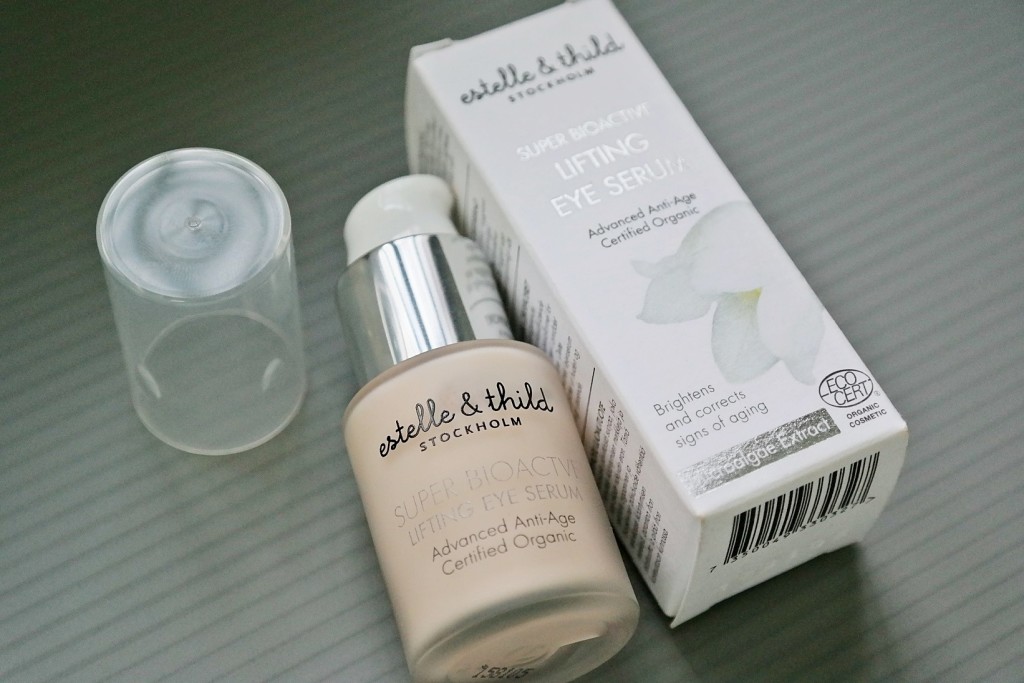 Estelle and Thild Under Eye Cream for Wrinkles & Puffiness
I've always wondered if natural, chemically-free products could at least do some good for the delicate skin around my eyes, since most of the eye creams that I'd tried didn't work on my eye bags (with the exception of Philosophy's Eye Hope and Instantly Ageless Eye Cream), thus decided to have a go at the Estelle & Thild Lifting Eye Serum.
Packaging
Estelle & Thild's packaging is a breath of fresh air for me. The packaging holds true to its business philosophy – steering away from all synthetic formulas and what you're left with can only be as clean and crisp as what you get. The frosted glass bottle of eye serum comes with a press pump, and a clear cap to top it off.
Consistency
I know this is an eye serum but the product feels just like an eye cream. Perhaps the slight difference you could probably tell that it isn't entirely of cream formula is that it carries this micro-seed particles in the cream. When applied and massaged into the skin, they miraculously dissolve.

Scent
Heavenly. Just heavenly. Reminds me of vanilla and tangerine together.
Price and Where To Buy
Retailing at SGD$77.00 for a 15ml (0.52 fl. oz) bottle at Singapore Sephora outlets.
Estelle And Thild Anti-Aging Eye Cream Key Ingredients:
Haematococcus pluviali (green algae) extract, blackberry (rubus) leaf extract, jojoba seed oil, shea butter, safflower oil, cetearyl olivate (natural fats from olive oil).
The highlight of this product lies in its marine technology, i,e. the green algae extract. Green algae contains a lot of phyto-nutrients that enhances our skin barrier and a ton of minerals needed for the skin to stay supple and wrinkle-free, as well as skin brightening benefits.
Verdict:
I don't have any before and after photos to show you this time round because…they'd have looked the same. The product promises to brighten and corrects the signs of aging and that the result should see a reduction of fine lines and a more youthful appearance. This eye serum didn't even give me a temporal lift to my eye bags, let alone reversing the aging appearance around my eyes over time. I've been using this eye serum for a month now, applying it to my under eye bags and crowfeet areas every night before sleep as well as before I put on makeup, but it doesn't seem to be working.
My dark circles weren't brighten at all, the under eye wrinkles and crowfeet still look the same, so needless to say, my eye bags didn't get any better either.
If there's any consolation, it'd be for the only fact that it does hydrate quite well under makeup such as concealers and translucent powders. It doesn't necessarily fill in or smoothen out fine lines but it primes the skin well so the concealer makeup wouldn't slide off.
Considering the price and all, it is quite a disappointing buy.
Please follow and like us: