Whoop! Whoop! New sweet young thing in town! The Body Shop Singapore has launched their new limited edition eye product from their Vitamin E range just last week – so I simply have to share.  Essie Button's April Favorites video may have included their new moisture cream, but my condemned under-eyes directed me to their Vitamin E Eyes Cube, being something so perplexing I wouldn't know enough to call it an eye gel or eye balm until the fine print on it says "eye stick."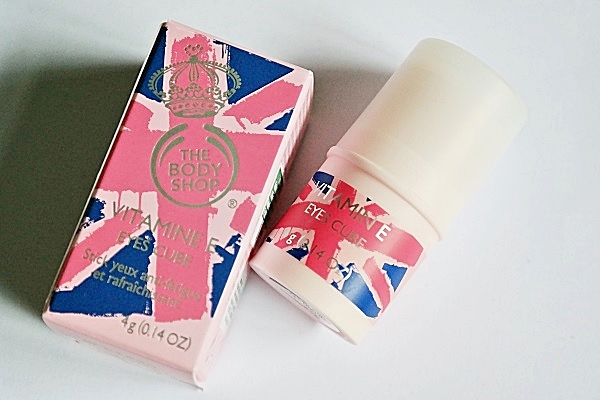 The Body Shop Vitamin E Eyes Cube Review: An Eye Refreshing Product
Why do they call it an "eyes cube" when it is cylindrical? If the intention is to be meta with ice cube…well, you've got me.
Packaging
I'm pretty much gravitated towards pink. But if you put pink and regality together (think Juicy Couture), I'm sold. This eye stick reminds me of  the Josie Maran Color Stick in terms of the double plastic capping (the first one pops open and a flat plastic cap within that protects the product from atop) as well as Tarte's Cheek Stain in terms of the exterior packaging; only that the Tarte one screws open. You then twist up the product to use and twist it the other way to keep it. Simple enough.
The stick is really light weight and petite in size; super handy to be brought along in flat clutches or even pockets.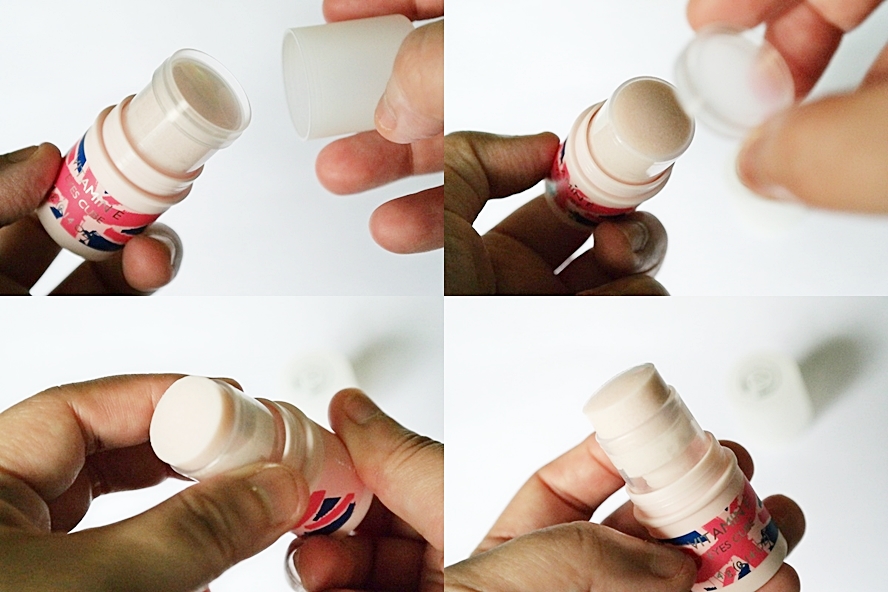 Fragrance
Fragrance-free
Consistency
You know how lip balms or skin balms feel like? Yeah the Body Shop's Vitamin E Eyes Cube feels similar; it has the same emollient texture that conditions the skin under your eye a lip balm has on your lips. Non-greasy, non-sticky, just colorlessly moisturizing.
Price & Size
SGD$19.90 each for 4 grams (0.14 oz) at The Body Shop stores in Singapore.
Body Shop Vitamin E Eye Key Ingredients
Wheat Germ Oil – one of the most potent sources of Vitamin E that is beneficial to the skin. It contains squalene and stearic fatty acids that repairs skin tissues, promotes skin cell regeneration and revitalizes overall skin health. It is an effective moisturizing conditioner for dry and cracked skin in reducing fine lines and healing of scars and stretch marks.
Soya Bean Oil – is able to nourish the epidermis of our skin by preventing blotchiness and pigmentation as well as evening out the skin tone. It contains proteins that can stimulate collagen growth, resulting in more youthful-looking skin.

How To Apply
Simply swipe the eye stick from the inner corner of your under eye area to the outer corner. And then I recommend swiping a little on the outer corner of the upper lid too to fill in your crow feet if any.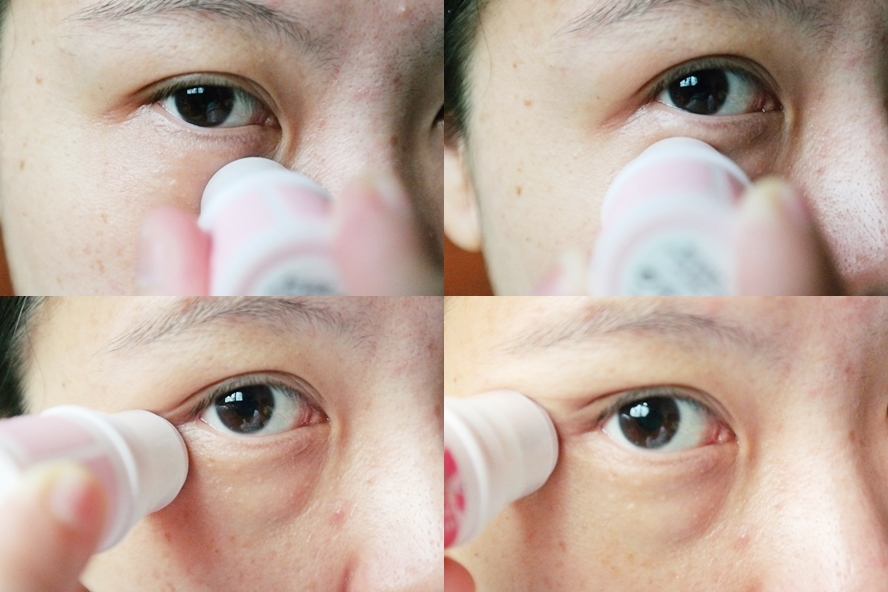 Verdict:
Quoting from the package, the Body Shop Vitamin E Eyes Cube claims that it can reduce the appearance of tired eyes. Dry lines, eye bags and dark circles appear reduced.
Not the Best Eye Cream/ Gel Stick for Dark Circles and Puffiness
I personally think that depuffing is the most difficult for most eye creams  and gels to achieve. Hence with my seriously puffy eyes I am kind of expecting this eye stick to fall short in this department…and it did, haha. My dark circles aren't severe enough to notice any difference, so that's that.
Ok as Under Eye Filler for Wrinkles
Now the good part but also the weird part. While it didn't refresh my tired eyes by the look of them, this Vitamin E anti-fatigue eye stick glides on cool and makes my eyes feel refreshed – that is true. My eyes felt perkier and were able to withstand computer screen time longer without feeling 'heavy' around the eyes.
The before and after photos below were taken about 15 minutes apart. Body Shop didn't specify how soon the effect will take place but their website says "instantly revived and refreshed"; so common sense tells me by "instant" I must at least let the product be completely absorbed into the skin, i.e. 15 minutes should do the deal. This is the result – you can't really tell the difference when I don't crinkle up my skin by smiling; but when I do, you can see that the fine lines are indeed reduced. This means it works good as a skin plumper and an under eye moisturizer, so dryness can be prevented and dark circles (caused by dehydrated skin), wrinkles and crow feet, temporarily salvaged.
This is however only a temporary relief. If you suffer from dry skin under the eyes or on the face and looking for a long term under eye bags, wrinkles and dark eye circles natural remedy, here's a product that I'd recently tried (as at May 2017) that you may find useful. Click here to find out more.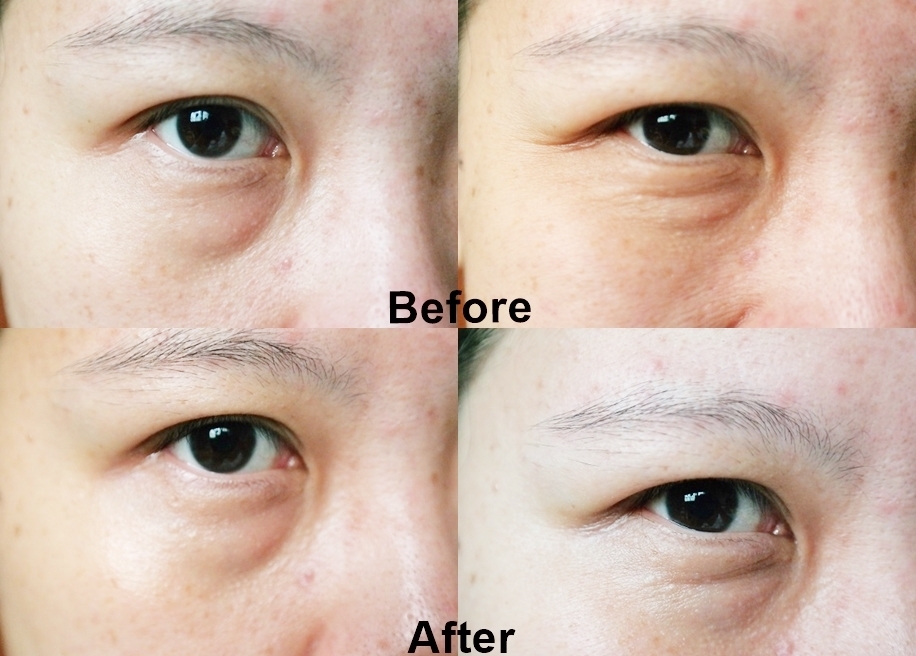 Despite the fact that it is made up of oils, it does not feel oily on the skin. It works like an oil-free under eye primer for makeup, except that the product is easily absorbed by the skin, unlike most silicone-based face primers that pill off your skin (rolled up in tiny ball-like pieces).
Please follow and like us: