Yes, I'm back from the UK! The reason why I haven't been posting as much this month. But the take back here are aplenty if I say so myself. I wasn't on a spree, didn't spend too much; if there's anything I spent much on at all – it is on the bloody exorbitant parking in the UK. Technically, it wasn't the UK where I headed, since I didn't step foot into Northern Ireland, it should be the Great Britain. So, yes, I've got a haul video up recently, do check it out below if you haven't already.
So has my london travel vlog, if you're interested. I'm still working on the other cities, so stay tuned.
Micellar Makeup Remover Cleansing Waters
Now let's get back on track. Talking about the best makeup remover. Funny that people should be comparing other Micellar Cleansing Waters to Bioderma, because first of all, Bioderma is priced alot higher obviously due to its superior quality of living up to the 'water' aspect of the term, at all. Secondly, it is of hypoallergenic formula that is safer than just saying it is suitable for all skin types because sensitive skin is obviously under its radar too. Thirdly, it is non-comedogenic,  especially with their Bioderma Sebium, prevents sebum buildup too – which is a bonus for oily skin and acne prone skin like mine. Are the rest in the market comparable, you ask me? No. Not even close. At least not yet.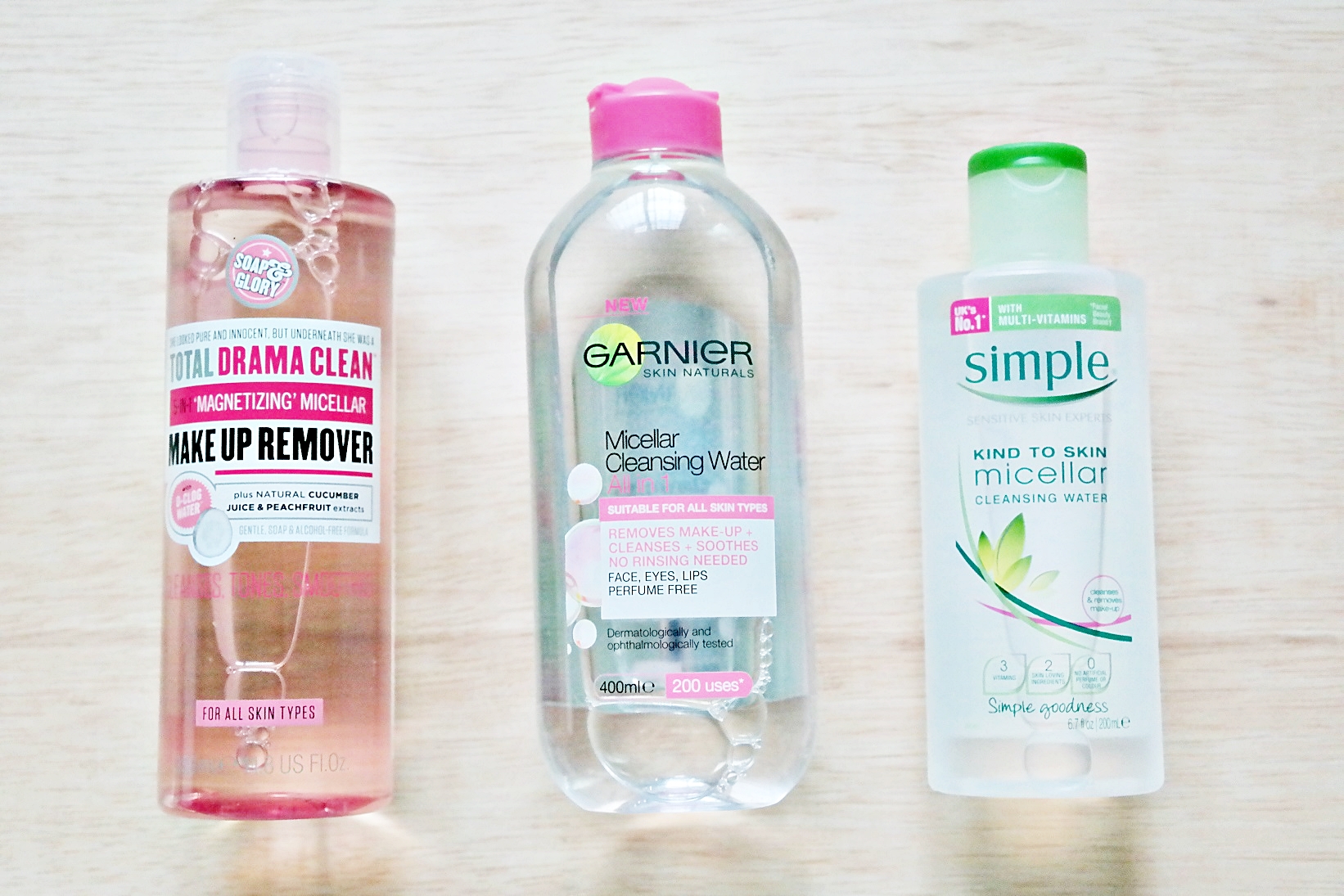 Whatever it is, the following Micellar Cleansing Waters I'm about to review are not in the same league as Bioderma. The only reason for that comparison is probably they're all micellar cleansers that require no rinsing after use. But that's about it.
Garnier Micellar Cleansing Water Review
I got my Garnier Micellar Cleansing Water way back in March 2015 when I was in Australia and as I'm typing now, the same product has already been launched in Singapore on 13 August 2015. I got mine from KMart at AUD$12.75. In other hypermarts like Big W where occasional sales were on, you could get it at around AUD$11+. Singapore's Watson's and Guardian outlets are selling them at SGD$18.90 each. For the record, UK's Asda sells travel sizes of it at only £1 for a 125ml bottle (waa…t?)

Consistency & Fragrance
Though micellar waters are soap-free as we know them but in this case, I have to say it feels every bit like soap water. Its ultra-slip against your finger tips is one, the feel it gives on your skin as you apply it with a cotton pad is another. It literally sizzles in the soaked cotton pad on application. The final turn off is when you rinse your face with water (with an experience like this it is best that I rinse it off with water), slight foam is produced. If that isn't soap content I don't know what is. Plus it smells alkaline although it does carry a slight floral scent to it and is perfume-free. When all 3 micellar water bottles are shaken, this one bubbles up the most.
Performance
It serves its purpose in removing makeup alright. Took me 3 to 4 cotton pads to remove my foundation till no trace of it left on the last piece. But because its texture is not exactly aqueous, it can't correct mistakes such as re-shaping an eyeliner wing with it soaked on a cotton swab as precisely as you'd like it to be because any excess left on your skin tend to glide instead of evaporating immediately.
Simple Kind To Skin Micellar Cleansing Water Review
I picked this one up from Asda in London for £3.99. I haven't seen this around Singapore's drugstores. Youtuber Ingrid Nilsen talked good about it so many times in her videos I had to get it and find out what the deal is.

Consistency and Fragrance
Smells almost like the Garnier one except it has a heavier botanical scent and not much of that alkaline soapy smell, probably due to the chamomile. It is also perfume-free. Like the Garnier Micellar Cleansing water, the consistency feels slippery and foams up even as you pour it on to the cotton pad.
Performance
The Simple Kind To Skin Micellar Cleansing Water falls short of being an effective makeup remover; it takes more effort than the other two for the job. I'm not just saying this base on the quick makeup removing tests I did below. Behind all that "kind to skin" and "multi-vitamins' by "sensitive skin experts" whatnot, Simple seems to have focused too much on being a gentle and sensitive cleanser than the actual function of removing makeup. Powdered makeup such as eyeshadow, blushes and mineral powdered foundation aren't that big of a deal to remove but the below test says it all, it indeed was challenging as a waterproof eye makeup remover. Ingrid, just how did it work for you?
Soap and Glory Total Drama Clean 5-in-1 Magnetizing Micellar Makeup Remover Review
You only need to read the name of it to understand why total drama exists. What a mouthful! I bought this from the UK as well because Boots was having a Soap and Glory 2 for £5 deal (watch my UK haul video to see this deal and more!). I'm not really sure if Singapore Sephora stores carry this. I'm sure you can check that out on your own.

Consistency and Fragrance
It has the most pleasant scent of all as it smells straight up natural cucumber although it contains both cucumber and peach fruit extracts. It is marketed as alchohol-free and soap-free but I would rank it 2nd in terms of frothiness and all that crazy lathery property of cleansing 'water' at that.
Performance
The saving grace is it is the best makeup remover among the three. It does its job almost quite perfectly and breaks makeup loose pretty fast, hence the selling point of 'magnetizing micellar' as it zaps out the gunk swiftly. What I love most is the suppleness it gives on the skin after use perhaps of the soothing property of cucumber.
A Quick Makeup Remover Test: Swatch and Swipe on Eyeliner & Mascara
All mascara and eyeliner swatches here are applied using the same amount of pressure and leave to set for 15 minutes before the tests are carried out.
Garnier Micellar Cleansing Water All-in-One

Simple Kind To Skin Micellar Cleansing Water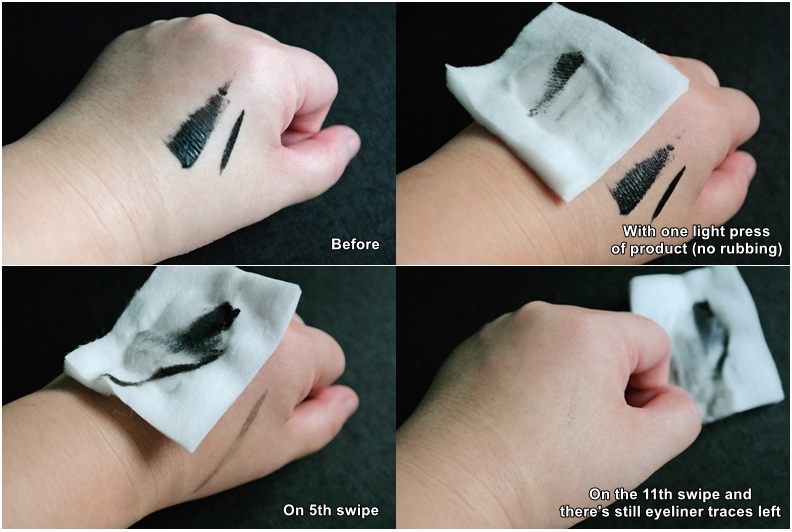 Soap and Glory Total Drama Clean 5-in-1 Magnetizing Micellar Makeup Remover

The above tests clearly showed something in their makeup removing efficacy.
Least expensive, best in makeup removal and even the nicest scent –  The Soap and Glory 5-in-1 Magnetizing Micellar Makeup Remover has it all. Notice how much pigment it extracts out just by placing it over the skin. It is truer on my waterproof mascara and eyeliner and even waxed brow pencil makeup as it effectively breaks them down and transfers them onto the cotton pad without even swiping or rubbing. Perhaps I'll do a video demo of that in action when I have the time.
Please follow and like us: