Bioderma: The Best Makeup Remover
The First Impression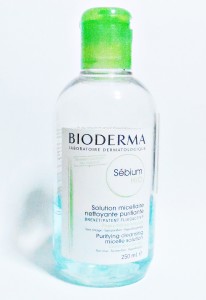 Packaging
Bioderma Sebium H20 is a clear, light-blue watery liquid (no colorant added) filled in a transparent plastic bottle with a green dispenser flip cap. Sebium is the only coloured cleansing solution compared with the Bioderma Sensibio H2O (also known as Crealine H2O) and Hydrabio H2O which contain clear colourless cleansing waters.
It comes in three sizes – 500ml, 250ml and 100ml.
Fragrance
Bioderma Sebium H20 has a pleasantly refreshing mild scent to it, almost like a light aftershave fragrance, only more feminine. It is alcohol-free, hence it does not smell musty unlike some other makeup removers.
Consistency
The product is oil-free and aptly called 'cleansing water' by many because it truly feels and drips just like water. It foams up slightly when the bottle of solution is shaken although there is no need for shaking it prior to use as it does not need to emulsify with any oil since it is oil-free.
Bioderma Makeup Remover and Cleanser 2-in-1
How It Works
For Oily and Combination Skin
Bioderma Sebium targets at cleansing and purifying oily and combination skin through the reduction of sebum secretion and the prevention of the clogging of pores. It uses its patented formula Fluidactive® and ingredients such as sodium citrate and citric acid to regulate the acidity of oily skin in balancing the pH of our epidermis and control excess oil production.
Paraben-free, Alcohol-free
The Bioderma makeup remover has no parabens, therefore do not pose any paraben-related health risks as some of you may fear. The cleansing solution is also alcohol-free thus does not cause dryness or skin irritation.
Hypoallergenic and Non-Comedogenic
Bioderma Sebium is gentle even for people with sensitive skin that is prone to allergic reactions because it is a hypoallergenic product with low allergen content.
It is also a non-comedogenic formula that does not clog your pores, therefore does not cause the build-up of sebum, bacteria and dead skin cells that can lead to acne.
How To Use
As a Make-up Remover
Simply dispense the cleansing solution on to a clean cotton pad or ball and swipe it gently across the whole face to remove facial make up such as foundation and blusher.
Press the soaked cotton pad lightly on your eye lids and eyelashes for a few seconds before wiping off any eye makeup like mascara and eye shadow residue. Unlike other cleansing oils that may blur your vision for a while or leaving mascara clumps all around your eye areas that make you look like a panda, you do not need to break a sweat in removing your stubborn mascara or eyeliner makeup ever with this amazing product.
Although it is a non-rinse cleanser, we recommend that you finish up your makeup removal routine with a facial cleanser as a last step for thoroughly-cleansed skin. You do not want to risk leaving any makeup traces behind that could trigger build ups and acne especially if you already have an oily skin condition.
As a Daily Cleanser
If you are not wearing any makeup, you'll just need to soak your cotton pad with the solution and swipe it all over your face to remove your skin from impurities like oil and debris. As this is a non-rinse cleanser, you can consider the job done.
As a Makeup Corrector
You can also wet your cotton swab or q-tip with the makeup remover solution and simply use it to wipe off to shorten that eyeliner wing that you've drawn or clean off the mascara smudge that your lashes have just made. You can simply erase off any stubborn makeup flaws on the go!
Bioderma Sebium H20: Where To Buy?
The Bioderma Sebium H2O cleansing water is available at Guardian Pharmacy and Watson's Stores as well as pharmacies of some clinics and hospitals in Singapore.
You may also purchase it online from some of our local shopping sites.
Price
SGD$15.90 for 100ml, SGD$29.90 for 250ml and SGD$39.90 for 500ml
Verdict
The Bioderma Sebium H2O is by far the best makeup remover I'd ever used. It does not sting my eyes or blur my vision when removing my eye makeup and mascara unlike many others. It doesn't take any effort to remove my waterproof mascara and eyeliner makeup and it seriously finishes the makeup removal task by using just one cotton pad on each eye, sometimes just one cotton pad for both eyes if my makeup is not too heavy. Removing facial makeup is a breeze.
It is just as wonderful as a skin cleanser. It not only cleanses and refreshes my skin, it is such a gentle product that does not dry out or strip off my skin's natural oil, leaving my skin soft and supple.
Bioderma is a dermatological break-through; time to step away from those higher-end counter brands!
Please follow and like us: