We say, deck in pink, creamy pouty lips instead of disappearing into a pool of oh-so-predictable scarlet lips this Christmas. What makes you different at a holiday party is not by fighting for the same attention as Santa's outfit but to be that cupcake-innocent pink angel amongst the crimson tide of red devils.
While every girl is rocking that sexy red lip winter look (just because all the YT beauty gurus give you the same winter tutorials over and over again), Mac's Cremesheen Lipstick Rouge A Levres in Crème Cup gives you that winter candy floss for the win.
Best of Mac Lipstick Pink Nude Shades: Creme Cup
Mac Cosmetics is no stranger to lipstick junkies. Whenever a new range of formula rolls out, you know you are in for a lippie treat. This season we picked Crème Cup of Mac's Cremesheen series; known for their creamy, colour plus texture and moisturizing quality for the lips.

Packaging
Need we say more? Mac fans are all too familiar with Mac's 'bullet-like' black lipstick case we shall not embarrass ourselves by describing it further.
Fragrance
It smells as confectionery-sweet as its name! Crème Cup has a hint of buttery, sugary, vanilla scent to it.
Colour and Consistency
A dusty rose nude shade that provides good coverage that gives a naturally healthy rosy hue to any dull lips. The consistency is creamy and highly hydrating. On closer look, the formula has a teeny weeny shimmery specks in it. The presence of this slight sparkle is most evident when you wipe the lip color off your lips and the little glittery spots remain on them. It is definitely not matte, nor is it glossy; it is just rich and buttery that gives you that needed lustre. See it in action in this video.
Mac Crèmesheen Lipstick Price and Net Weight
The Mac Cremesheen Lipstick (not just Crème Cup in particular) retails at Mac stores and counters at Robinsons, Isetan, Sephora Ion, etc, is priced at SGD$30.00 for 3.0 grams (0.1 US oz).

Mac Lipstick Cremesheen Crème Cup Key Ingredients
How It Works
Caprylic Acid/ Capric Triglyceride – palm and coconut oil fatty acids that gives you that silky feel of the product that helps to condition your lips and keeps it smooth and moistened.
Soja (Soyabean) Extract – an antioxidant and a rich source of Vitamin E that reverses ageing and helps to reduce fine lines and wrinkles on our lips as well as protects them from sun damage such as UVA and UVB rays. It also helps to generate lipids in our skin and stimulate collagen production and strengthens structural proteins that helps to improve skin's elasticity.
Olive Fruit Extract, Wheat Bran Extract – they are both essential moisturizing agents that keep the lips soft and supple by nourishing the skin and restore its natural barrier and skin tissues that not only prevents it from drying out but also from irritations.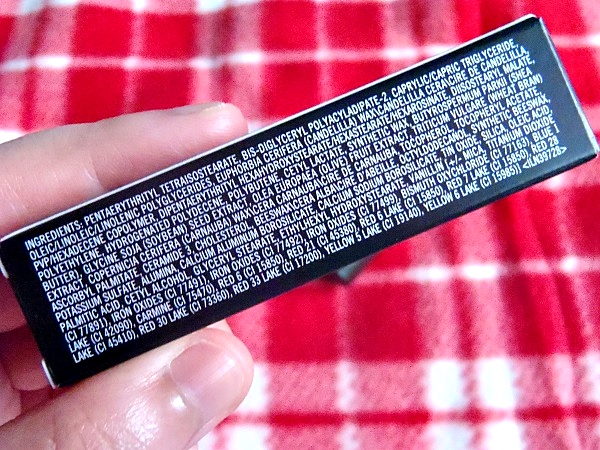 Review of the Mac Cremesheen Lipstick Crème Cup
This is the perfect lipstick shade for the 'no make up' makeup look for days when you don't want to look all too shabby and give your otherwise dull face some natural human colour. The texture of the cremesheen formula is so smooth and moisturizing it almost feels as conditioning as using lip balms, hence those with chapped or dry lips will find this product extremely helpful; because it doesn't cake up – no more unsightly lipstick cracks on the lips!
On the down side, if you consider it as one, is that the formula can be a little fluidly it tends to accumulate in the deeper skin folds and rifts of the lips after some time. As such, the stain is easily transferable to coffee mugs too – but hey, we'd rather have that than lip stains that do not budge at all that'll be kinda freaky when they get hard to remove.
Now what's next? Get your lippies organized shall we? Acrylic lipsticks organizers like this one are on trend and super helpful in tracking which lipstick names you're going for at one glance. Click on it to find out more! 

Please follow and like us: