My take on the best lip tint for anyone would be one that is of your natural lip tone; only better. Because if you'd wanted a completely different shade on you, why'd you pick a lip tint when you can wear a lipstick for that full coverage?
A lip tint or a lip stain is great for enhancement not only for lip colors but also for that definition when it can bring out those plumpness and contours of your lips.
The video of this went up first before this blog post because I feel it only makes more sense to see these lip products in action before I write about this Vitality Lip Flush Stain Lipstick and Lip Gloss duo so you get what I'm talking about when I say, these babies are mood-changing.
For those who'd seen or heard about mood-changing lipsticks, nail polishes or even hair dyes, what these lip stains can do  may not be new to you, but what is worth blogging about this pair of lip tints is their long-wearing and hydration powers, plus the fact that they don't transfer! Watch the video to see the fast-changing lip color and transfer tests if you're interested.

How To Get Soft Pink Lips Fast Naturally With Your Body pH & Temperature
What lies in the formulas of both of these Vitality Lip Flush gloss and the lipstick stains is the pH-level detecting technology that brings about that personalized hue to your lips depending on the acidity and alkalinity of your skin which is also affected by the body temperature of the individuals.
How fast to get your lips turn pink will also depend on individual's skin temperature and pH level. Mine turned pink (to the point where it couldn't turn any pinker) in about 2 minutes. The lipstick changes the lip color slightly faster than the lip gloss does as you can see from the video when they're swatched on the back of my hand; probably about 20-30 seconds faster I wana say(?). However what's interesting is that the lip gloss is the one that stains stronger.

Color/ Shade
It Cosmetics named this particular shade "Je Ne Sais Quoi" (pronounced jzher neu say kwa) and I thought it fits perfectly. Why? The tint the lippies give is unmistakably yours and yet there is no way of decoding the pantone of what attributes to this quality. At the end of the day, the lip color is unique on every one.
Best Way To Wear This Lip Balm & Stain Gloss
Because the gloss stains stronger, and the lipstick balm gives hydration, the gloss also helps with locking in the hydration layer beneath when applied over it. So I've figured out the best way to wear this lip balm and gloss stain duo is to apply the gloss over the lipstick as with the first half of the video (before I went on to apply the gloss alone the next day that is) and then wait for a few good minutes for the stains to settle on the lips before dabbing off the coat of gloss gently by pursing a piece of tissue between your lips like I did in the video.
See the chain of actions and results below (clockwise). The result is a velvety matte that retains just that right amount of shine to give your lips some dimension and a natural pink tint like you're born with that stays for more than 6 hours.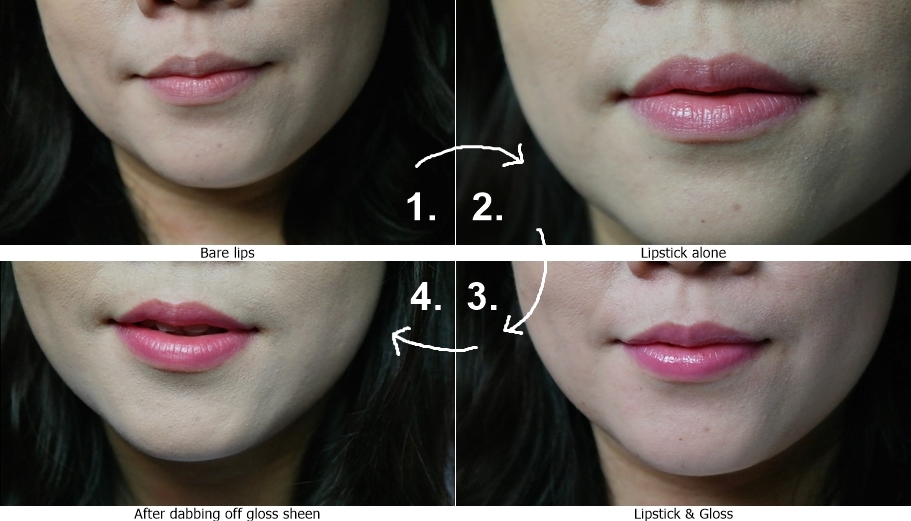 Price & Where To Buy
I ordered the It Cosmetics Perfect Pink Duo online at Sephora.sg for SGD$24.00 (quite a steal I know!)
Verdict
Best lip balm with a tint!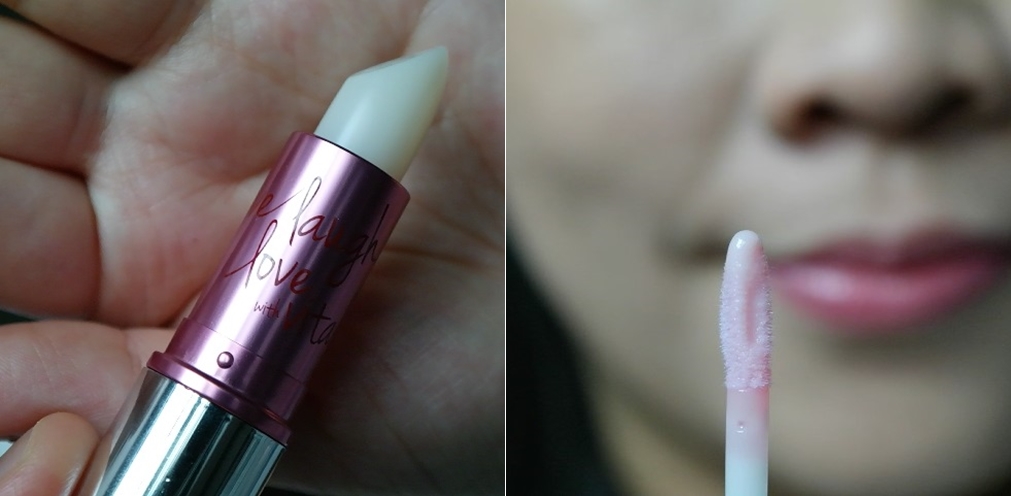 I cannot say this is a tinted lip balm because it is not. At best I'd say the lipstick is just something that weirdly looks and feels like a lip balm that tints. Apart from passing the long wear, fast reacting, transfer, as well as  hydration tests quite evidently from the video demo, I'm also loving how this lip duo work to get those soft pink lips, almost like they come naturally with me. No doubt I had to figure my own way of wearing it to achieve such a desired effect, the It Cosmetics Vitality Lip Flush Lipstick and Gloss stains remain one of the most comfortably wearable and natural pink- giving lip tints that I'd tried.

Please follow and like us: