I've been loving the Living Proof No Frizz shampoo and conditioner lately, especially since the weather's been a lot drier towards the winter season. The lack of humidity in the hair not only causes the hair to be brittle but the dryness in the air also causes the hair to be static electrically-charged, which then causes them to be frizzy and unkempt, no matter how you try to gussy up.
Here comes the much needed duo – the Living Proof No Frizz Shampoo and Conditioner. Let me give you a quick review of these amazing hair products.

Living Proof Anti-Frizz Shampoo & Conditioner Review
Packaging/ Texture
Thes Living Proof Anti-Frizz shampoo and conditioner come in light-weight plastic bottles with press-open caps. I'm fine with this when it comes to the shampoo as it is more liquidy and takes no more than just a gentle squeeze to dispense it out. The conditioner is thicker in consistency and in usual cases poses no problem in dispensing out when it comes to these kind of caps, however because of the large opening of the bottle as well as the large cavity under the cap in this case, it takes longer than usual and greater pressure to squeeze the bottle for the product to fill up that entire space before anything could come out, even after you've given it a few hard upside-down shakes.
Both the shampoo and the conditioner are extremely silky. Foaming capacity is average but the shampoo's 'soft' consistency makes it easy to massage around the hair, taking no time for it to work around intricate areas like behind the ears and nape area.
Scent
They're so refreshing it smells like you've just came out of an orchard full of granny smith apples and oranges. The fragrance may be a little strong for some, but fortunately for me, I quite like it.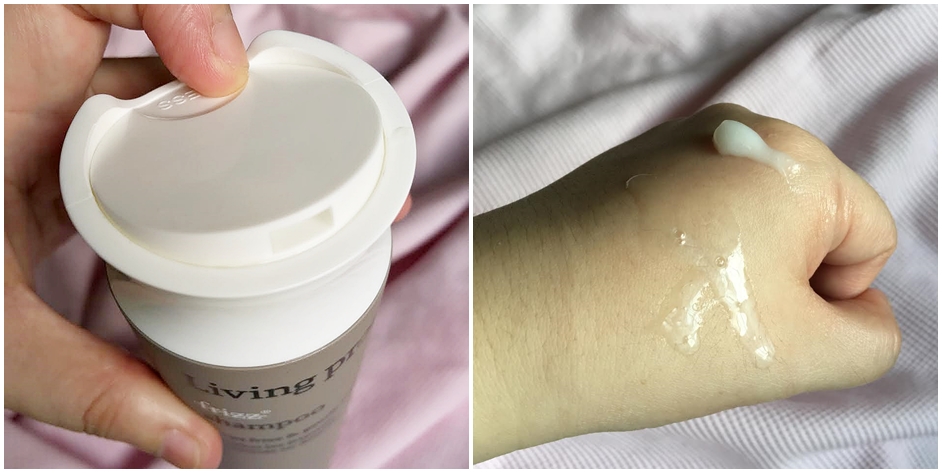 Where To Buy & Price of Living Proof No Frizz Shampoo & Conditioner
Sephora Singapore outlets are retailing them at SGD$35.00 each for 236ml (8 fl. oz) sizes.
What Else You Need To Know:
We know how sulphates and silicones are being used commercially as lathering and smoothing agents in shampoos to give you that soft and silky hair texture. However sulphates, if used long term, can dry out hairs, causing problems like split ends. Silicones can also cause build up and clog hair follicles, resulting in hair greying and even hair loss. The great news here is that the Living Proof No Frizz Shampoo and Conditioner are not only sulphate-free and silicone-free, but also color-safe.
Verdict:
Living Proof of A Perfect, No Frizz Hair Day With These Reviews!
I could show you shots of my hair strands but I was wondering if you'd question if I've combed it thoroughly or flat-ironed it before that to trick you into believing that these hair products are good. After all I've seen ridiculous before-and-after photos showing hair that's been obviously, deliberately messed up and then I'm pretty sure, rebonded the next. I feel that putting in words more than serve this post's purpose when I say, from everyday experience that:
My ponytail dent has become less visible when I let my hair down from tying it up for more than half a day (a sign that they are stronger because they bounced back in shape);

A wide-toothed comb now does twice the combing job faster than a narrower-teethed one in making my hair straight and sleek (a sign that they are less tangled and less frizzy and smoother);

I can now part my hair in whichever way I want and the parting stays without them slipping back to their default side (a sign that they are softer).
The best part is, when I wake up in the morning, I don't even have to comb my hair to achieve that "I woke up like this" hair-day, if you know what I mean. In the past if I skipped combing it'd automatically be a bad hair day for me. I have long hair with mild natural waves and they tend to be a little too structured sometimes so much so that they take after whichever form my head and my pillow decided to crimp them into the previous night, so you could imagine.
I'd recommend these hair products to those who have dry hair, frizzy hair, colored hair or limpy hair in general. They really do make a huge difference. You will thank me later.
Please follow and like us: