The Moonshot Cosmetics Brow Shaper Pencil is the best dupe for my Bobbi Brown Perfectly Defined Long-wear Eyebrow Pencil. The latter cost me a whopping S$68.00 so you can imagine how frantic I must have been hunting for a cheaper alternative.

Moonshot Cosmetics: Korean Eyebrow Pencil Makeup Review
Packaging
Sure the Moonshot Cosmetics brow shaper pencil doesn't feel as sturdy (the crayon stick feels a little loose from the tube if you drag it too hard) or provide as good a grip as the Bobbi Brown one (the body is slightly skinnier), but to me as long as the result is similar at a fraction of the price I'm all for it.

The Best Eyebrow Shape and Shade from this Pencil!
Shade
This is in the shade 03 Dark Grey (my preferred brow shade as always). The product also comes in 01 Light Grey and 02 Deep Brown. You can tell the blondes and auburns will need to look for theirs somewhere else.
My hair shade is black from far and dark brown under scrutiny. The brows frame our faces and so they are pretty much always judged together with our hair at length, (they say your brows should be a shade or two lighter than your hair) and so this is why I don't go with light brown but dark grey for my brows.
Like what I love about the Bobbi Brown one, the color isn't ashy, instead it gives off a warm undertone if you could just see from the swatch in the photo. Now, this is important as I have quite obvious red undertone in my skin. You don't go with cool brows if you have warm skin or you could end up looking not just unnatural but off-color, quite literally, like you're sick or something.
Consistency
This Moonshot Brow Shaper Pencil feels less waxy than the Bobbi Brown Perfectly Defined Long-Wear Eyebrow Pencil and so it takes less effort when it comes to feathering in. But because the formula is not as heavy, when it comes to areas with sparser hairs, like in my case the beginning part and the arch of my right brow, it takes a while for me to create those 'natural' sprouting strokes without getting too carried away with applying more pressure to make up for the coverage and ended up with a block of grey at the brow head. What I'm basically saying is, that you need to be skillful enough to strike a balance between applying with gentle and heavy strokes when it comes to balder areas in order to avoid looking like your brows are indeed drawn on.
Price & Where To Buy
SGD$24.00 at Sephora Singapore stores.
Verdict
Best Eyebrow Pencil for a High-end Dupe

It may not be the best eyebrow pencil in the world, but for almost a third of the price I used to be willing to pay for a high-end brow pencil, I really should be grateful to Moonshot Cosmetics for this dupe. Look at the before and after photos below (don't be alarmed by my blotchy skin and dark and puffy under eye bags. I wear nothing but eyebrow makeup here.) and then compare those with my Bobbi Brown eyebrow pencil review here.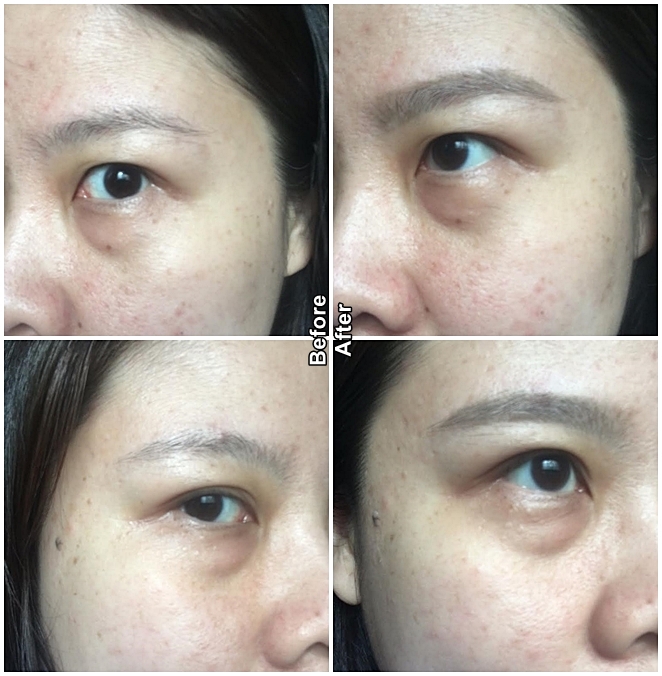 Apart from the difference in color pay-off, with slightly more effort it does the same job, if not better in defining the brow shape than my high-end Bobbi Brown Perfectly Defined Long-Wear Eyebrow Pencil. The shade that a brow pencil delivers is the most important. And this one definitely cut it.
Please follow and like us: