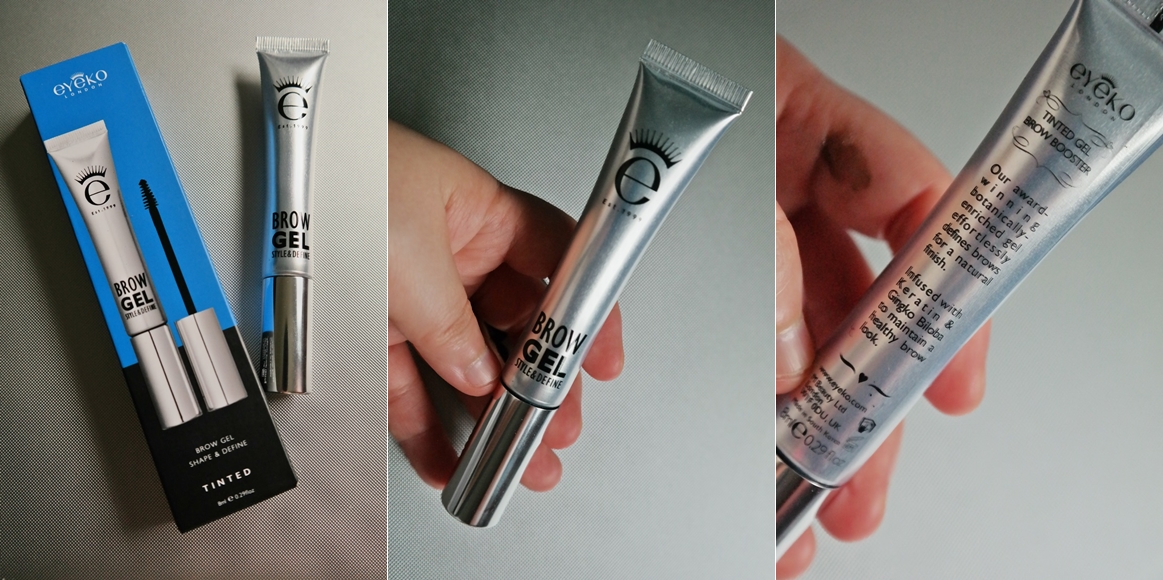 I've been using this Eyeko Eyebrow tinting gel makeup for a while now and it is time for a review!
I've used a few brow gels before and wasn't particularly in favor of their formulas; they're either clumpy, making my brows looked like they were drawn by crayons, or too liquidy that they don't dry out enough to help shape and define the brows. But boy, oh boy, this one proved to be a fuss-free one, not to mention it is also speedy in doing its job.
Eyebrow Tinting Gel Makeup: Eyeko Brow Gel Shape & Define
Packaging
The slim tube packaging makes it easier to squeeze out any remnant product when you're approaching the last few uses of it. I thought this is super useful since you can't do that with most plastic round tubes of most brow mascaras.
Take a look at how the brush on the mascara wand is being shaped. It may seem like what's commonly seen of a heart-shaped brow brush applicator but if you look closely each coil is made up of nano-bristles more densely-packed than others I'd seen. It's like Christmas trees, all of them look cone-shaped from afar but if you examine each of their sprigs, the number of needles each sprig holds differ from species to species.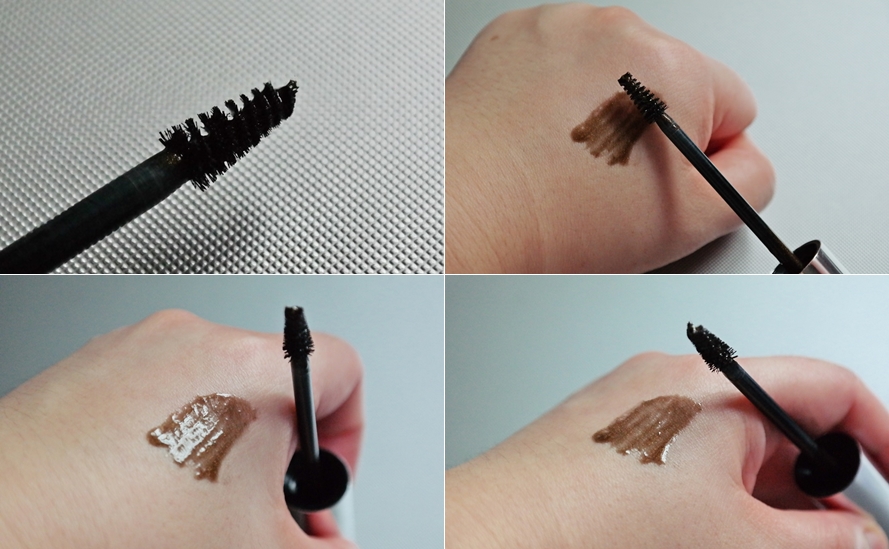 Ok, before I turn this into a tree taxonomy, let's take a look at the consistency and color pay off.
Texture & Shade

From the swatch you can tell it is of a gel texture; why do I mention the obvious – well, because there are a few other tinted brow gels in the market that call themselves gel but really, they are just plain watery. And why is this so important – because it matters when the product is gooey enough to grip onto your brow hairs and not just some liquid that your brow brush could just comb away with. A good brow gel should be one that actually DEPOSITS product onto your brow hairs and not one that simply glisten them wet and then either dries to a crust or evaporate into thin air.
As far as I know, this eyebrow tinting gel mascara only comes in one shade – a gray brown, which is great because I usually cannot decide between a dark brown or a grey brow as I have dark brown to almost black hair. Pigment? If the above pictures don't prove anything, watch it in action here:
The result you see in the video took only one single dip of the product believe it or not. This amount is enough for me to coat over one brow twice. Before I apply with this Eyeko Brow Gel, I'd already done my brows with an eyebrow pencil.  I usually go for grey shades in eyebrow pencils because I personally like my brows to have a grey base with black hair – they belong to the same color family at least, you know what I mean? But I don't deny that when a cool brown is introduced into my brow game ever so slightly, it could bring new life into my otherwise scraggly brow hairs like what you'd just seen.

Verdict:
Best Eyebrow Gel Makeup That Shapes & Define on top of your Pencil
I have quite pigmented pupils and just about average amount of brow hairs to begin with. So the amount of effort to groom those brows so that they frame my face nicely is more than I'd like. Unless I happen to be possessed with good eyebrow pencil drawing skills on a particular day, I usually cut myself some slack when it comes to eyebrow shaping and filling in. My hands aren't born to have delicate touches and so ability to feather in with 'natural hair-like strokes' with eyebrow pencils or eyebrow pomade do not come naturally for me. But the Eyeko Brow Gel Shapes & Define has up my brow routine game so much since. It is really a good and quick brow topper for me; I mean, it's basically combing through – the easiest step of all brow grooming steps and yet makes the most impact – I have no excuse not to do it.
Price & Where To Buy
Currently out of stock at Sephora, the Eyeko Brow Gel Shapes & Define retails at SGD$37.00 for 8ml of product. Waitlist it if I were you.
Please follow and like us: