Urban Decay Naked Eyeshadow Palette Review
The Urban Decay Naked Eye Palette inaugurated the Naked series of the very popular eyeshadow palettes Naked 2 and Naked 3 following its huge success since it was launched in 2010.
Packaging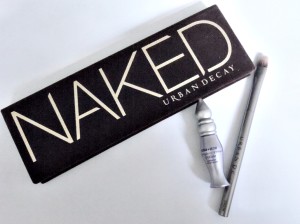 The palette is packed in a dark brown velvety long compact box with letters de-bossed into it that says 'NAKED Urban Decay" strikingly gold enough impossible for anyone not to notice.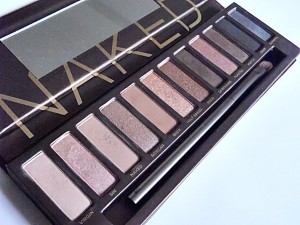 It reveals a small mirror on the flip side when opened, greeted by the gold words NAKED again, and of course an array of 12 cool, bronzy toned eye colours on the base plate, from nudes, neutrals, taupe to smoky shades, namely, Virgin, Sin, Naked, Sidecar, Buck, Half Baked, Smog, Dark Horse, Toasted, Hustle, Creep and Gunmetal.
Size and Weight
12 shades x 1.3 gram (0.05 oz)
Color Pigmentation
Definitely highly pigmented shadows in every shade. The colour payoff is higher than most of the eyeshadow we'd bought and tried.
The Urban Decay Eyeshadow Primer Potion (Eye Primer): the bonus

The Urban Decay Naked eye shadow palette also comes with their bestselling Urban Decay Eye Primer in 3.7 ml (1.3 oz) in this package, which is a pleasant surprise.
The Urban Decay Primer Potion comes in a small slivery lilac hourglass bottle with a teardrop-shaped screw cap. The cap comes with a doe foot sponge applicator dipped into a primer paste of thick, skin nude colour. The primer helps the eye shadow pigments to stay and last longer on our eyelids thus keeping our desired eye makeup look all day and night long.
Urban Decay Good Karma Shadow Brush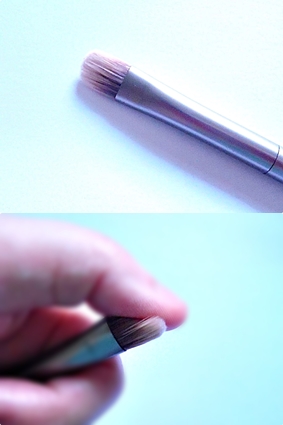 That is not all. The palette package also comes with a an eyeshadow brush made of synthetic fine hairs that picks up the eye product well, and perfect in the packing of eyeshadow on to the desired eyelid area for a more intense look.
How to Apply
Beauty junkies, you know the drill here. Prime your eyelids with the Urban Decay Primer Potion and leave the primer on for a minute or two for it to sink in before you dab on those shades. The Urban Decay Naked eye palette is basically an autumn palette that is designed for day to night look with most of the shades of iridescent but muted tones. There are 3 neutral matte shades and 9 shimmery ones . Let us assess each of them and find out what ingredients they contain as well as how to apply those shades to achieve a range of looks.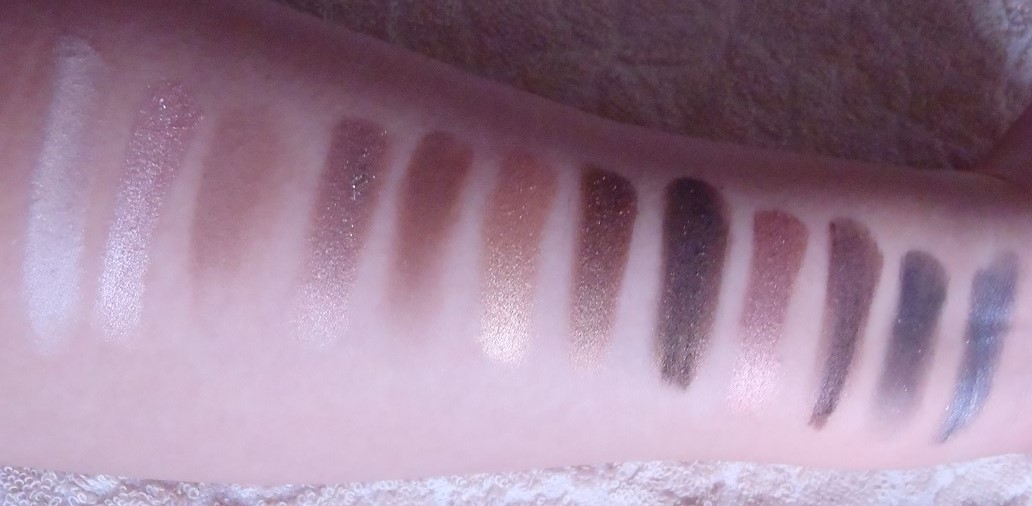 Virgin – a slightly iridescent frosty formula to the otherwise very light peachy pink matte shade. Great for warm or pink toned skins for hitting on those high points of bone structures that you would like to raise such as brow bones, bridge of the nose, cheek-to-temple, tip of cupid's bow or as a highlight on the center of the eyelid for that innocent girl-next-door look.
Sin – this is one of the 9 shimmery shades. Has more pearly effect than Virgin, offering a more intense look option by lining out upper and lower lash lines with it (with a wet brush), or the inner corners of the eyes for that extra sparkle.
Naked – Aptly named "Naked", this matte shade does sort of dissolve into your skin without leaving much eyeshadow colour, thus leaving your skin 'naked'. It offers a latte colour on close-up, otherwise giving an almost 'barely there' look when applied to warm or tanned skin. On fair skinned eyelids it does help to create the shadows of deep-set eyes or as a transition colour to darker browns. Since this shade is close to skin color, it is also able to neutralize the skin by cancelling off any visible veins some of us may have on our eyelids before applying other shades.
Buck – a rich, matte coffee color that is ideal for eyelid packing for an intense look, and also for lower lid to be smoked out for a daytime smoldered look.
Sidecar – This is basically the taupe version of Sin. Ideal for creating a sunset beachy bronzy look.
Halfbaked – this shade is like pure gold dust packed into one solid form, as it has no other colored flecks to it except the gold itself. However it does still produce that lenticular effect under different light intensity. Since this is a cool autumn palette, while pigmented, the gold is not too whimsically-crazy but of regal essence to it.
Smog – Smog is a medium brown shade that carries the gold flecks from Halfbaked with it, so that when it is blended into a smokey-eyed look, it still has that sparkly pay-off as your eyes speak.
Darkhorse – a very dark brown shade that indeed reminds one of the hide of a dark stallion at first look. This shade carries gold specks, and doesn't appear as dark when applied on skin. It is that slightly gleaming soil-brown color that puts you in that instant high-fashion fierce mode.
Toasted – this is the most luminous shade of all. Appearing as champagne pink on the palette, it has a red undertone to it hence when applied produces a coppery tone. Works great for outer-Vs of the eyes and excess dragged down halfway through your lower lash line for that cool, feisty look.
Hustle – a shimmery cocoa shade that has more than one dimension to it. Makes it an easy intense colour to blend in with like shades.
Creep – Creep is like the Black Galaxy in the world of granite, except that when it is applied on the eyelids the shade is not black but charcoal grey. Layer it over your brown hues at your outer-Vs for a dramatic cat-eyed effect.
Gunmetal – this is a shade of pewter and graphite blue mix. Be careful on this one, depending on your makeup technique, it can give you that chic, futuristic techy look (often done in clean-cut manner; no blending or gradation) or may just create a cyber-mess out of your face. Our advice is to apply it with a moist brush and pack it thickly on to your eye lid up to the top of your socket line at most, and ensure all other shades used around it are toned down. Metallic eyelids could communicate even when they are hanged down, thus use it wisely.
Ingredients
The Urban Decay Naked eyeshadow shades may contain:
Mica (sparkly silicate), Titanium Dioxide (sun protection), Iron Oxides (color attributer), Ultramarines (colorant), Carmine (red dye), Manganese Violet (violet pigment), Ferric Ferrocyanide (blue pigment), Chromium Oxide Greens (green mineral pigment), Chromium Hydroxide Green (green pigment), Bismuth Oxychloride (iridescence attributer), Aluminum Powder, Bronze Powder, Yellow 5 Lake (colorant), Blue 1 Lake (synthetic colorant).
 Naked Palette selling at Sephora Singapore
Price – S$80.00 at Singapore Sephora outlets (with the complimentary eyeshadow brush and Urban Decay eye primer potion set).
Verdict
We have to give credit to Urban Decay for the long lasting quality in their eyeshadow pigments. We have tried with and without primers, with and without setting spray, and the eyemake up could still last as long as we were out in the morning till we return home at night for up to 12 hours straight. The shades are really highly pigmented; a little goes a long way.
Contrary to some other reviews, we think this is a cool toned palette, with the perfect array of autumn colors. What makes it unique is that the shades are mostly iridescent, thus is still versatile in creating that bronzy, glowy, dewy looks as opposed to most matte autumn hues.
The only down side we feel is that the packaging could have been made more sturdy in terms of the palette plate attachment to the rest of the box. The palette plate dropped out of some cheap glue that gave way in holding it into place and that almost caused it to drop and the shades could have been shattered. Every now and then I had to take out the palette tray separately and use it with another mirror instead of the mirror that came with it.
While we appreciate the velvety suede feel to the box, it didn't take long to get stained with all my fingers and the eyeshadows on them; we all know we use fingers to blend sometimes, if not all the time?
Please follow and like us: