I decided to pick up some Dior makeup, particularly the Glow Addict Spring 2018 eyeshadow during the recent TANGS Singapore 12% rebate event because of my love for pink. Pink is all the rage from Dior this Spring 2018 when it comes to makeup this season. Their Glow Addict edition 5 Couleurs Eyeshadow Palette this Spring-Summer 2018 comes with two eye makeup looks, i.e. #667 Flirt, a palette of soft pink, rose brown, a pastel nude, pearly white & a stark black, and #887 Thrill with a pearly baby pink, a warm tanned shimmery nude, ivory white, burgundy & shocking pink in the middle – this will be the one I'll be doing a review on today.

Dior Cosmetics Glow Addict 5 Couleurs Eyeshadow Palette in #887 Thrill Review
Honestly for seasonal palettes like this, I don't usually think reviews necessarily serve much purpose, because first of all, these are limited edition makeup, meaning they are exclusive and since not many of us will get to own them, the majority of makeup enthusiasts may then not need those reviews. Secondly, these usually come in only one or 2 shades or smaller palettes, so there isn't much to swatch or colors to comment on.
The reason why I'm reviewing this Dior Glow Addict edition 5 Couleurs High Fidelity Colours & Effects Eyeshadow Palette particularly in #887 Thrill, is because of how I'd seen how Dior's Creative Director Peter Phillips worked his magic on a pink eye look. The pink eye makeup look that he specifically used this eye palette on is not only stunning but is highly skilled because he literally builds pink on pink, and on pink! This all-pink eye makeup isn't only a great editorial look but is also surprisingly wearable. I need to dabble and tell.
Dior Cosmetics Glow Addict Makeup Collection: The Spring Look 2018 High Fidelity Colours & Effects Eyeshadow Palette
I studied Peter Phillip's works closely and came up with this. Of course not all items are of Dior to achieve a similar look in my case. This image I posted on my instagram stories the other day is self-explanatory on how I'd created this all-pink eye makeup.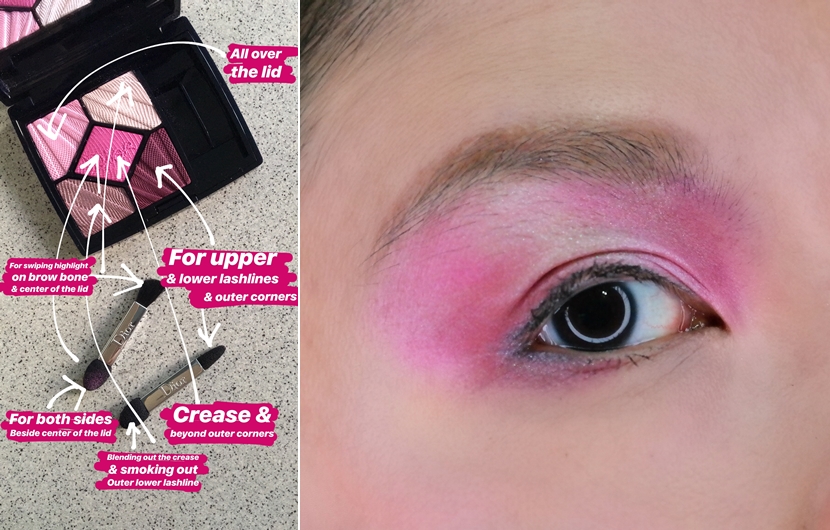 Be sure to use the angled brush side of the applicator (as annotated in my instagram story photo above) to blend the ivory white highlight from the lid fold to the brow bone. You may use your finger to apply it on the lid fold but it'll be hard to use fingers to blend it all the way up to have this dreamy vibe.

Dior makeup avids will not need to be told how the quality of their eye shadows are; pigmented is not the best way to describe them. They are soft, easy to blend, and the shades can be worn alone or together. They make shimmery shadows so easy to work with, even for a makeup idiot like me.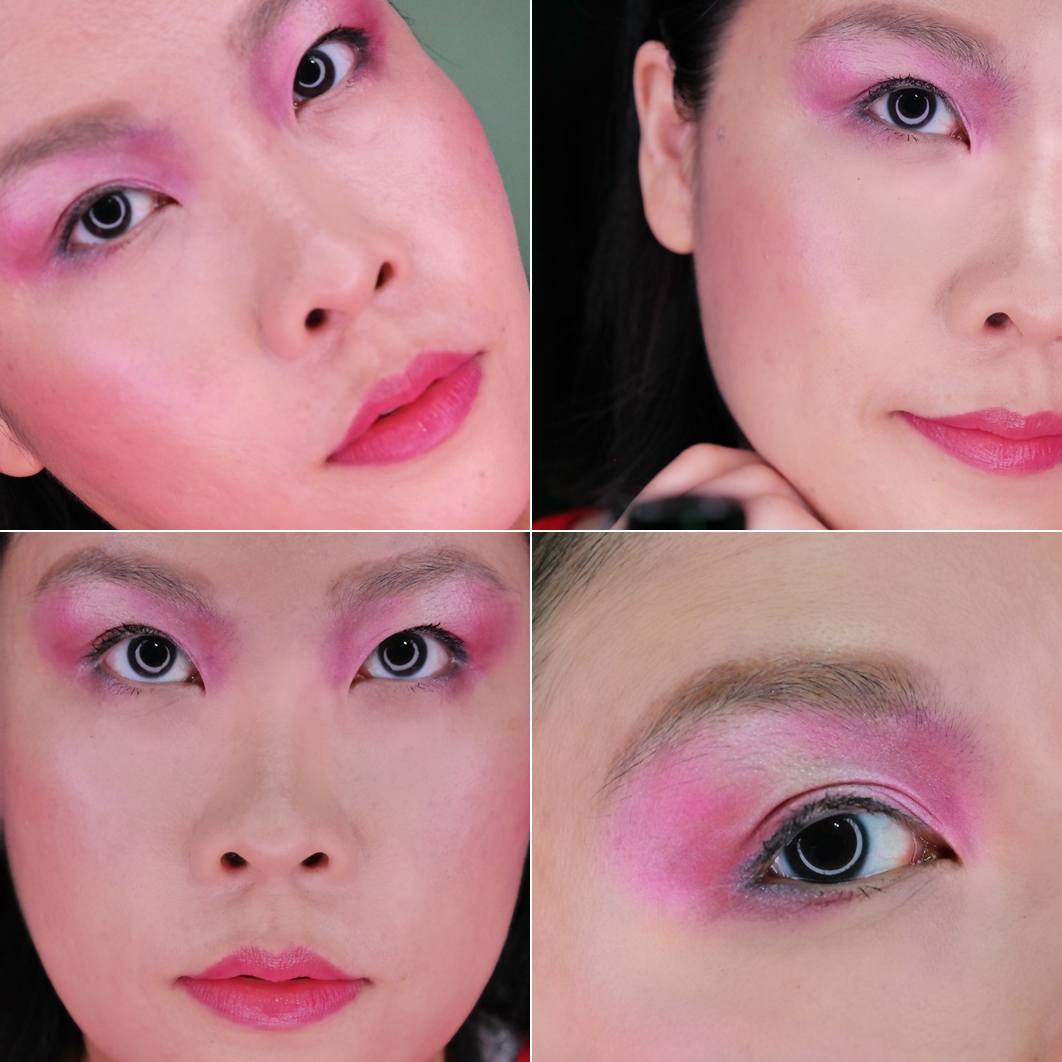 I don't know about you, but I'm loving this pink makeup look! It makes your eyes pop and very Valentine's Day and Lunar New Year appropriate, both of which are just around the corner. I know it's not common for wearable eye makeup to be applied all over the eye lid; in this case it is even applied beyond the lid space as well as going into the nose contours. But there's just something artsy and delicate about it that I don't mind sporting with on certain occasions.
Dior Thrill Eye Palette Makeup Singapore Price
The Dior Spring-Summer 2018 5 Couleurs Eyeshadow Palette (Glow Addict Collection) in #887 Thrill retails for SGD$104.00, priced the same as their permanent collection of eye shadow palettes. Burnt a hole in my pocket for sure, but I do have my TANGS Singapore rebates accumulated previously to thank for.

Please follow and like us: