The Anastasia Beverly Hills Modern Renaissance Palette has finally made its way into my hands long enough to play with it a bit, yet stayed short enough with me to give a review of. First off, the name and the idea behind this eyeshadow palette the creator was inspired by are just too important not to talk about. Modern friggin' Renaissance. I love how art inspires art. In this case, Claudia Soare (President of the brand) was inspired by the resins and paints used in Renaissance Art.

Being an art lover myself I would have to say she must not only have an eye for detail but a mind of memory frozen in time as well, because when I lay my eyes on this palette for the first time, it did just jog my memory down a bit of the many artworks I'd seen in Vatican City and Florence. How could colors even evoke such a sensory experience unless they are laid and arranged more or less to mimic a particular event, scene or spectacle that once impressed upon you? So I'll admit I was a little biased because I was already liking the aesthetics of it before even trying the eye shadows out.
Modern Renaissance Eyeshadow Palette by Anastasia Beverly Hills : My Review
Packaging
The packaging of the Modern Renaissance eyeshadow palette is decked in a muted pink suede-like material, very much like the Naked Palette's brown almost velvet-like material, which is not always a good thing because this means it'll be very hard to clean off any stains you might accidentally smear on with your stained brushes and fingers. The palette also comes with a double-ended eyeshadow brush; one end for applying into the crease and light sweeps, the other for packing pigments onto the lids and smoking/ blurring harsh lines.
It also comes with a mirror on the inside of the cover, but I'll have to say I'm not a fan of how, each time the board-like cover flips open and shuts, it actually deepens the crease of the folding line. You can tell from the middle photo (above) that the cover with the mirror may just one day decides to drop off.
Shades
It comes with 14 shades – 3 shimmery shades & 11 matte shades most of which are aptly named after paint color pigments, a painting technique or a particular timber species.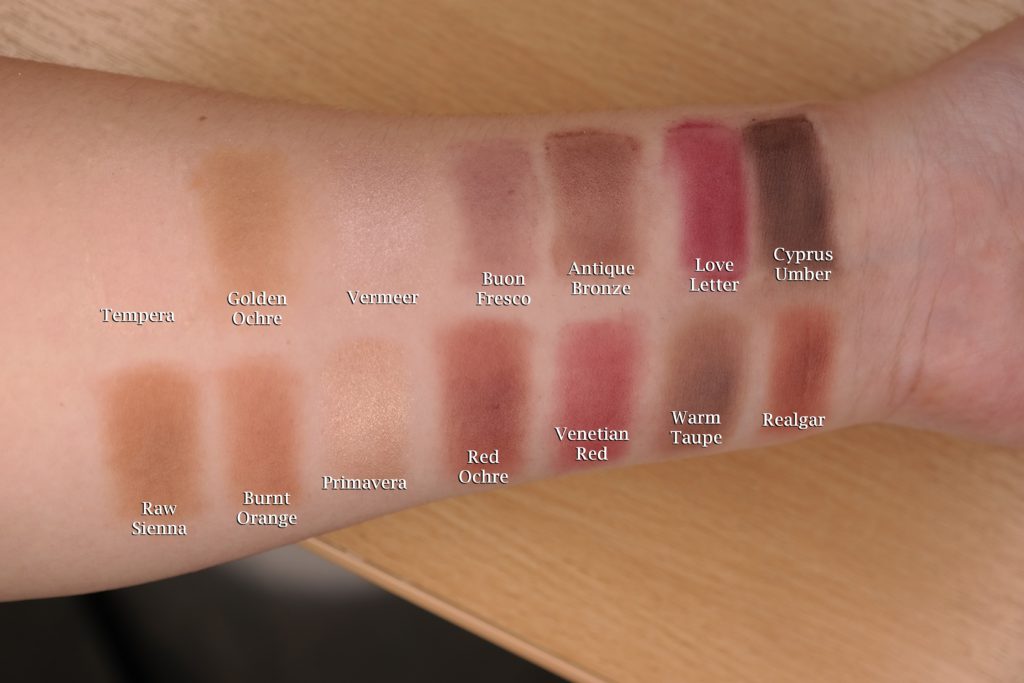 Now I have to be fair when I say I find these shades not as 'super' pigmented as what many reviewers out there have claimed. They are quite pigmented I'd say, with the three shimmery shades and a handful of the darker mattes (Raw Sienna, Red Ochre, Cyprus Umber & Realgar) being more pigmented than the others. There were also a few matte shades that have quite a bit of fall out, but I'm not complaining because, let's be honest, when you swatched flat against your skin you tend to layer them as opposed to when you sweep on to your eyelids in which you're actually building up the shades. The fall out wouldn't be half as bad or bother you half as much in the latter case. The above swatches are done with the brush that comes with the eye palette; with one dip into the pan on both sides of the brush, and applied in flip-flopping strokes, without priming the skin underneath them beforehand. But when you swatch them with your fingers, they are pretty pigmented and the shades appear much stronger than what you see above as you can see from below. I gave my finger a good swirl into each pan and transferred with 1 to 2 strokes on my skin with a little pressure. As I do this halfway the Sun has decided to go down on me, that explains the different tones on my skin. And since I want only the true colours of the swatches here, I didn't use any filters.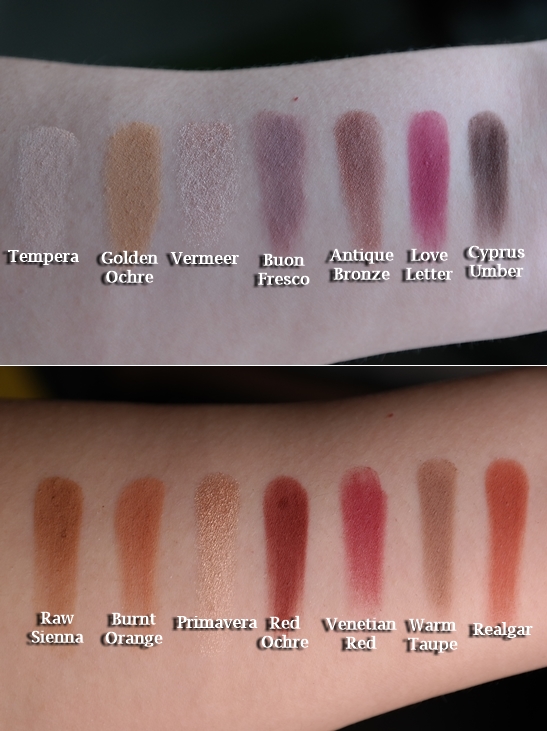 To be totally honest, if I were to compare the pigments from this palette, I'd say this fares as well as the Urban Decay Naked Palette but comes second to the Marc Jacobs Style Eye Con Plush Eye Shadow Palette. However, in the colors and shade selections department, this is perfection – I've never quite fallen this hard for an eye shadow palette before.
Modern Renaissance Eye & Lips Makeup Tutorial: Looks You Can Create With This Palette
As its Renaissance themed color palette suggests, the Anastasia Beverly Hills Modern Renaissance Palette works with dreamy, romantic angelic looks as well as non-intimidating opulence makeup all the same. I've tried my hands on using as many shades in this eye palette as possible in creating this soft golden bronzed (with a slight smokey undereye) eye makeup look, and a 3D gold burnt orangey-red lustrous lips. As you can tell, the colors could build up from dreamy soft glows to a rich glimmer, and from warm earthy taupes to deep berries. The texture of the eyeshadow powder is so fine you can use the shimmery and red shades such as Primavera and Venetian Red as a highlight and blusher for the cheeks like I did here. No doubt this is generally a warm eye shadow palette, you could still dig pretty dip into your imaginary game.

Where To Buy Anastasia Beverly Hills Modern Renaissance Palette in Singapore (also available for overseas online shoppers)
You may purchase the Anastasia Beverly Hills Modern Renaissance Eyeshadow Palette and other makeup such as their liquid lipsticks, Glow Kit, Contour Kit, Brow Definer, Dipbrow Pomade, etc, from BlushBoss.com (click here) . This is a Singapore-based makeup shopping site but they do ship internationally as well. They offer no minimum purchase free normal postage shipping within Singapore, and free standard shipping for overseas orders above SGD$100.00.

Please follow and like us: