Today I'm not just gonna do a review but also to do a demo on how to reduce puffy under eye bags and dark circles using the Urban Decay Naked Skin Color Correcting Fluid concealer in the shade Lavender. As far as under eye dark circles and eye bags are concerned, I feel that the peach correctors have always been overly-hyped for both the right and wrong reasons. In every color correcting tutorial or demo video I'd watched, the purple color corrector is often the least talked about. In this review, I'm going to give the purple, lilac or lavender colour correctors some long due credit they deserve.

Best Under Eye Colour Correcting Concealer for Dark Circles & Eye Bags is the one that counters their undertones
You may have read the above title and go, "thank you Captain Obvious." No, babe. Uh-uh. Not every one's under eye areas are dull with blue veins for which a peach corrector does the job. I have both under eye bags and dark circles as you can see from the photo. I've been struggling to find a concealer with the perfect coverage for my under eye puffiness and dark circles for the longest time. It wasn't too long ago that I realized why, perhaps there could never be a best under eye colour correcting shade or a perfect concealer for my problem because it takes more than one colour corrector/ concealer product to tackle this very problem!
You see, my dark circles are, well, dark, and comes off as a duller and cooler shade, which opposes to the skin tone of my eye bag that is of a warm, peachy tone. Why, there is no way one product that offers a warm pigment to cancel the dull area, and a cool shade to neutralize the warm redness in your natural skin tone at the same time! Duh. So it becomes apparent to me that while I manage to correct my dark eye circles with one concealer or a particular colour correcting shade, I could not for the life of me reduce the swelling of my eye bags with the same product.
How To Reduce Puffy Under Eyes Swelling with Urban Decay Naked Skin Colour Correcting Fluid Concealer Makeup
This video may be the answer to how to reduce puffy under eyes swelling by way of using the Urban Decay Naked Skin Colour Correcting Fluid concealer makeup.
I've tried using only the peach color corrector and only the purple color corrector as well as both correctors on different targeted areas in 3 separate quick demos in this one video. Take a look at the respective results that even I'm amazed at myself.
Packaging
The Urban Decay Naked Skin Colour Correcting Fluid concealer comes in a packaging similiar to most creamy concealers and lip gloss makeup; has a decent sized doe-foot applicator attached to the handle you screw to uncap.
Colour

This Urban Decay color correcting fluid in Lavender has an almost greyish, cool lilac shade that makes it ideal to tone down redness in skin. We know from the colour wheel that green is the color to correct skin redness and purples such as lavender and violet are for correcting yellow or sallow skin tones. But in a case like mine, I cannot match this chart with red being my problem, because my eye bags are more towards peachy, pinky, or orangey if you will. This is different from the kind of redness I have around my nose, for instance.
Let's break this down. My skin is of a yellow undertone with random redness all over, and my eye bags have red and orange hues to them. If you match my natural colours with the color correcting chart again, I should have blue to cancel the yellow, purple to cancel the orange and green to cancel the red. Now, the common color in blue, purple (red & blue) and green (yellow & blue) is blue. This means not only that purple is the correct shade to cancel my warm-toned under eye bags, it should be one that contains more blue than red, i.e. a very cool toned purple to be exact (lavender, plum, mauve, lilac, amethyst, to name a few). So this is probably why this Lavender shade that Urban Decay is carrying works for me.

Texture
It has a semi-opaque coat that blends beautifully even with creases and folds in the skin (as you can see from the video above). One thing the video is unable to prove is its hydrating ability; or maybe, if you look at it closely you are able to tell from the difference between the first 2 demos (the peach one from Catrice Cosmetics creases slightly more , and when I say 'creases', I'm not even talking about settling into fine lines, I'm saying the product literally skips any deep furrows that you may have; leaving those trenches empty, making the fine lines more visible). The Urban Decay Color Correcting Fluid concealer also doesn't settle as much into the fine lines and wrinkles as easily, and so it is super comfortable to wear.
Price & Where To Buy
SGD$40.00 at Singapore Urban Decay and Sephora stores.
Verdict:
Shows what Purple Color Correcting Concealer is used for – Puffy Eyes!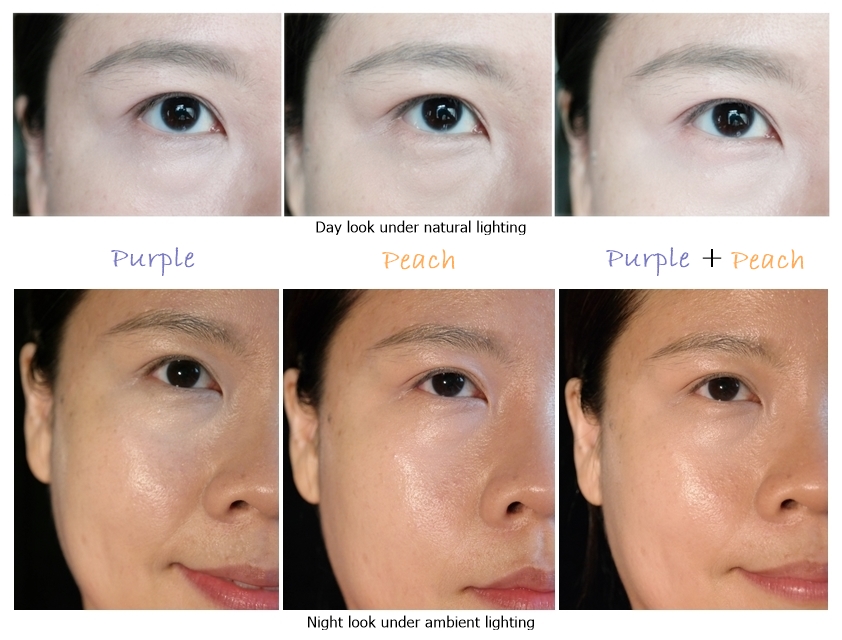 These photos speak for themselves. I'm not saying that the purple Urban Decay Naked Skin Color Correcting Fluid concealer is able to de-puff my eye bags (it isn't a skincare product after all) but because it has this particular shade that is able to colour-correct my under eye bags such that they become less obvious and thus appear to be less puffy. Of course it wouldn't work without the peach corrector for the dark circle part above the eye bags, but my purpose of this entry is to debunk the general perception of working with only the peach shade on pretty much every under eye discoloration. For those with the same difficulty in reducing under eye puffiness as I do and are seeking concealer makeup as a fix, I suggest giving this UD colour correcting fluid in Lavender a try.
On a side note, for dry under eyes and wrinkles sufferers who are in need of under eye bags and dark eye circles long term natural remedies, click here to find out more.
Please follow and like us: