I must have used up at least 3 pots of Dreamwash and 2 tubs of Mask of Magnaminty again to be able to redeem the Cosmetic Warrior fresh mask from Lush for free last week. They've got the free fresh face mask (of your choice; 75ml) in exchange for 5 empty Lush pots (any size) worldwide policy in case some of you didn't know.  These are the two (among others) I find myself keep going back to; wherever I shop for Lush products and by wherever, I meant even out of Singapore.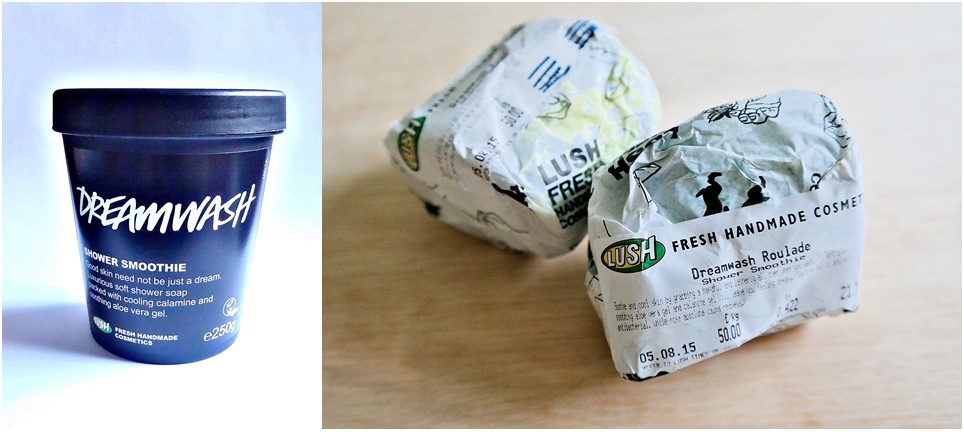 So I was a happy non-paying customer at their Suntec City outlet last week after having handed over five empty recyclable pots collected from different cities (some had Japanese labels on them but I don't think they really care).
Dreamwash by Lush has always been a shower staple for me since a few years back when my skin decided to spark a mutiny of eczema. I'll share how its ingredients help with my condition in just a bit.
Dreamwash by Lush Cosmetics: A Soap for Eczema Cure?
So I was in the UK last month; where Lush is born and bred, therefore a Lush-haul-why-not. I was at their London Oxford Street 3-story store (watch my London vlog video below to see this in action!)
and was shown Dreamwash in roulades instead of the usual smoothie-in-a-pot form. They told me they no longer do them in pots but in roulades because it is easier for customers to decide on the amount to buy since one could just saw off the log cake of soap at any point; like how some of the guests audaciously think they could decide for you the host how much calories to serve them at an Xmas party. How dare they. 

They (by they I meant Lush. Snap out of that party already!) then wrap them in Lush paper and stick on labels with print that is hardly visible, probably due to the messy handling along the way. That means details such as expiry date and ingredients may have well faded off. Forget about the round sticker with the caricature of the person who made the product. He/She didn't even exist in this case.
Consistency
Though both the smoothie and roulade versions give the same cleansing result, the shower experiences with each of them are way different. I personally prefer the old smoothie type because of its light, whipped cream texture it makes lathering on the skin super smooth and easy. The spongy meringued nature of the cream also enables one to scoop out the right amount easily.

The roulade tend to crumble into pieces when contacted with water and slip easily from your palms. Here comes the unsettling part – you can either slice this log of soap into palm sized pieces, or break a small crumb off for use each time, or use the whole roulade altogether. Depending on the size of it you bought, the latter option may just give you one slippery fish moments too many. The frequent contact with water may also cause it to disintegrate prematurely.

Fragrance
You smell calamine from the core, with an herbaceous aura. Calamine does reek of a heavily antiseptic tang to many, but with other botanical oils in it, I find it smelling like pine instead. So if you like wintery candles, this may even smell great for you.
Price & Size
The tubs are still available and retailing at SGD$35.00 per 250ml in Singapore Lush stores. In the UK the roulade now counts by weight at £5.00 (SGD$10.80) per 100 grams.
Eczema Treatment with Lush Shower Products: How Dreamwash works

Calamine Powder,  Tea Tree Oil
Calamine powder is known best for treating skin allergies and sunburns, while tea tree oil is excellent in treating bacterial and viral skin issues. Together they're great for treating skin disorders such as eczema, psoriasis and dermatitis because of its absorbent nature, it helps to keep the skin free from weeping sores, relieve itching and leaving it dry enough to heal due to its astringent properties as well.
Chamomile Blue Oil, Lavender Oil
The chamomile blue oil could be what is contributing to the greenish blue color of the outer layer of the product. Apart from the anti-inflammatory properties of these oils in calming down flare-ups, their anti-fungal quality also quickens the lightening and healing of scars and blemishes.
Rapeseed Oil, Coconut Oil, Rose Absolute
These not only serve as effective lubricants, they also impart antioxidant benefits to the skin including vitamin E, keeping it gently brightened and protect it from harmful ultraviolet rays from the sun. They also restore the skin's structure at a cellular level in regenerating the skin's plumpness and vitality.
Organic Aloe Vera Gel
The product also contains organic aloe vera gel that moisturizes the skin without clogging the pores. It is has a cooling effect on the skin and is gentle and safe enough to soothe even the most sensitive skin types.
Verdict:
I have been using Dreamwash for years and I have no complaints about their make of this soap. My skin is always left squeaky-clean and my rashes – as fired up as they were, didn't fail to be subdued. The lathering produces no foam, just streaks of product rubbed across the skin because it doesn't contain sulphate. As such, the after-shower feeling can make some people a little uneasy because they find their fingers meet with a lot of resistance when running them on their skin. It is that squeaky.
While I think the intention of switching up any packaging is good, I feel a little shortchanged on the exchangable pot here. To be frank I'd rather stick to the old packaging and formulation of Dreamwash if I were Lush, as this change is not exactly for the better on the customers' end. It is like 'passing the bug' of inconvenience to the customers if you get what I'm saying here. They're like, "you've asked for x grams, now you go cut it in whatever way you like and figure a way out how to store them too." I mean, I know this isn't the only product presented this way, but others like bath bombs – they don't get used everyday, and serum and hand moisturizer bars ain't yours to mess with water too. Perhaps, Lush, you could at the very least cut them up into decent pieces that fit in our soap dishes and sell them individually as that.
Please follow and like us: