Blueberry Body Scrub-Gelee by The Body Shop: Review
The Body Shop Blueberry Body Scrub-Gelee is a body scrub released among its special edition range comprising their limited fruit scent based products (coconut, grapefruit, peach, raspberry, to name a few). This berry-sweet scrubs have hit the Body Shop outlets in Singapore since March 2014.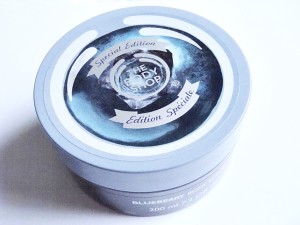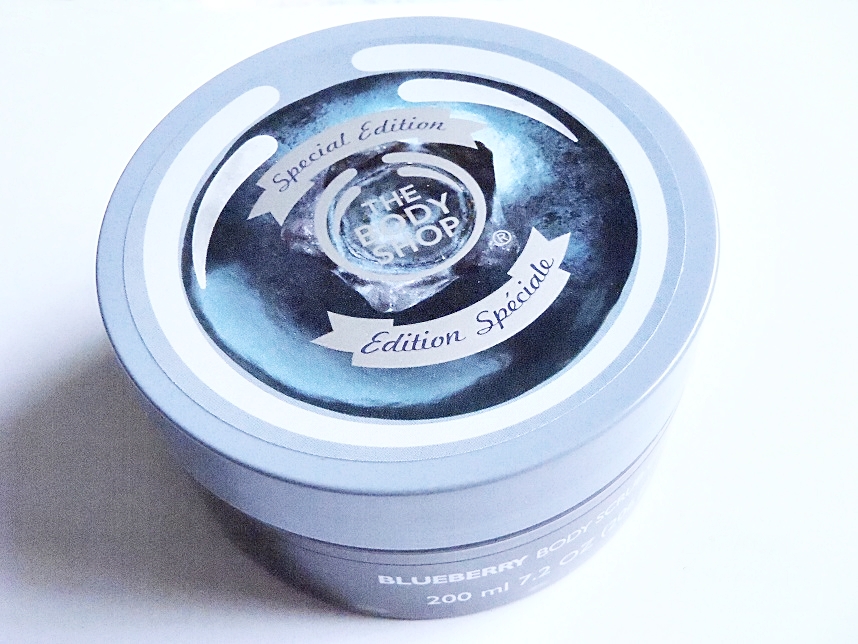 Packaging
As with all the Body Shop's body scrubs and body butters, the blueberry body scrub comes in a light-weight, blue-gray, round, plastic container and a matching screw-off lid.
What we found inside the round pot looks no different from blueberry jam, in that rich, blackcurrant color, except that they smell so deliciously good some of us may mistake it for jam spread for toasts if it were to be in a glass jar or something.
Fragrance – the product does really smell like berries, not necessarily blueberries. As soon as the lid is opened, the sweet berry scent greets. We love that it adds a fruity aroma to the bathroom that lasts for a fairly long time after a shower; which makes it kind of an air freshener! Read on for the perfume ingredients that make this possible!

Consistency
The Body Shop termed the product "gelee" (jelly) and we can see why. The gooey jam paste gets all jiggly when you give that tub of scrub a gentle shake. The texture is gooey but not as sticky as real jam would measure up to. When scooped up with fingers, it feels gummy and has a certain amount of weight to it. There is also some slip to it, possibly because of glycerin. The scrub is moderately mixed with beady exfoliants, thus it feels just the right amount of abrasion and pressure on the skin.
Size – 200ml (7.2 oz), Weight- 206 grams
Country of Origin – Made in the UK.
An Exfoliating Body Scrub that contains Real Seeds!
How it works: The Key Ingredients
Exfoliants & Anti-oxidants: Rubus Idaeus Seed (rasberry seeds), Juglans Regia Shell Powder (ground walnut), Myrtillus fruit extract (blueberries)
Surprise, surprise. And if you were like us who think those exfoliating beads were of blueberry seeds, we don't blame you. The micro beads are actually walnut shell crushed into powder, while the more sizeable seeds are of raspberries'. The scrub contains blueberry extracts for its high anti-oxidant levels for fighting against ageing effects. When these combined, the product aims to get rid of dead skin cells and reveal renewed skin beneath, at the same time introducing a protective barrier to your dermis against free radical damages.
Fragrances: Linalool, Limonene
Linalool and Limonene are natural substances that gives sweet, floral and citrus notes to the product formulation.
Surfactants/ Emulsifiers/ Thickeners: Polysorbate 20, C10-30 Alkyl Acrylate Crosspolymer
These ingredients helps to lubricate and soothe the skin which enables the exfoliating grains to scrub on to our skin gently without scratching it too hard.
C10-30 Alkyl Acrylate Crosspolymer helps the scrub to stay in gel form, and that the viscosity of it is able to hold the grains together while we lather the product on to our body.
Sun/ Ultraviolet Ray Protection: Butyl Methoxydibenzoylmethane, Benzophenone-3
Absorbs, scatters, and reflects Ultraviolet light that causes the formation of melanoma and premature ageing in our skin.
How to Use
Scoop up a third of a palm size of it and apply it onto wet skin. Gently lather it with bare hands or a loofa all over the body before rinsing it off and continue with shower gel or soap as usual.
Body Shop Sale & Promotion
Price
The scrub is retailing at a regular price of SGD$30.90 at all Body Shop outlets in Singapore. However when the time I bought it in April 2014 together with another Vineyard Peach Body Butter, there was a promotion at SGD$39.90 for any selected 2 body scrubs/ butter. Not sure if this was part of the Great Singapore Sale, so you may want to check them out.
Verdict
Not for you if you are not into very sweet-smelling things. However if you love to indulge in uplifting, citrusy fragrances, this one is for you!
We recommend usage on every other day (alternate days) to see results of smoother, softer skin for better penetration of other skin care products such as body butter, shower gel, serums and lotions. We didn't see so much of the brightening of the skin tone, but that doesn't really matter because the feeling of scrubbing those grains down the skin, we must say, is pure bliss. The massaging and abrasive pressure are really on point; not too harsh and not too gentle, great for lymphatic drainage. It really does feel that our skin is thoroughly cleaned after using it and at times we feel we don't even need a shower gel to cleanse further. Plus the after-shower aroma it leaves in the bathroom can last for hours!
Since this is a limited edition body scrub, we are not exactly sure when the Body Shop may just stop selling them the moment they are all sold out. For the berry-scent lovers like us, we suggest you go grab it now before it is too late.
Please follow and like us: